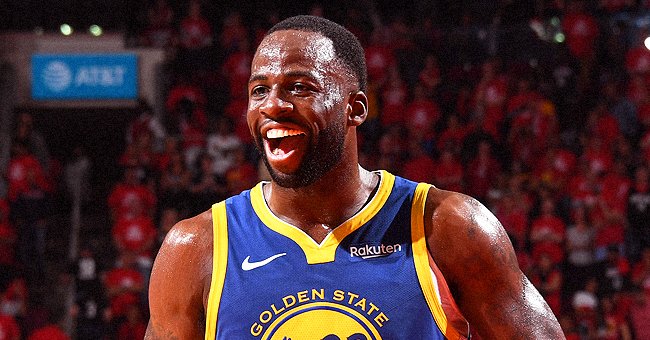 Getty images
Draymond Green of NBA and His Son Stick Their Tongues out in an Adorable Snap

Famous Basketball player, Draymond Green, is a proud father as he takes to Instagram with a photo of himself with his look-alike son posing with their tongues out.
Draymond Green is in love with being a father! The 30-year-old three-time NBA champion recently took to his Instagram page with an adorable picture of himself and his son, Draymond Jr.
In the snap, the father-son duo both stuck out their tongues at the camera and looked like they were having a great father-son bonding time.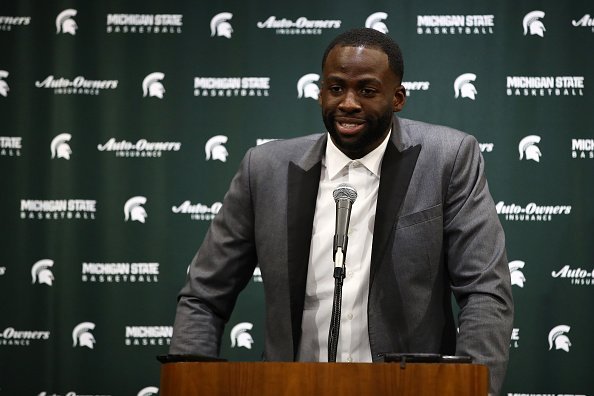 Draymond Green at a press conference on December 03, 2019 | Photo: Getty Images
In his captions, the proud father referred to his son as the little version of himself, and he pledged that they would "rock 4ever."
Fans of the NBA all-star took to the comments section with positive comments—most agreed that the 3-year-old toddler looked just like his father. A fan exclaimed,
"He looks just like you!"
Draymond Jr. was born on a Thursday in December 2016. Green reportedly missed the Golden State Warriors' game in Brooklyn to fly home to the Bay Area to witness his child's birth.
Green couldn't make it in time, but luckily he was able to watch the whole thing on FaceTime while on the plane.
He had allegedly been so delighted; he was yelling very loud in his first-class seat, prompting people to think he was crazy.
Renee referred to him as her baby and called him rare.
Green is currently said to be engaged to be married to TV personality, Hazel Renee. The news came from Steve Kerr, the Warriors head coach in January 2019.
Draymond Green's #23 was retired in December by Michigan State University men's basketball program during a ceremony in East Lansing, Michigan.
His wife-to-be, Hazel, took to her Instagram page with a montage of pictures in celebration of the event. In the photos, Green was dressed in a grey suit, and he was accompanied by Renee and his two kids, Kyla and Draymond Jr. She wrote in her caption,
"Whoa! Wow! Wow! To Be Where You Are In Life, At This Moment, At This Time...Look @ God What A Night To Remember!"
She went on to reveal how happy she was for him because, according to her, he deserved the honor. Renee referred to him as her baby and called him rare, tagging his Instagram page.
In the comments section, fans couldn't get enough of the beautiful couple, "Y'all get married already," a fan stated. There will undoubtedly be wedding bells ringing soon, and netizens can't wait to join in the celebrations.
Please fill in your e-mail so we can share with you our top stories!