Katherine Kelly Lang from 'Bold and the Beautiful' Looks Ageless at 58 — inside Her Personal Life
Katherine Kelly Lang, better known for her role as Brooke Logan on CBS's soap opera "The Bold and the Beautiful," is a proud mother of three children and grandmother of one. 
Katherine Kelly Lang has spent 33 years bringing the blue-collar mother of five Brooke Logan to life on the soap opera "The Bold and the Beautiful," a sister show to "The Young & the Restless."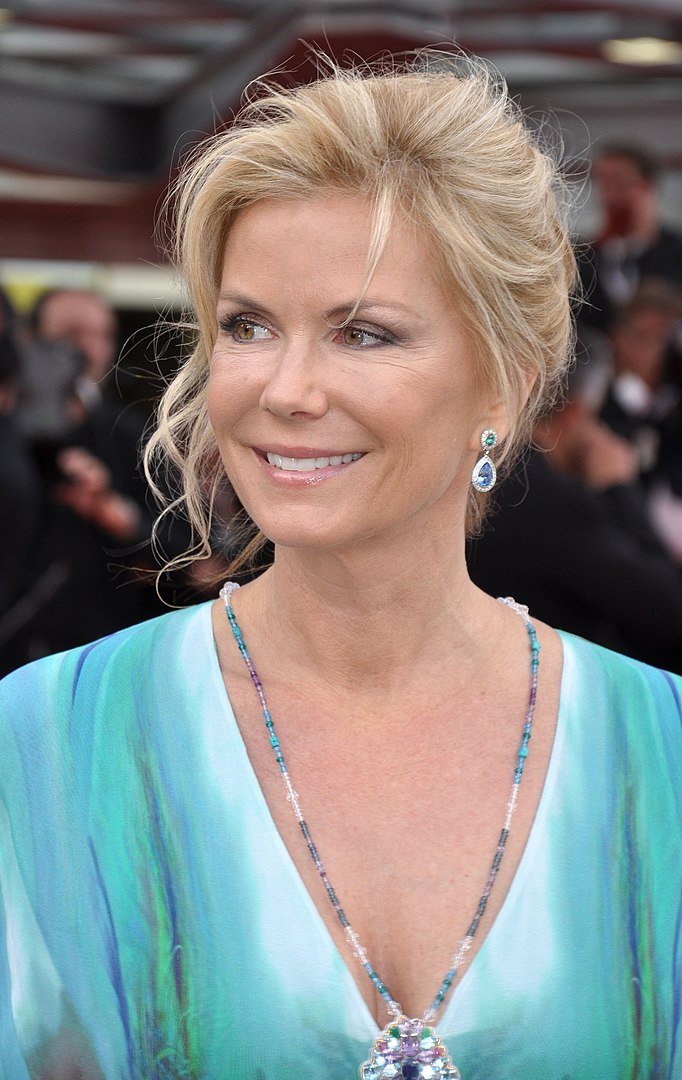 She's one of the two original members that remain on the show since its inception, the other one being John McCook, who plays Brooke's father, Eric Forrester.
KATHERINE KELLY LANG'S HUSBANDS
Lang has been married and divorced twice. She tied the knot with her first husband, director, and photographer Skott Snider, in 1989.
Despite their 14-year age difference, Lang says she doesn't mind that Dominique is younger.
Snider specializes in food, lifestyle, beauty, and architecture photography, and his work is used in advertising and marketing campaigns, brand identity, and public relations.
The couple had two kids, sons Jeremy Skott Snider, born in 1990, and Julian Lang Snider, born in 1992. The relationship ended in divorce in 1995.
Then, in 1997, Lang married actor and producer Alex D'Andrea, who appeared in '90s films such as "The New Adam-12" and "Emperor of the Bronx."
D'Andrea later went on to work in the production and development of TV and films,  and also worked as a manager for actors including Stephen Baldwin, Dyan Cannon, and Jennifer Beals.
He created Baldwin D'Andrea alongside Stephen, a production company that included many development projects with all of the Baldwin brothers, including Alec Baldwin.
Lang and D'Andrea welcomed daughter Zoe Katrina D'Andrea in 1997. Lang filed for divorce in 2012, citing irreconcilable differences. She asked a judge to refrain D'Andrea from asking for spousal support. The divorce was finalized in 2014.
 KATHERINE KELLY LANG'S CHILDREN
Jeremy Snider, the oldest of Lang's children, followed her steps into the entertainment industry, but now as an actor.
He has worked as a producer, cinematographer, on the visual effects team, and recently on the camera and electrical department on series like "This Just In," "The Bay," "Venice the Series," and the upcoming "FraXtur."
Both Jeremy and Julian shared the screen with their mother on "The Bold and the Beautiful," where they gave life to her character's sons as children.
As a mother in an off the screen, Lang has stated that working on the series while pregnant was "great" because the production always respected her role as a mother.
"I started having my children. It was a great job to have when you're pregnant," she told Daily Mail. "I could bring the babies to the dressing room, and I could be there with them all day long. So, it just worked out."
LIFE AS A GRANDMA
In May 2018, Lang became a grandmother for the first time when her daughter Zoe welcomed her first child, a girl named Zuma, which means "peace" in Arabic.
Talking to Soaps In Depth about the new addition to the family, Lang said she was happy to see her daughter have her own baby, and mentioned that Zoe seemed to have been born to become a mom.
"I'm a nervous wreck, and she's the one saying, 'Mom — calm down, I've got this under control,'" Lang said. "She's so grounded. I was always too nervous. She's much more relaxed."
Lang took to Instagram to share a pic of the time she first met her granddaughter, adding in the caption that she was excited to spoil Zuma and was already making plans on how to achieve that. 
Zoe welcomed her second child, son Reign, last April 26. Lang shared the good news with a picture of Zoe's baby bump and another one of the newborn, saying that he is "a happy, calm, and healthy" baby.
KATHERINE'S BOYFRIEND
Lang has been dating Dominic Zoida for about six years. They met when he was hired to train the stars of "The Bold and the Beautiful" for a marathon, and it was an attraction at first sight for Dominique.
Despite their 14-year age difference, Lang says she doesn't mind that Dominique is younger because she's "very young on the inside and he's kind of the old one."
Talking to the Australian magazine New Idea, Lang revealed that after two failed marriages, she found with Dominique the relationship she'd always wanted.
"I've learned that there needs to be a good balance of give and take," she said. "We're best friends, and I can hang out with him all the time."
Lang said she and Dominique have a lot in common, and they push each other to be the best version of themselves. "It's rare to find it, and I'm so grateful," she concluded.
They are also business partners and recently opened the Benheart USA store in Beverly Hills, which sells Artisanal products 100% handmade in Italy.