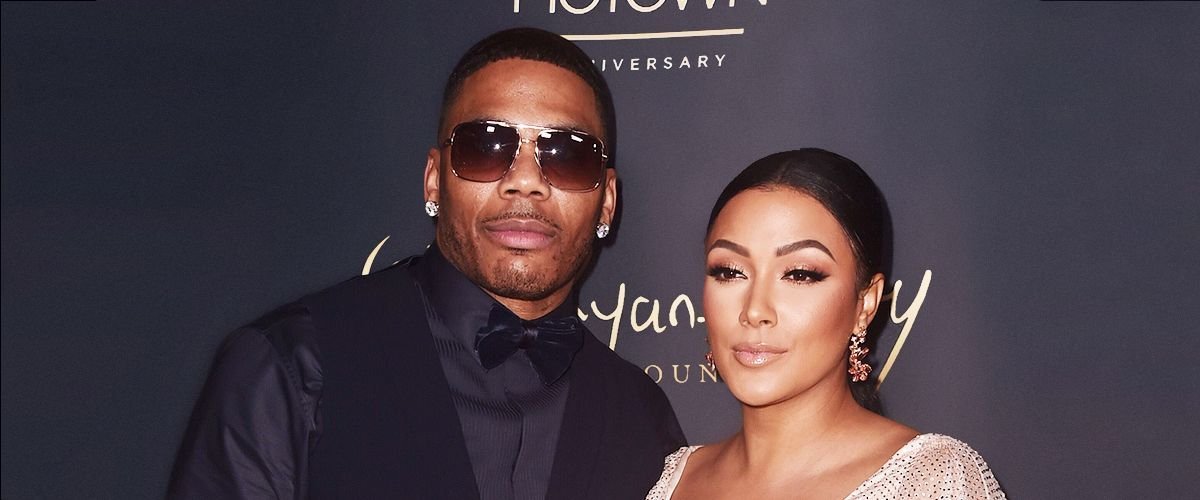 Getty Images
Shantel Jackson Once Told Nelly about Freezing Her Eggs — Meet the Rapper's Gorgeous Girlfriend
Nelly's longtime girlfriend Shantel Christine Jackson has revealed her plans for having a family.
Actress Shantel Jackson and rapper Nelly have been dating since they met when she joined the cast of his in 2014 reality show, "Nellyville".
The couple have been together since then, and Shantel's stuck to the rapper through thick and thin. Fans have been hoping for wedding bells for years, and Shantel has hinted at her plans for having a family.
Shantel has been embroiled in a pregnancy scandal by her old boyfriend, boxer Floyd Mayweather
Rapper Nelly with longtime girlfriend, actress Shantel Jackson | Source: Getty Images
A GLIMPSE INTO SHANTEL JACKSON'S LIFE
A clip from the reality show "Platinum Life" which focuses on the wives and girlfriends of famous musicians, gave fans a glimpse into Shantel and Nelly's plans for a family.
The snip captured a video call between Shantel and Nelly, in which the celebrity girlfriend spoke about her plans about starting a family.
FREEZING HER EGGS
Shantel edged into the subject by asking Nelly if he remembered her talking about a plan to harvest and freeze her eggs "just in case" she wanted a family later on, since she is now 35.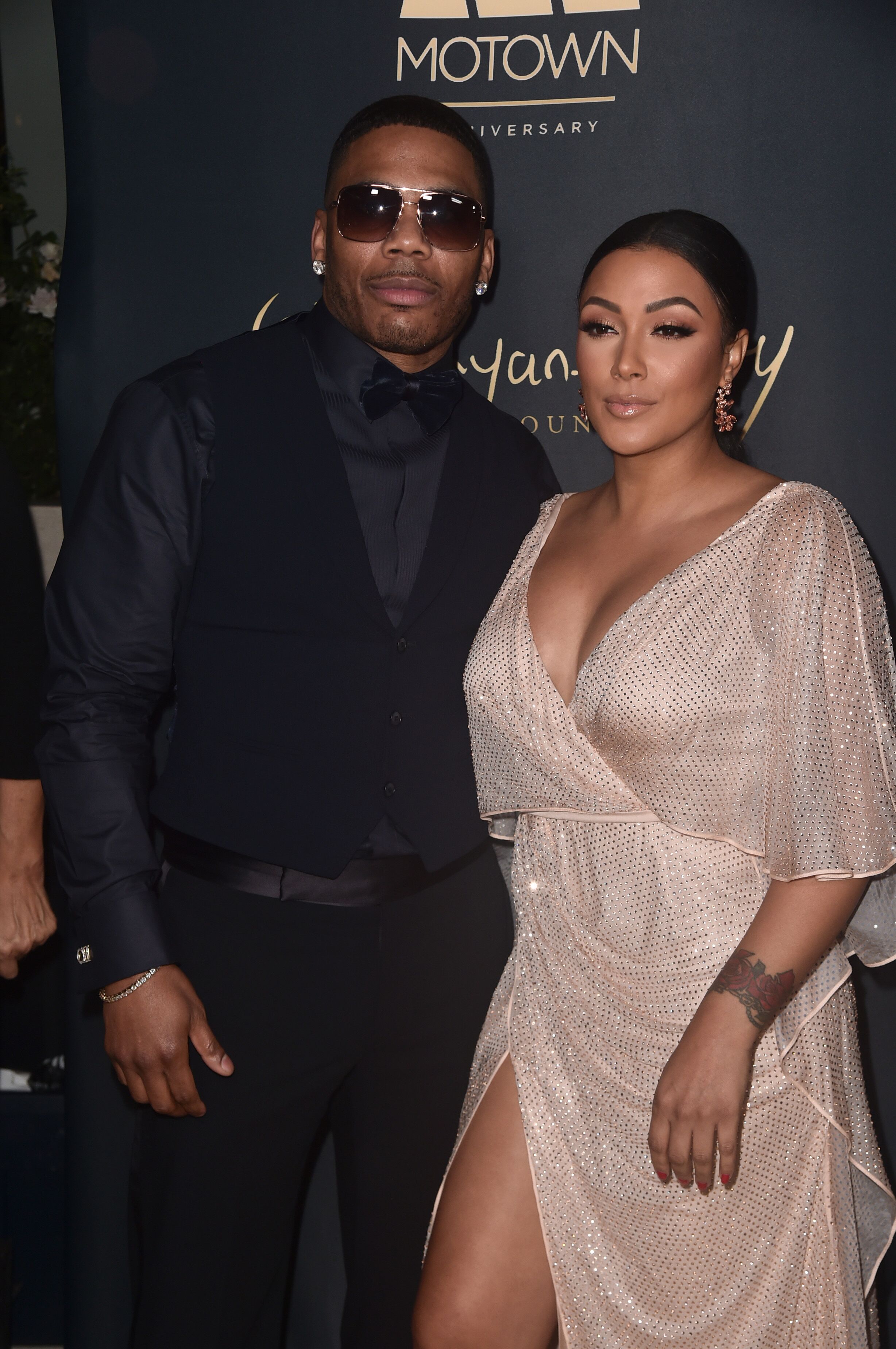 Nelly and Shantel Jackson at The Ryan Gordy Foundation Celebrates 60 Years Of Mowtown in Beverly Hills in November 2019 | Source: Getty Images
Shantel then snidely commented that her eggs were probably already old, to which a smiling Nelly replied:
"Your eggs ain't old!"
Shantel then moved the conversation up to the next level and asked Nelly the big question. She said:
"If I did want to move forward and freezing the eggs and having a baby, would you want the kid?"
At this question, Nelly looked a bit baffled, especially when Shantel explained that he would have to collect sperm "in a cup" for in vitro fertilization.
Nelly told Shantel that he is a "natural guy," and "if it happens it happens" but then he turned around. He said:
"It's your decision, I'm here to be supportive. Either way babe, I love you!"
WAITING FOR THE BIG NEWS
This conversation took place back in 2017, and fans of the couple have been eagerly waiting for news of a pregnancy, which has been slow in coming. Shantel has been embroiled in a pregnancy scandal by her old boyfriend, boxer Floyd Mayweather.
THE FLOYD MAYWEATHER AFFAIR
Mayweather, who broke up with the actress in 2014, divulged to the media that Shantel had been pregnant with his twins and had had an abortion behind his back.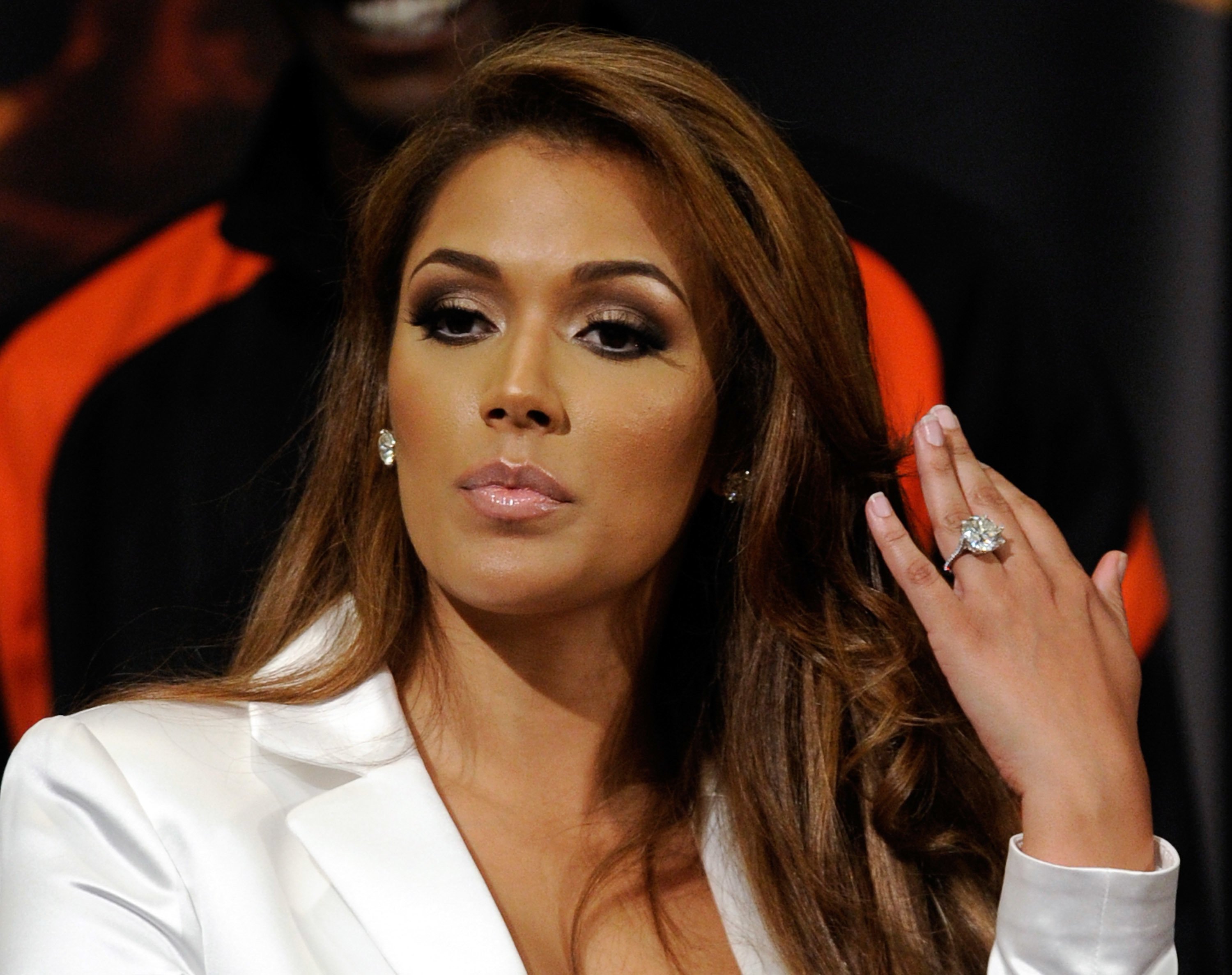 Floyd Mayweather Jr.'s then-fiancee Shantel Jackson at a post-fight news conference in 2011 in Las Vegas | Source: Getty Images
As a consequence of his accusation, Shantel, who revealed she had a traumatic miscarriage, filed a lawsuit against him for assault, battery, defamation, and invasion of privacy.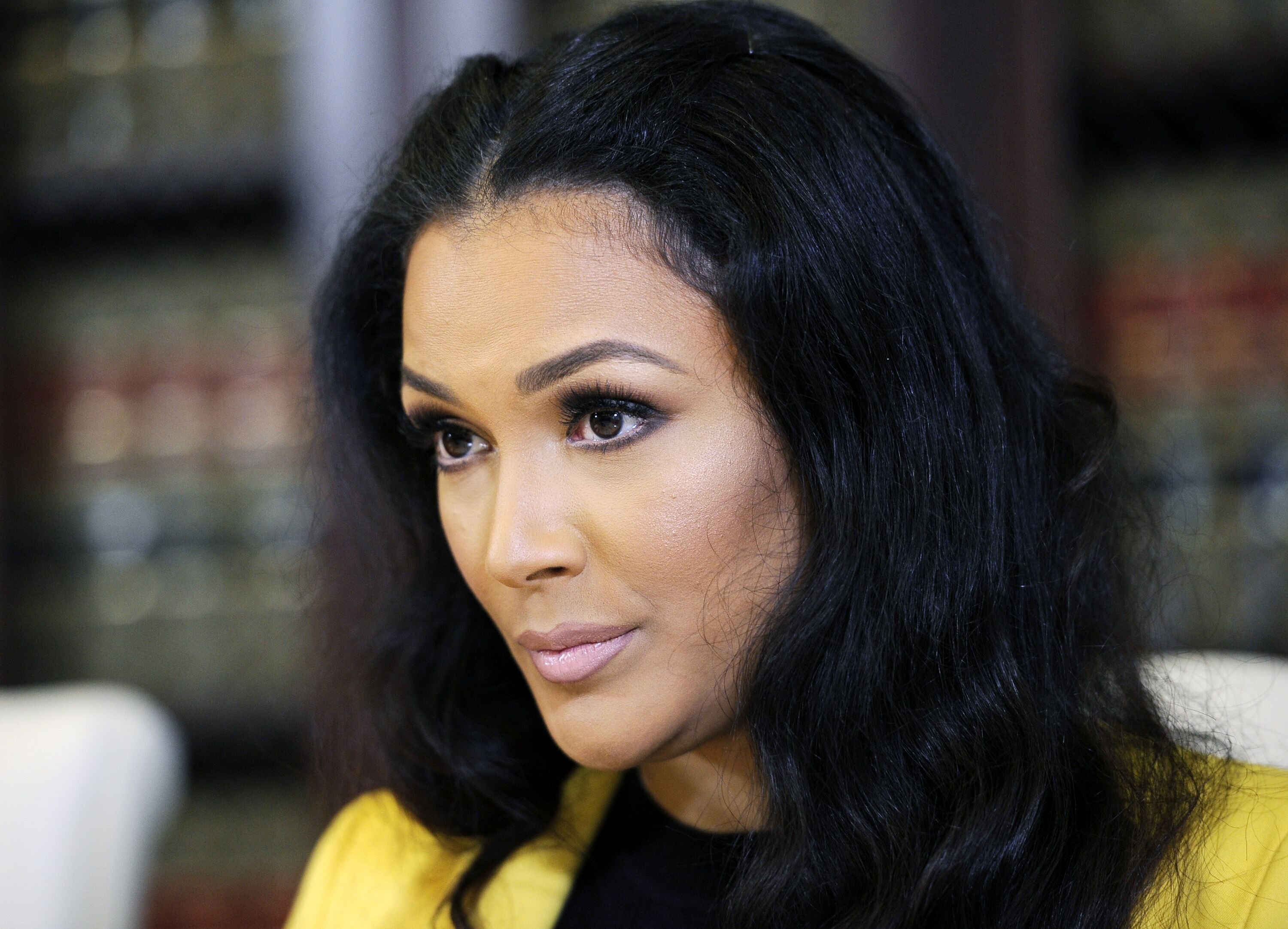 Shantel Jackson, ex-fiancee of boxer Floyd Mayweather Jr., during a news conference announcing a lawsuit against the boxer in 2014, in Los Angeles | Source: Getty Images
Mayweather countersued, accusing Shantel of illegally recording private conversations between them. In the countersuit Mayweather stated:
"Jackson intentionally used one or more recording devices to surreptitiously record conversations with Mayweather (...) without Mayweather's knowledge or consent."
STANDING BY HER MAN
Nelly has stood by Shantel's side throughout it all, and she has stood by him too. When Nelly was accused of sexually assaulting a fan in Britain in October 2017, Shantel was supportive and publicly declared that she believed that he was innocent.
WAITING FOR THE PROPOSAL
Even though Shantel stated that she was was "reserved forever," hinting at a secret engagement, and some fans believe she and Nelly may even be remarried, she hasn't be caught with a ring on her finger yet.
NELLY'S CHILDREN
If the couple does decide to go ahead and have children, they will be younger siblings to Nelly's grownup kids, daughter Chanelle Haynes, 26, and son Cornell Haynes III, 21.
In addition, Nelly is also mom and dad to his niece and his nephew, Lil' Shawn and Sydney, his sister Jacqueline Donahue's children. Jacqueline died from leukemia in 2005 and left the children in Nelly's care.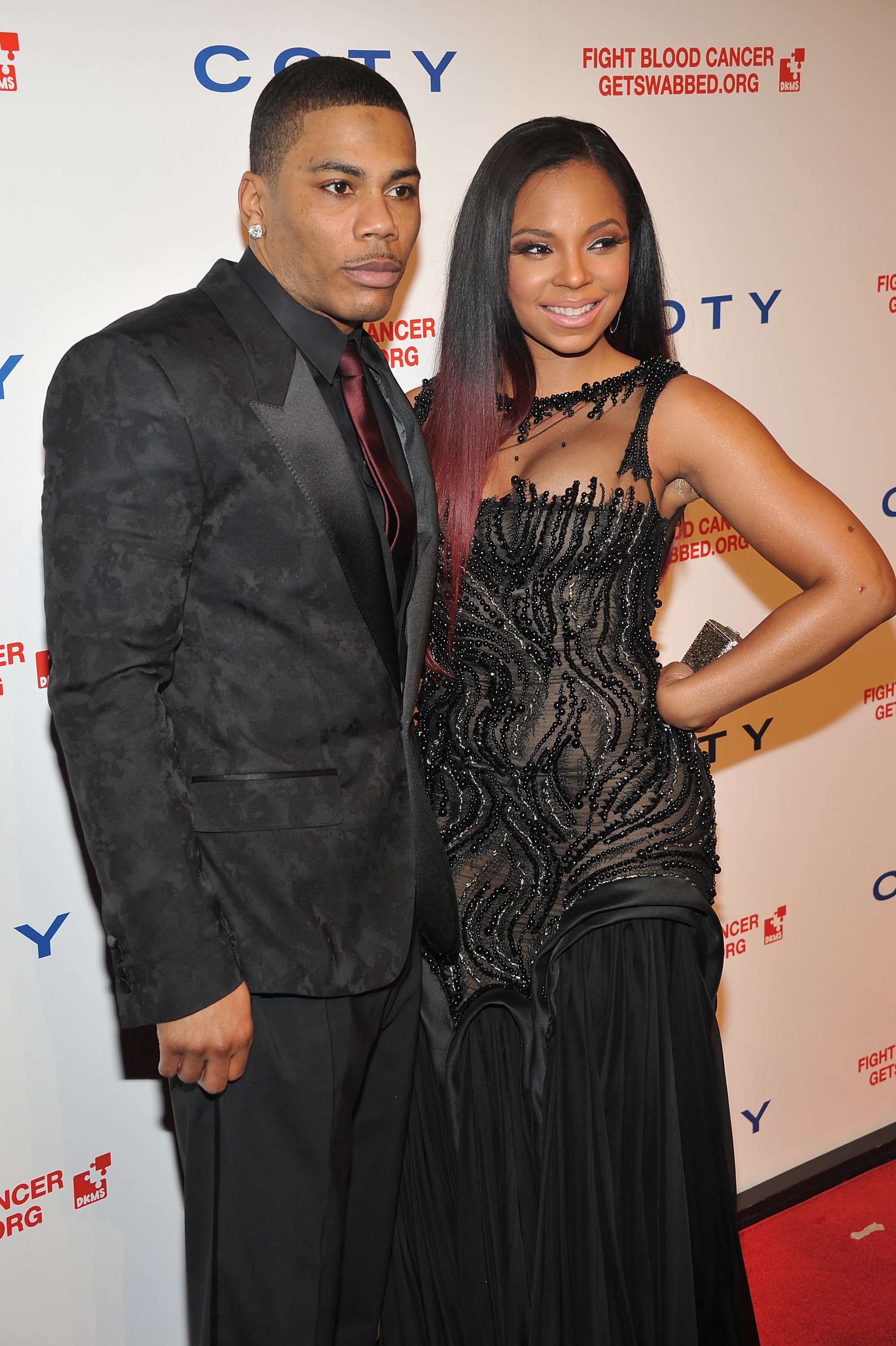 Nelly and Ashanti at the 6th annual DKMS Linked Against Blood Cancer gala in 2012 in New York | Source: Getty Images
Before dating Shantel, Nelly had a long relationship with singer Ashanti. The two dated for 10 years, before quietly breaking up shortly before the rapper met Shantel. Ashanti exhibited some bitterness, saying:
"When people have their own insecurities it allows them to act out of character. I've been betrayed."
Ashanti never went into details about the "betrayal" or the incident that led to the breakup and kept the same discretion she exhibited throughout the relationship.
Please fill in your e-mail so we can share with you our top stories!