GettyImages youtube.com/American Idol
'American Idol' Alums and Judges Join Lionel Richie for Historic Rendition of 'We Are the World'

"American Idol" family presented an exceptional performance of Micheal Jackson's "We Are The World" on the show's season finale amid the novel coronavirus pandemic.
What a finale! The recently aired "American Idol" season finale had a lot to offer. Apart from the expected revelation of who won the show, it also included a performance of "We Are The World."
The performance was made up of pre-recorded clips made by the top eleven contestants from season 18 and the Judges.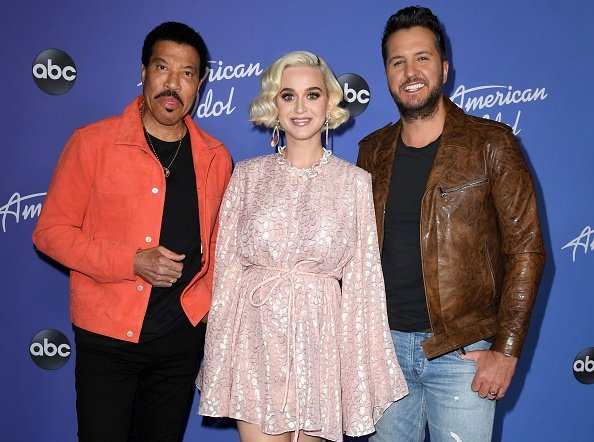 Lionel Richie, Katy Perry and Luke Bryan at Hollywood Roosevelt Hotel on February 12, 2020 in Hollywood, California. | Photo: Getty Images
Lionel Richie, who is currently an American Idol judge and co-writer of "We Are The World," led the presentation, which made it the first time a performance of the song has been aired on TV since 1985.
People who won the competition in the past, such as Kellie Pickler and Jordin Sparks, also lent their voices. The link to the video was shared on the "American Idol" twitter page along with a tweet which read:
"Watch an ICONIC performance of "We Are The World" from @LionelRichie, featuring your NEW #AmericanIdol…"
The group chose the song to pass across a message of unity to the whole world as the fight against the COVID-19 pandemic continues.
The singers recorded their parts separately due to the measures against the spread of the virus, but even that has a beautiful hidden message.
Sam is one of the last twenty contestants on the show who started performing from home.
It told everyone that even though they are far from others during this time, everybody is still together as the singers were able to produce a beautifully harmonized performance.
Although the performance was great, it could not steal the spotlight from the reason for the episode, which is the announcement of the Season 18 champion.
This started with a performance for the top 5, of which three were initially eliminated, leaving two contestants, Gunn and Sam.
After a killing period of suspense, the host, Ryan Seacrest, eventually declared Sam as the winner. The new champion could not contain her joy. She said:
"This is exactly, like, my dream. Thank you so much America, I would never have expected this!"
Sam is one of the last twenty contestants on the show who started performing from home when the show came back after an initial halt in production.
The panel, Luke Bryan, Katy Perry, and Lionel Richie, also judged from their homes. "American Idol" has now completed the season virtually, showing that it is possible, which means other shows might follow suit very soon.
Please fill in your e-mail so we can share with you our top stories!