Simone Biles Stuns with Her Bikini Body and Navel Piercing in a New Swimsuit Photo
All her hard work and devotion to her passion come with the perk of having an enviable body, and the young athlete is happy to show her amazing figure to her supportive fans.  
23-year-old Olympic artistic gymnast Simone Arianne Biles is an example of someone who has worked hard to take her natural talent to a place of excellence, constantly raising the bar for herself and others.
But all these years of workout and training for her passion at the gym come with a great body, and the multi medalist is no shy to flaunt her toned figure as she enjoys some time by the pool or just under the sun.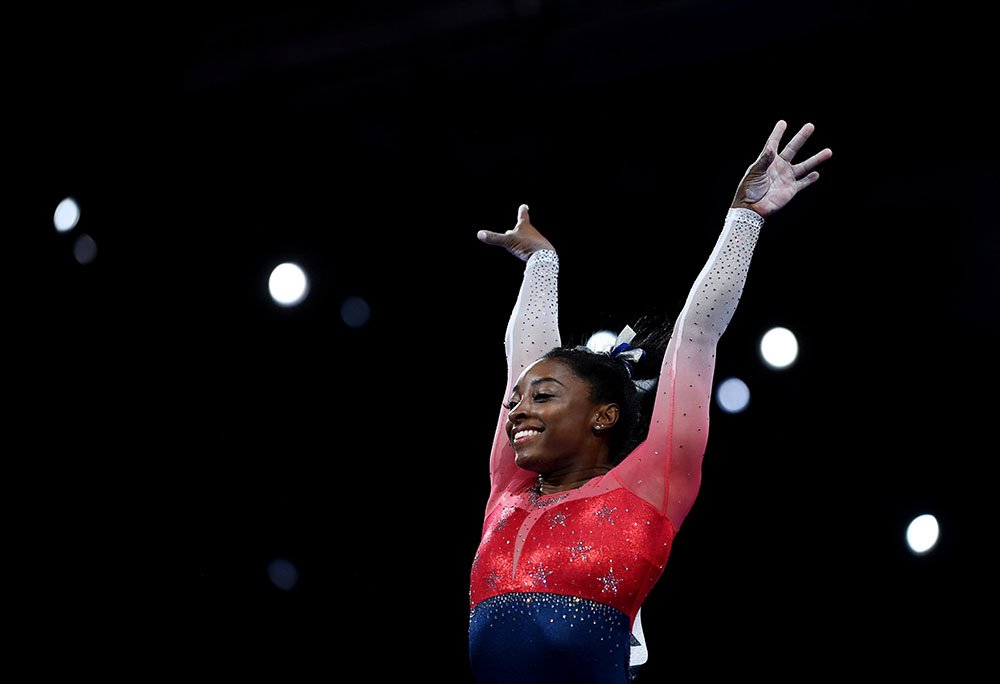 Recently, on May 17, 2020, Biles took to her Instagram profile once again to post a picture of herself wearing an elegant bikini in black, white, and gold, that showcased her toned abs, and her defined upper and lower limbs.
To send a body-positive message, Biles captioned the snapshot, on which she wore her hair down and in braids and donned sunglasses, with the following:
"How to get a bikini body… Put a bikini on your body."
FANS REACT
Fans were so pleased to find Biles' post on their Instagram feeds, and they were sure to let the Olympic star know how much they appreciated her and her incredible looks.
Not only was the post liked by more than 180.000 users in just one day, but it also received several messages that praised the record-breaking sportswoman's beauty.
"I have no words," a stricken male fan wrote in the comments section of the post. "The body, tho," another user wrote, very impressed. "Dat Belly Ring Popin'" noted another admirer. "Goals, lady. Goals," added a female fan.
AND ATHLETE AND A BEAUTY
This is far from the first time on which Biles has showcased her bikini body on social media. Earlier in May, she took to her Instagram stories to post an image of herself wearing a bikini that "commented" on a trendy Netflix show.
In the snapshot, taken at her walk-in closet, Biles wore a pink, tiger-patterned bikini that made her strong legs looked great, adding the name "Carole Baskin" and a tiger emoji in reference the hit documentary series "Tiger King."
But besides sharing her looks and confidence with her many fans, Biles also often posts images and videos that remind everyone of the abilities that made her famous in the first place.
Her rendition of the "taking one's pants off in handstand" challenge became a viral sensation since she posted it on April 11, being reproduced more than 2 million times.
2̶4̶ ̶w̶o̶r̶l̶d̶ ̶m̶e̶d̶a̶l̶s̶
25 WORLD MEDALS @Simone_Biles closes out #Stuttgart2019 on a golden note! 💥 pic.twitter.com/Sv4Parre2k

— Team USA (@TeamUSA) October 13, 2019
MOST DECORATED GYMNAST
Mid-October 2019, Biles left her mark in the history of Gymnastics when she became the most decorated gymnast, breaking male gymnast Vitaly Scherbo 23-medal record.
Biles reached this important milestone by winning her 24th and 25th medals at the world gymnastics championship in Stuttgart, Germany.
 "I can't be more thrilled with the performance that I put out at this world championships," Biles told the New York Times at the time, before clarifying that she was "not a number person."