Jeannie Mai Slammed for Calling Women Chickenheads While Talking about Jeezy on 'The Real'
Jeannie Mai from 'The Real' faced backlash from fans after using a derogatory term to refer to her fiancé, Jeezy's former sexual partners, and ex-girlfriends
Jeannie Mai is facing backlash from viewers on "The Real" after the "Girls Talk" segment, where the women discussed their perspectives on opening up about sexual partners in your past with your significant other. 
In her response, Jeannie praised Tiana Taylor and her husband, Iman Shumpert, for sharing their story about how they approached the matter by discussing it openly with each other.
Although Jeannie praised Tiana and Iman for their openness, she revealed she doesn't care to know all the details behind her fiancé, Jeezy's past and explained:
"In my relationship now I don't really need to know the details. I only need to know about the chicken heads around me."
Jeannie argued that her stance is based on the level of maturity that she feels she has with Jeezy, such that they both don't have to divulge everything about who they've slept within their circles.
While some fans praised Jeannie for her honest opinion, other fans took offense to her use of the word "chicken heads." One fan noted that she shouldn't have used the term because of its derogatory connotations.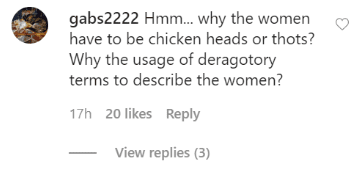 Another fan also shared their disappointment in her choice of word and 
said,
 "chicken head is derogatory. Literally no reason to call women he dealt before you by that name. Disrespectful."
One viewer added, "interesting choice of words chick heads just plain interesting. She's very suspect to me I don't care!" A fan also noted that her co-host, Amanda Seales, also had a telling reaction to Jeannie's comments.

Despite her poor choice of words, Jeannie said that Jeezy had given her a different outlook on life that she appreciates.
According to O Magazine, she admitted to having low standards when it came to men. Still, the love she has received from her fiancé has surpassed anything she has ever experienced before. 
The couple was engaged in April 2020 after dating for over a year. Jeannie was married to Freddy Harteis for 10 years before they divorced in 2017. Jeezy has three children from a previous relationship.