Serena Williams' Daughter Flaunts Afro Hair in Blue Swimsuit and Cute Sunglasses in a Photo
Serena Williams' daughter looked adorable in a two-piece swimsuit, and she posed with a pair of sunglasses on and looked ready to take a dip in a swimming pool.
Serena Williams was one of the first celebrities to voluntarily go into self-isolation when she announced that she would be quarantined in her home for six weeks with her family.
On her social media pages, she shared her enthusiasm for being able to use the time to dedicate to her husband Alexis and their daughter Olympia Ohanian.
Serena and her daughter have done everything from playing dress-up, practiced beauty routines, to acting out Olympia's favorite scenes from the movie "Frozen."
Recently, the mother-daughter duo engaged in some outdoor activity and decided to go for a swim. Olympia had her natural curls on display as she posed in a blue two-piece swimsuit with white sunglasses. The caption teased, "no shade."
"Okay, you came to slay and slay you did," said one fan about Olympia's look. Other people pointed out how fit she looked. Another fan said, "so cute with those athletic legs."
Some comments also complimented the toddler's beauty. One fan couldn't help share their surprise as to how much Olympia had grown lately.

On her Instagram story, Serena 
documented more of the activities
 they got up to during the day and revealed that Olympia painted her nails.
She proudly showed off her hand and said, "just got my nails done. They're so pretty." Olympia could be heard in the background, sharing her excitement as she said, "you're welcome."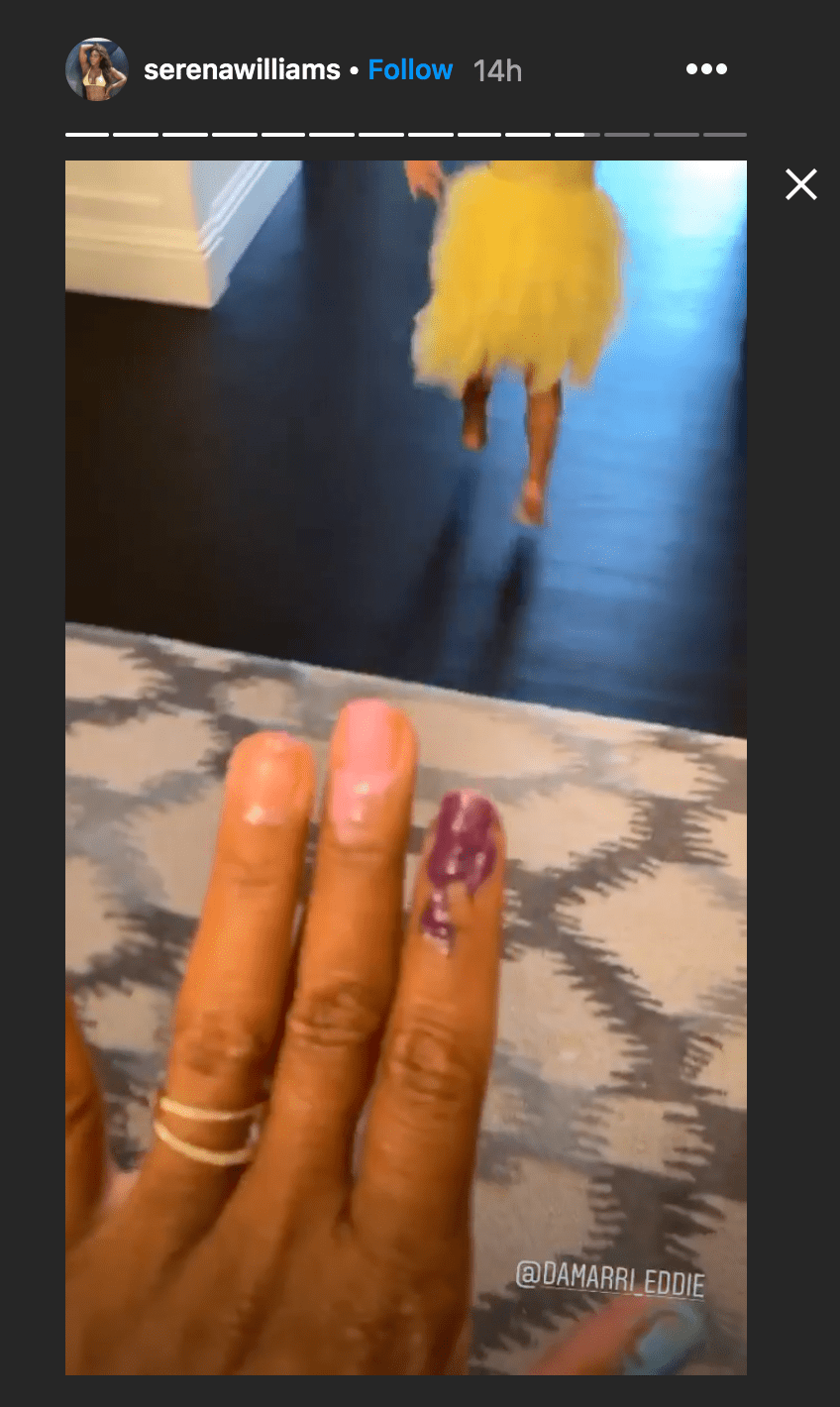 In an interview with 
PEOPLE
, Serena shared that she is enjoying all the time her and Olympia are spending together, and see's the future benefits of it having her around while she works, she explained:
"She's in every single call that I have, every single meeting. She's going to be a really good businesswoman when this is all over."
According to O Magazine, Serena admitted that she doesn't see the negative side of having a "wild child," and said she loves embracing her daughter's curious nature.
She explained that she sees those traits as a benefit because it's a child's way of learning and growing in a spirited way.