Mike Wolfe of 'American Pickers' Is a Doting Father and Husband — Meet His Family
Mike Wolfe, an antique and collectible picker and creator of the reality series "American Pickers," is now married to his wife Jodi, and they have a daughter Charlie.
In 2010, Mike Wolfe became a household name by expanding and dominating the world of antique collection and creating History Channel's hit series "American Pickers." The show follows the life of Mike and his partner, Frank Fritz; their escapades all across America following leads to collect valuable items for resale to clients and sometimes for a personal keepsake.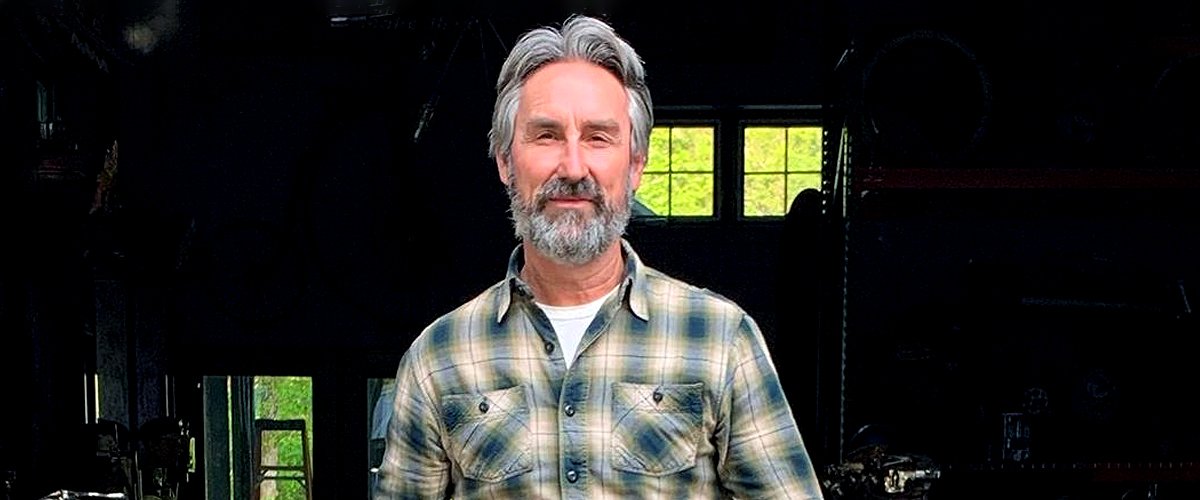 Mike and Frank made a living off exploring homes, barns, and anywhere else that they could find antique objects and collectibles while providing premium content for their viewers. They have since come a long way. 
The 55-year-old had gone from network to network, pitching his idea for the show for five years until History Channel finally picked it up and helped him achieve his dream of "rescuing America's past." 
The show first aired in June 2010 and has been on for twenty-one seasons with his ever-reliable cast consisting of himself, Frank, and Danielle Colby Cusman, who does most of the scouting for picking opportunities in their base, Antique Archeology, and beyond.
MIKE'S FAMILY 
While Mike has dominated his niche and is often in the public eye, he lives a happy private life with his wife, Jodi Faeth, and his daughter, Charlie Faeth Wolfe.
Jodi and Mike first met in 1994. The mom-of-two had been intrigued by Mike's passion for collecting antiques and transforming them into beautiful, decorative pieces sold for a much higher price. His love for what he did was what drew her to him.
A little while, after they first met, they started dating. The relationship lasted for almost two decades before they finally decided to walk down the aisle and say, "I do." They officially tied the knot on 8 September 2012.
They welcomed their beautiful baby girl into the world seven months after their marriage. They named her Charlie Faeth. 
Charlie is the only child of her parents, and they dote on her with all their love and attention. Mike never hesitates to take to social media and show off his beautiful family.
MIKE WOLFE'S WIFE 
Before Mike and Jodi crossed paths, she was in a relationship with another man with whom she had a son. She gave birth to her first son, Kyle, as a teenager. She and Kyle's father eventually split, after which she met Mike and thus began their story. 
Late in 2013, she was diagnosed with stage II Non-Hodgkin Lymphoma. This type of cancer begins in the white blood cells and compromises the body's immune system.
Jodi was lucky because she had gotten the diagnosis early enough to undergo a successful treatment and conquer the disease quickly, returning to a peaceful life with her family.
MIKE'S DAUGHTER 
The conditions surrounding little Charlie's birth were challenging, to say the least. While in her mother's womb, Charlie was diagnosed with a developmental disorder called Cleft lip and palate.
Difficult labor of several hours ensued, followed by a year filled with surgery after surgery to correct Charlie's condition. Thankfully, she made it to good health, and her parents were more than grateful. 
Jodi admitted that she had been afraid to have another child at 41. But when the little girl came, there was no mountain that they wouldn't move to make her happy. She said that Kyle fell in love with the baby sister he never knew he needed. 
It was as though Charlie was the glue they needed to stick together even tighter and inspired them to be better people. Jodi said:
"Charlie is a strong girl—she even surprised the surgeons and got to go home early. We realize how fortunate we are that we had the resources to get Charlie the best doctors."
CHARLIE'S STORY HELPED IN SUPPORTING OTHER CHILDREN
After numerous surgeries to correct Charlie's cleft lip and palate, Mike teamed up with one of Iowa's popular sculpting companies, Isabel Bloom, to create a stunning sculpture of Charlie for sale, which they called "Charlie's Smile." In a YouTube video which documented the creation process, the antique collector said:
"We found out that Charlie had a cleft lip and palate through an ultrasound. There was this sense of emptiness. We found a surgeon in Nashville, Dr Kelly. He introduced us to "Operation Smile."
The project was done to help raise funds by selling thousands of "Charlie's smile" sculptures for an organization called "Operation Smile," which was founded on the strong belief that children born with facial deformities also have the right to smile. 
Today, Mike and his family are a happy bunch who are grateful for the experiences that their challenges have given them. They live in their gorgeous Leiper's Fork, Tennessee home which is filled with beautiful antiques, trinkets, and a lot of love.