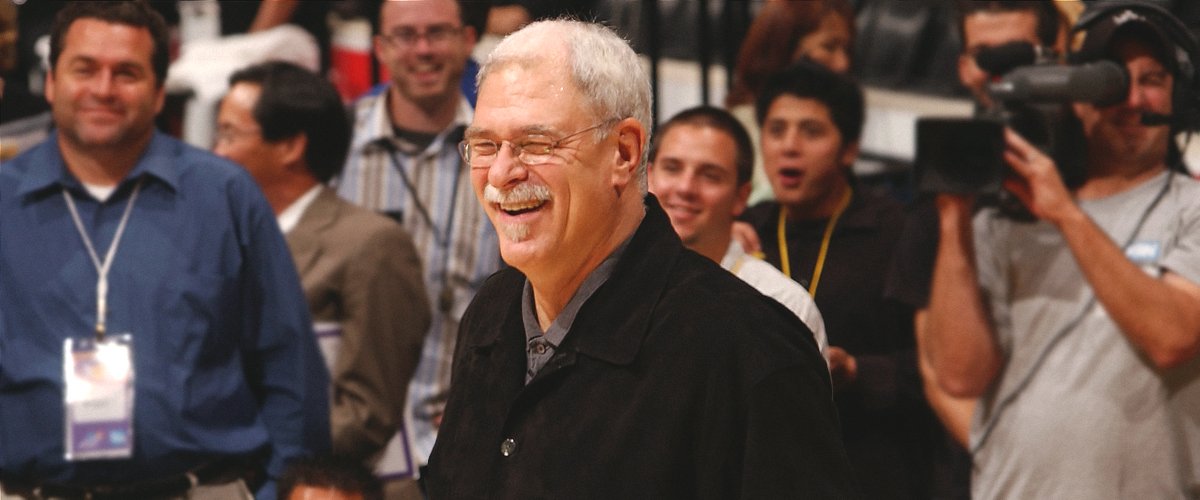 Getty Images
NBA Coach Phil Jackson's Personal Life — What We Know about It
Legendary NBA coach Phil Jackson is one of the most successful coaches in the history of the NBA, but two divorces and a called-off engagement marred his personal life.
Phil Jackson was born on September 17, 1945, in Montana, US. He is a retired American professional basketball player and coach. He later took up a position in management as an executive in the New York Knicks.
Despite his reasonably successful career as a power forward, Jackson is best known for his coaching career, which saw him win an unprecedented 11 NBA titles.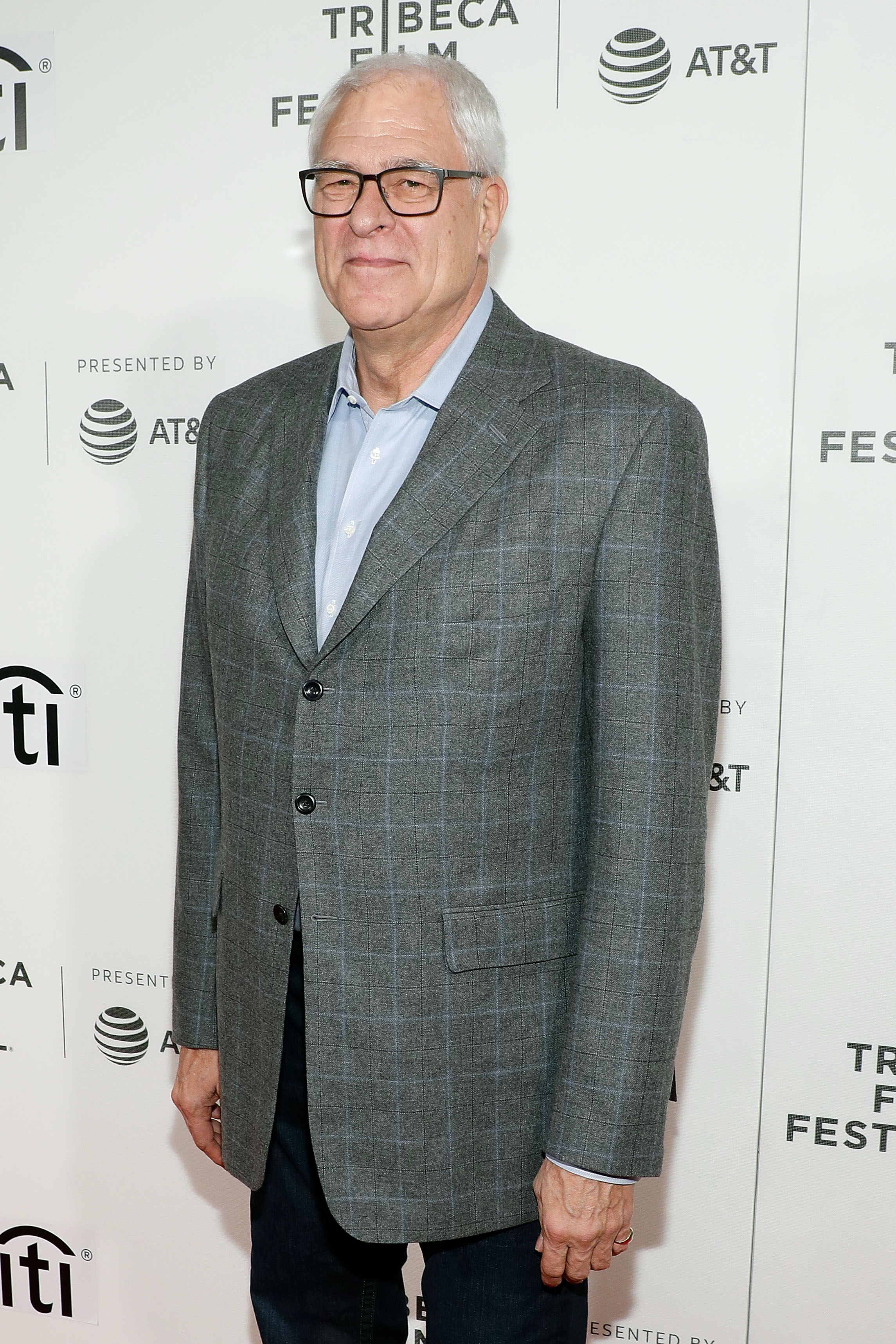 New York Knicks President Phil Jackson at Tribeca Talks during the 2017 Tribeca Film Festival at Borough of Manhattan Community College on April 23, 2017 | Photo: Getty Images
Throughout his coaching career, Jackson was revered for his mind games tactics, which won him few friends amongst his opposing coaches.
He was also renowned for his man-management skills as he guided his teams made of some of the biggest names, including Michael Jordan, Scottie Pippen, Shaquille O'Neal, Kobe Bryant, and many others.
Unfortunately, Jackson found it difficult to channel his exceptional management skills in his personal life, as he had to endure two failed marriages and, more recently, a called-off engagement.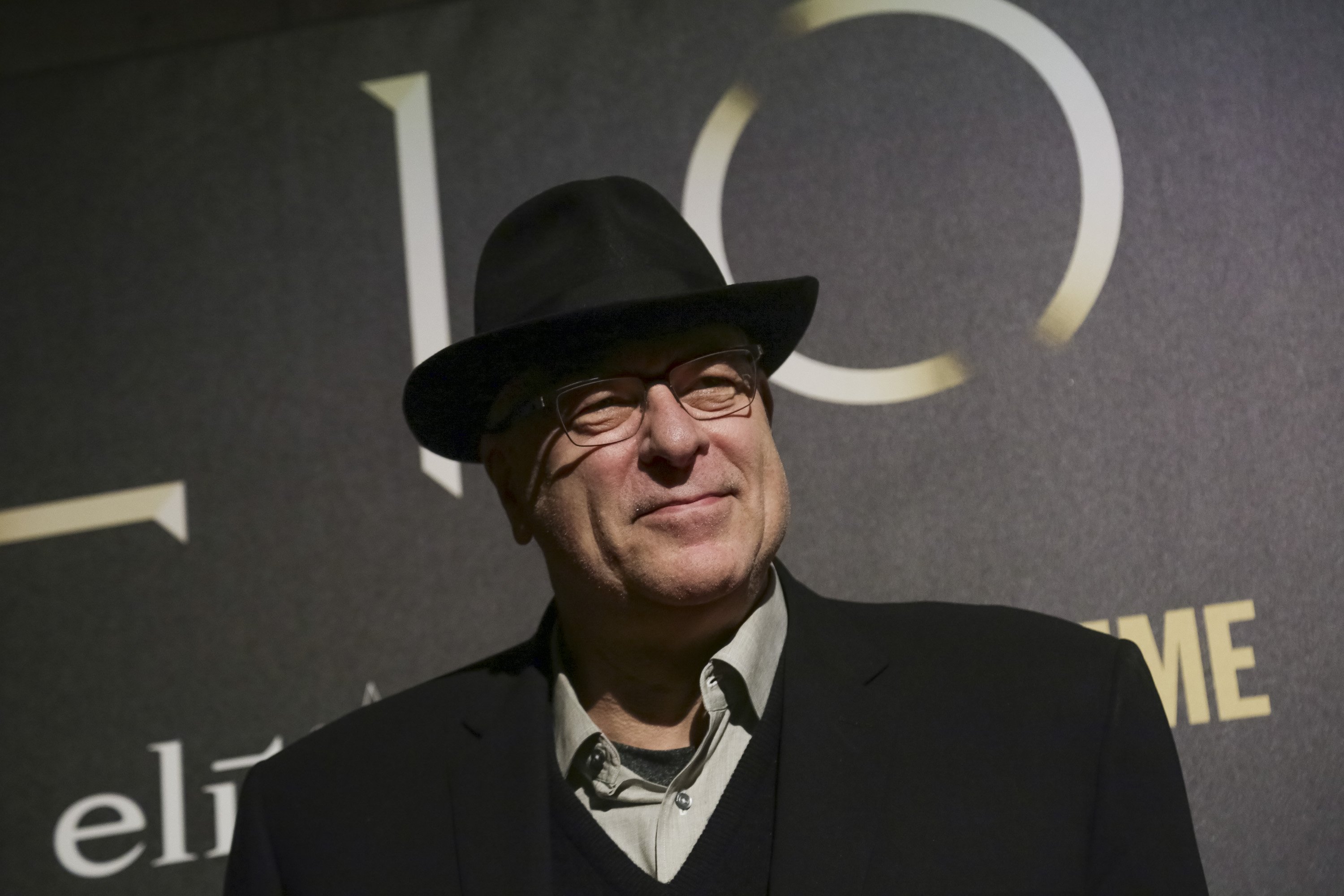 President of the New York Knicks Phil Jackson attends Showtime's "Billions" Season 2 premiere held at Cipriani 25 Broadway on February 13, 2017 | Photo: Getty Images
PHIL JACKSON'S FAILED MARRIAGES
Phil Jackson got married to his first wife, Maxine, in 1967, and the couple shares one child, daughter Elizabeth. After nearly five years together, Jackson and Maxine divorced in 1972.
In 1974, the legendary coach got married to his second wife, June. The couple was married for over two decades and share four children, Chelsea, Brooke, and twins Ben and Charlie.
Phil Jackson attends Sacramento Kings vs New York Knicks game at Madison Square Garden on December 4, 2016 | Photo: Getty Images
The couple got divorced after twenty-five years of marriage, and in the years that followed, the former LA Lakers coach opened up about the split in his book "More than a Game." In his words:
"June felt that I was unable to commit to my relationship or my family because my career was too important to me."
Unlike their famous father, Jackson's five children have maintained a low profile throughout their lives, but they have managed to keep a close relationship with their father. Apart from his five children, the retired NBA coach is also the proud grandfather of eight beautiful grandkids.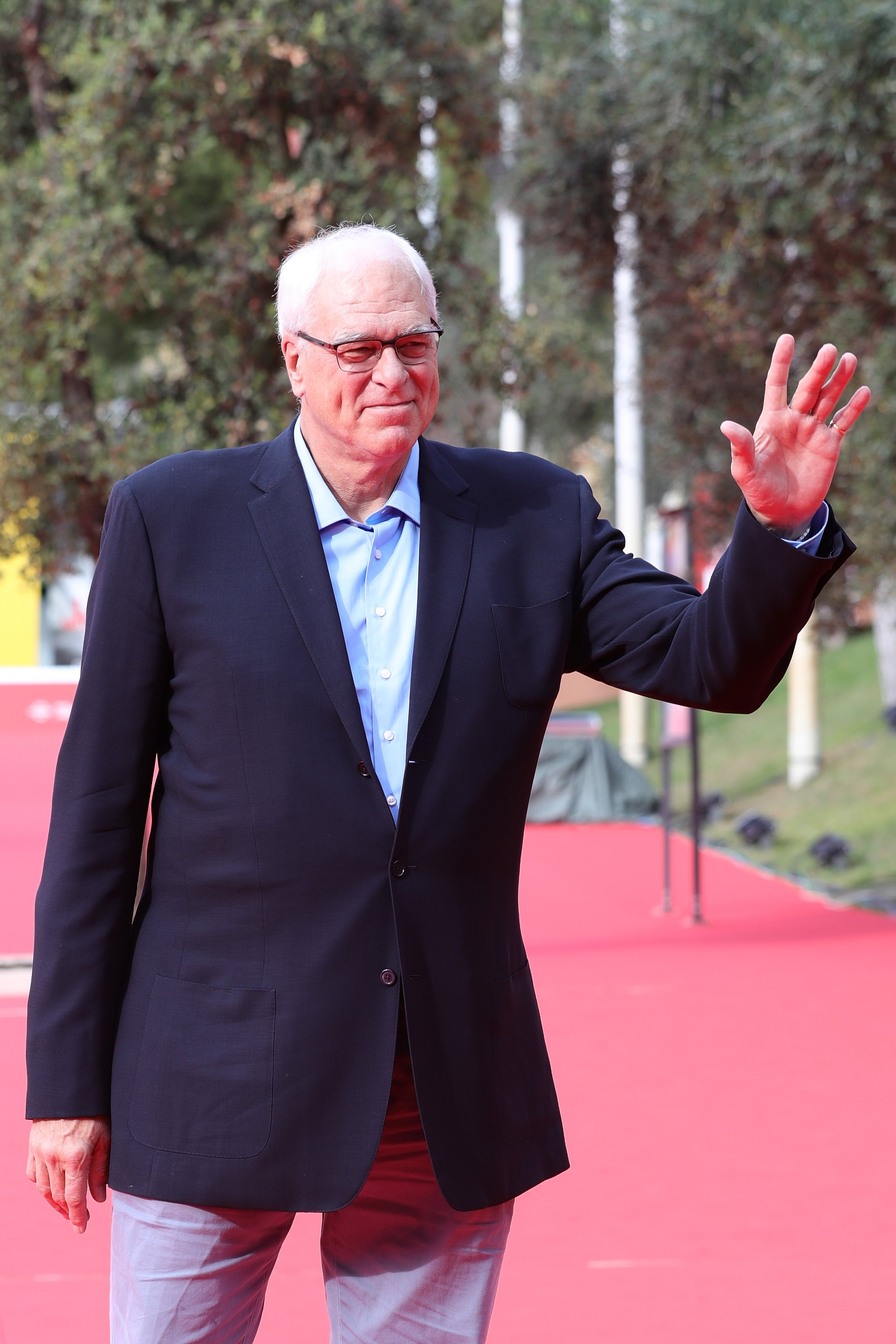 Phil Jackson walks a red carpet during the 12th Rome Film Fest at Auditorium Parco Della Musica on October 28, 2017 | Photo: Getty Images
PHIL JACKSON AND JEANIE BUSS CALL-OFF THEIR ENGAGEMENT
Jackson began dating Jeanie Buss, whose father, Jerry Buss, was the owner of LA Lakers after his second marriage to the mother of four of his children ended in a divorce.
The veteran professional basketball coach met Jeannie in 1999, and after dating for many years, the pair got engaged in 2013. Fans of the couple had believed their relationship was destined for the altar until the former lovebirds surprisingly ended their relationship in 2016.
At the time of their split, Jackson was the President of the New York Knicks while Jeannie was running the Lakers. Following their breakup, Jeannie later admitted during an emotional interview with the Los Angeles Times in 2017, that the split had been tough on her and fondly spoke about her relationship with Jackson.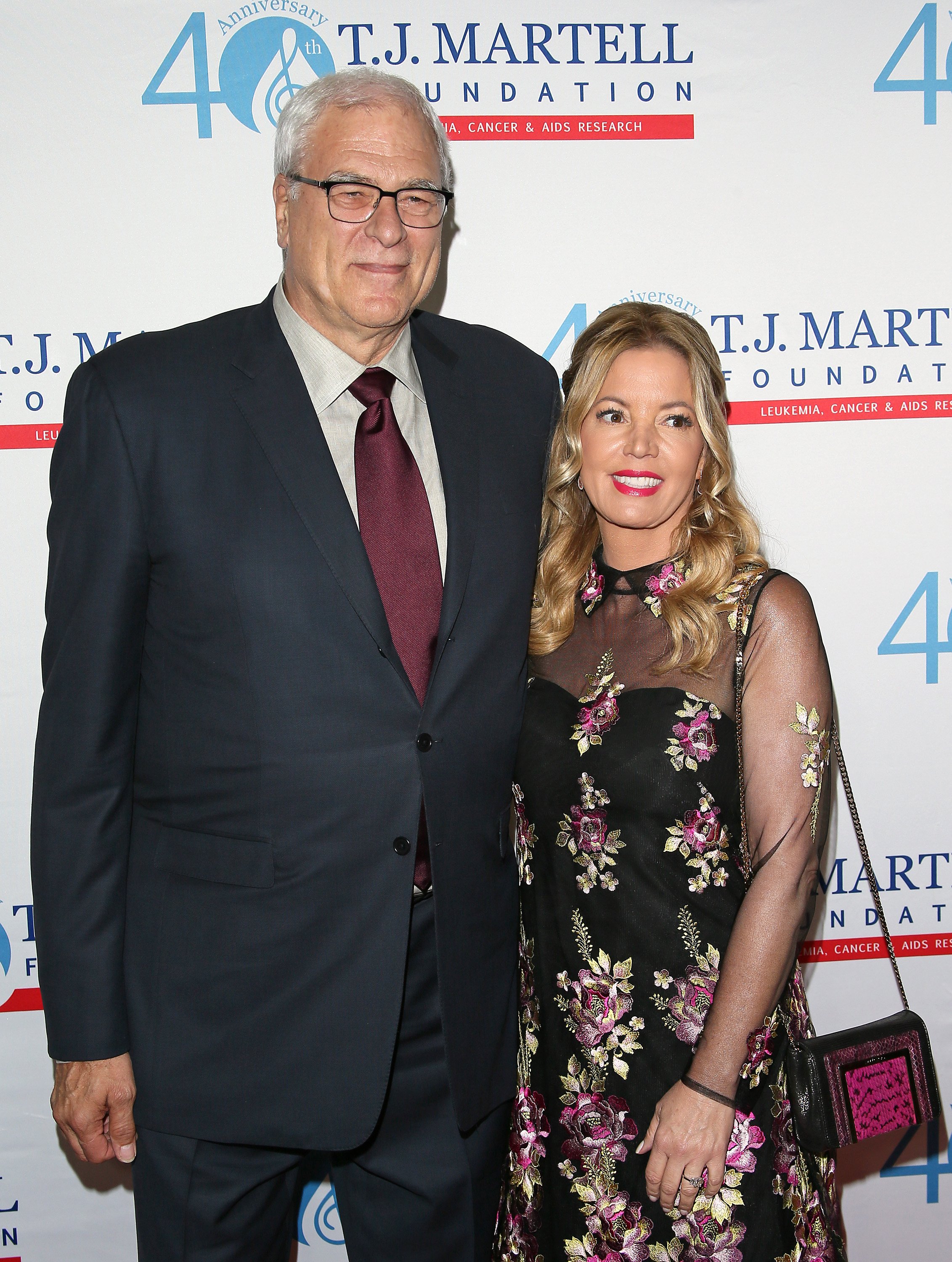 Phil Jackson and Jeanie Buss arrive at the T.J. Martell Foundation's Spirit of Excellence Awards held at the Beverly Wilshire Four Seasons Hotel on September 1, 2015 | Photo: Getty Images
Recalling when they began dating, and Jackson was still a coach at the Lakers, Jeannie revealed how she felt like the unofficial team mom.
Jackson also revealed to the Los Angeles Times that when he left Los Angeles to take up the executive role with the Knicks, the league grew wary of their relationship.
He continued, saying that many within the game believed that there was a kind of cooperation between the two franchises, which affected their relationship. The Hall of Famer did affirm that this wasn't the reason for their split, rather distance was the primary reason.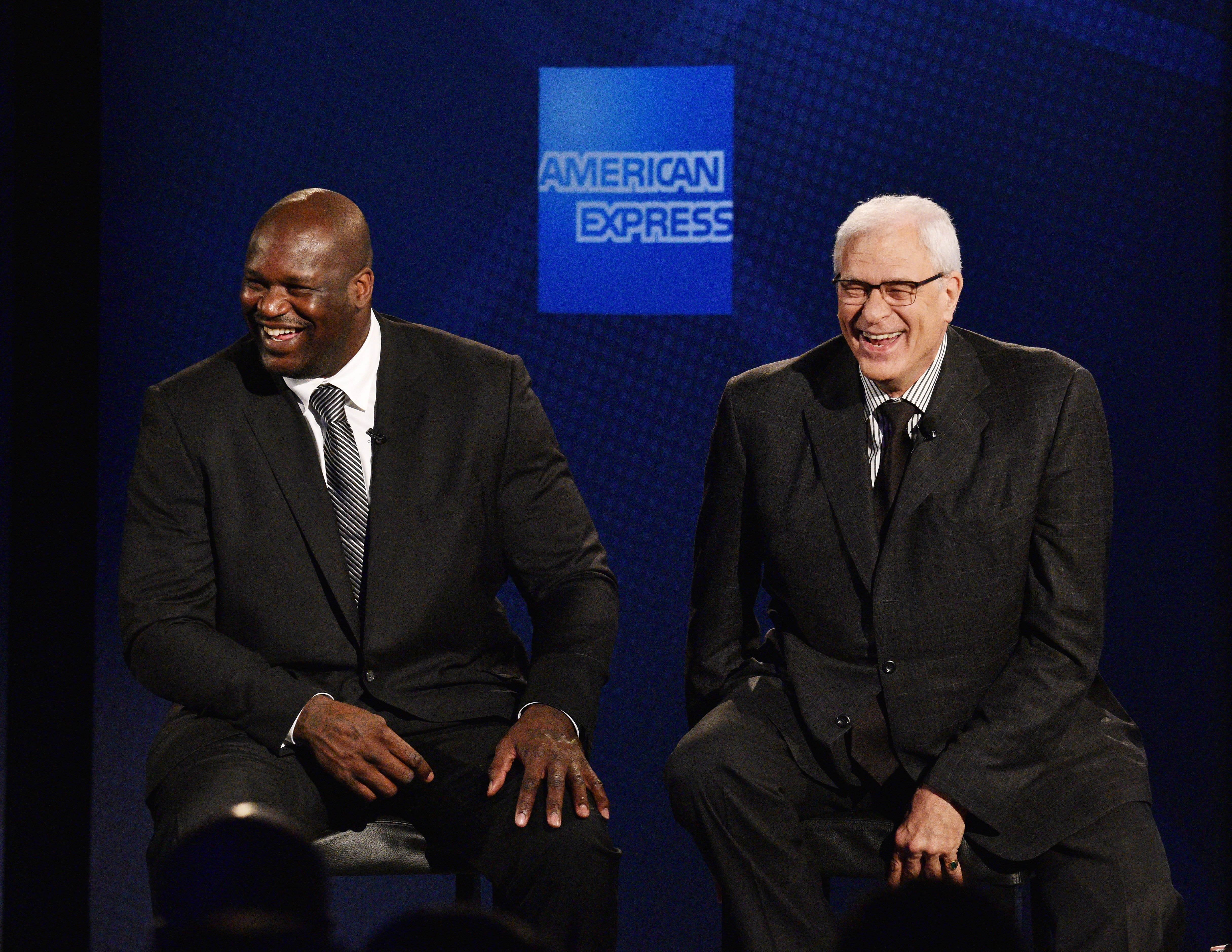 Shaquille O'Neal and Phil Jackson at the Altman Building on June 6, 2016 | Photo: Getty Images
WHAT IS HE DOING NOW?
Many controversies trailed Phil Jackson's time as President of the New York Knicks. Some of these include a terrible contract offer to Joakim Noah, strained relationships with Carmelo Anthony and Kristaps Porzingis, and many other questionable decisions that he took during his short stint with the New York Knicks.
From the onset, it was clear to many within the game that Jackson didn't have the right skill set for the role in New York, but in pursuit of a new challenge Jackson who had avoided personnel matters throughout his coaching career took the job anyway.
Jackson's time as President of the New York Knicks lasted only three years, leaving a stain on his previously untainted career. On June 28, 2017, the Knicks announced that they had reached a mutual agreement with Jackson to terminate his contract.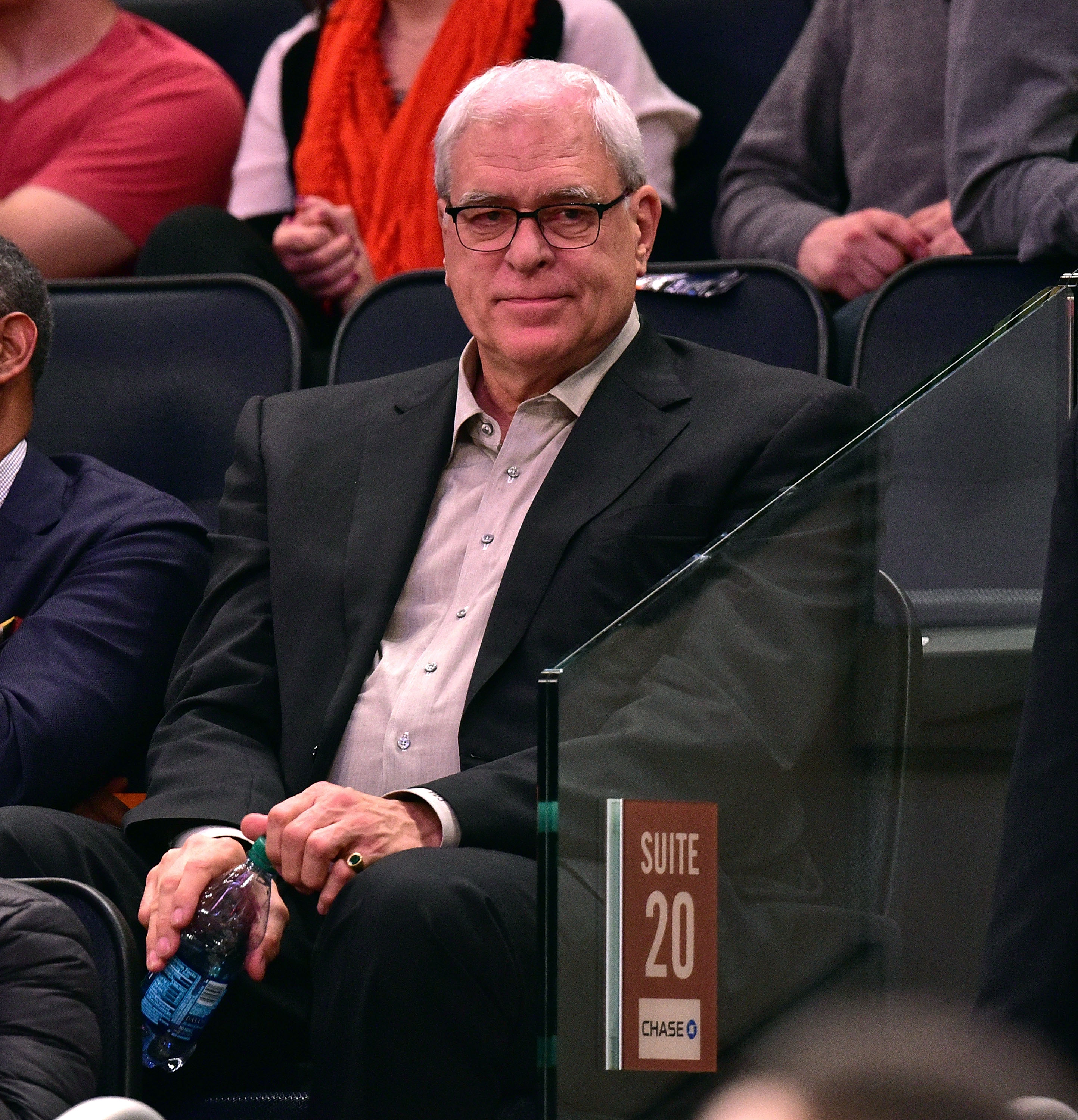 Phil Jackson attends Philadelphia 76ers vs New York Knicks game at Madison Square Garden on April 5, 2015 | Photo: Getty Images
In 2020, Phil Jackson starred alongside Michael Jordan, Scottie Pippen, Dennis Rodman, and Steve Kerr in the Netflix and ESPN miniseries "The Last Dance," which focused on the Chicago Bulls title-winning 1997-1998 season.
During an episode of the docuseries, former NBA player and Golden State coach Steve Kerr, who is also a key figure in the documentary, had glowing praise for Phil Jackson. In his words:
"I think people always underestimated Phil's talent as a coach, but he was so brilliant and so unique in his style."
Please fill in your e-mail so we can share with you our top stories!