Meet Apryl and Omarion Jones' 2 Kids A'mei Kazuko and Megaa Omari
The "Love & Hip Hop: Hollywood" ex-couple's children have been growing up so fast. After having many troubles around their break up and following Apryl's relationship, both parents have managed to co-parent their beautiful kids.
R&B singer, Omarion could not be more proud of his children. Even though he is no longer together with their mother, he is constantly posting many photos to share the joyful moments he shares with them.
On Earth Day, the singer took to Instagram, to share he was with his "tribe" celebrating such an important date. Both his children, Megaa and A'mei, and some friends were with him outside at the backyard to do some breathing and meditation exercises, to honor the earth. He wrote:
"Me & my tribe thanked mother earth by doing some meditation in the backyard (...) Take care of your planet & it will take care of you".
Other photos he later shared, show both of his children playing around in a tree, on another one they are hugging, as he is surprised by them growing up so fast. It is lovely to see his children caring for each other very much, it sure means he is also a caring father.
A SPLIT FAMILY
A'mei Kazuko is the second of the two children that Omarion shares with former girlfriend Apryl Jones. The couple's first son is 6-year-old Megaa Omari. The girl recently turned 4 years old and they celebrated her birthday with a lipstick-themed amazing party that she is always going to remember.
While the couple was part of "Love & Hip Hop Hollywood", A'mei was born and delivered via home birth. While it was documented on the show, Omarion took to Instagram to write that he was proud Apryl had given birth with no medication at all, "thank you for having my legacy. I'll forever belong to you & you will forever be tied to me", he wrote.
But it was only a matter of four months after they welcomed their second child when they both decided to go separate ways. It was a surprise for their fans at the time, but neither Omarion nor Apryl gave any specific reason for their split.
THE BREAK-UP
In 2019, three years after their break up, Apryl Jones and B2K member and Omarion's former friend, Lil Fizz, announced they were together as a couple. The group (B2K) was finishing out the Millenium Tour when Omarion learned the news.
It has been a long road for Omarion over speculations of him dealing or being upset with his ex-girlfriend dating his bandmate. However, the R&B singer has remained very calm about it.
In an interview he opened up on this issue he said "I don't feel no ways. I don't feel any way about it. I think that if they're happy, then they should be happy. I think they should change the narrative, though."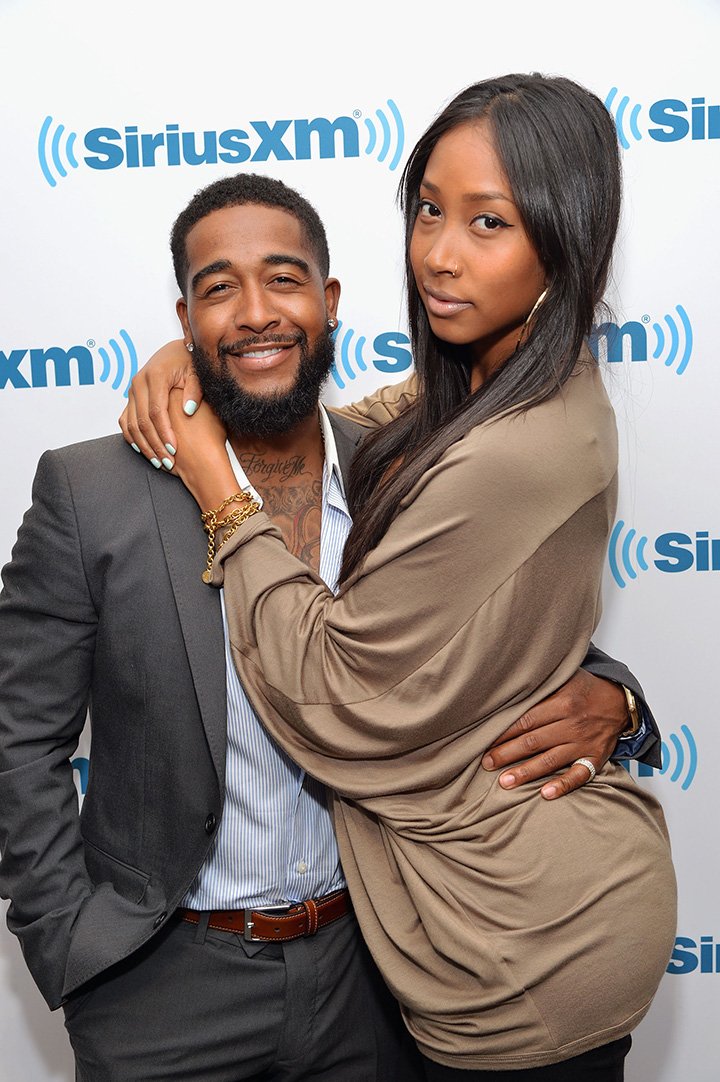 He referred to the fact that Apryl was telling the media that though Omarion seems unbothered, he keeps bothering her "behind closed doors". Like not receiving enough money to support herself and her children.
"She's still the mother of my children. When something affects her, it affects my kids, and that affects me. But what she does is, you know, live your life! I think people should do whatever makes them happy. I think they should change the narrative," Omarion insisted.