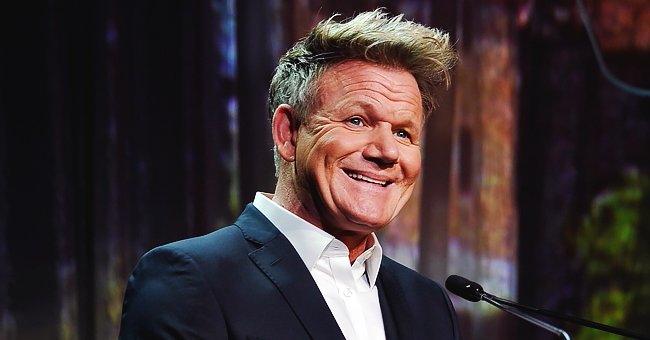 Getty Images
Gordon Ramsay's Baby Son Oscar Makes Kelly Clarkson Want to Have Another Baby with a Cute Cameo

Kelly Clarkson wants to add another mini-me to her nest after seeing Gordon Ramsay's adorable son Oscar. The singer is competing with the chef's brood. She stands at four in her family.
Kelly Clarkson, 38, was hit with an instant case of baby fever when she interviewed celebrity chef Gordon Ramsay on her show on Wednesday. She also had quite an appetite.
During the virtual appearance, Ramsay picked up his one-year-old son Oscar and Clarkson's attention immediately shifted to the tot who wore a yellow outfit. The clip is found below.
RAMSAY'S SON CRASHES INTERVIEW
In her excitement, Clarkson revealed that she was dying to have another child, but her husband, Brandon Blackstock, was fine with four. Clarkson shares two kids, River Rose, five, and Remington, four, with Blackstock.
They also live with Blackstock's two children, Savannah, 18, and Seth, 13, from his previous marriage to Melissa Ashworth. Clarkson told Ramsay that she wants to eat his baby because he's so cute.
CLARKSON EXPLAINS BABY FEVER
Ramsay's wife also made an appearance in the segment, saying that she'd also want more kids despite having five of them. Ramsay was shocked by the news. "Six? What? Seriously?" he asked.
Clarkson explained: "You get baby fever when you see them, and you're like, 'Oh, I miss the chubby little legs and the little face.' " Ramsay's son was born back in April 2019.
He's also dad to Meghan, 22, twins Holly and Jack, 20, and Matilda, 18. Oscar, the youngest, recently reached a major milestone in his development.
ALL ABOUT THE RAMSAY KIDS
Earlier this month, the tot showed that he'd learned how to kick a football as he dribbled around a garden in Cornwall. The toddler looked to be a professional at his young age, and his dad was proud as ever.
Ramsay's other children are also reaching new places. Meghan was the first to graduate from Oxford Brookes University last month. She's an equestrian who's won several trophies.
Meanwhile, younger sister Matilda is following in her father's footsteps. She even has her own cooking show titled, "Matilda and the Ramsay Bunch."
FOLLOWING IN DAD'S FOOTSTEPS
She also has a book of the same name. Matilda has been spotted on television with her father quite a few times. Plus, she has already dated a fellow chef's child, Luciano, son of Gina D'Acampo.
As for twins Holly and Jack, the latter was reportedly training to become a Royal Marine after studying at Exeter University. Holly is interested in a fashion industry career.
The pair are also contributing together by doing work of activism including a marathon run for the Great Ormond Street Hospital charity.
It sounds like little Oscar might be the only one looking to get involved in a field sport. We can't wait to see what happens when he grows up. For now, we enjoy seeing the tiny tot crashing interviews.
Please fill in your e-mail so we can share with you our top stories!