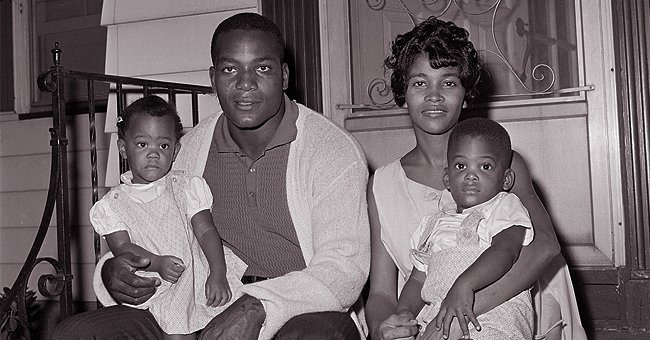 GettyImages
Inside NFL Star Jim Brown's Tense Divorce with Ex-wife Sue Who He Has 3 Kids With

While having a successful career as one of the best NFL players of his time, Brown's personal life was frequently related to turbulent events including episodes of violence.
When Jim Brown divorced from his then-wife, Sue, in 1968, he thought that it would be simple, with no press headlines, but after several assault charges, his ex-wife filed for divorce charging him of "gross neglect".
It was actually the opposite. Alleging he was a "multimillionaire", Sue was asking for custody and big amounts of money to support their three children, alimony for herself and the family home in Cleveland.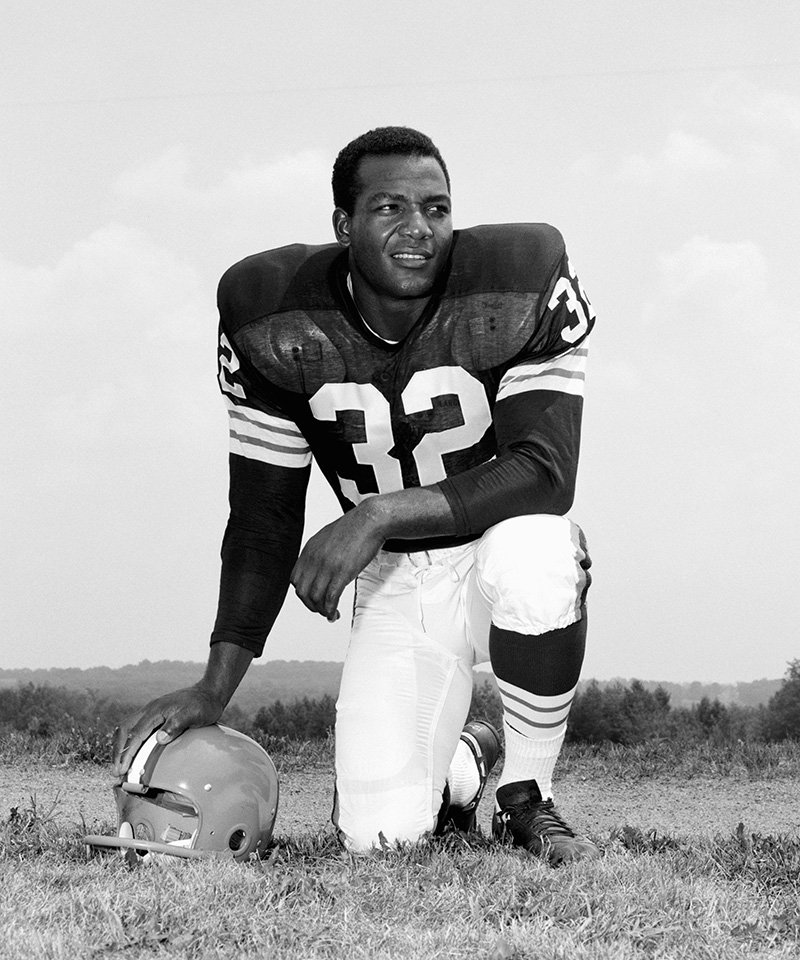 Running back Jim Brown #32, of the Cleveland Browns, poses for a portrait during training camp on July 24, 1958 at Hiram College in Hiram, Ohio. I Image: Getty Images.
Jim's financial status was under investigation until it was ordered he would pay Sue 2,500$ per month, plus 100$ per week to support their kids.
LASTING PROBLEMS
The couples' divorce issues extended for years. In 1972, when it finally came to an end, Sue told the court that she had not received the amount of money that was ordered for children, twins Kim and Kevin, and James.
Years later, in 2014, the former fullback for the Cleveland Browns sued the auction house Lelands Collectibles, because they had his 1964 NFL Championship ring to auction, alleging it was stolen. But Lelands fought back.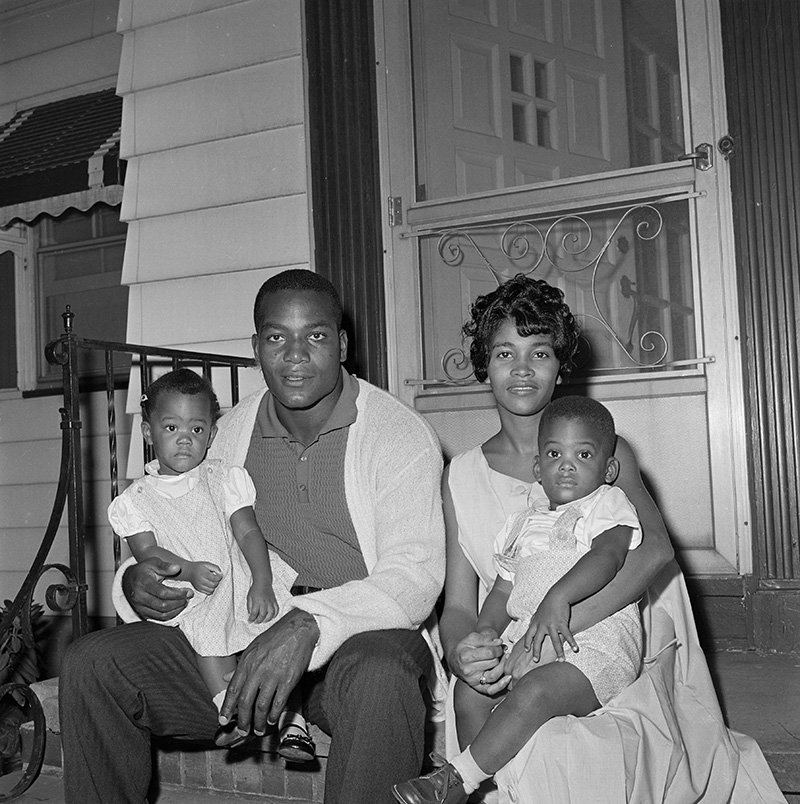 Jim Brown, fullback of the Cleveland Browns, sits in front of his home with wife, Sue and twins Kim and Kevin, 19-months-old. I Image: Getty Images.
The house said that after the couple split, Sue kept the ring and she eventually sold it to a sports memorabilia collector.
The precious ring went to several collectors until it ended up at Lelands, so they sued him back for $2 million in damages as a result of his lawsuit.
LEGAL TROUBLES
Browns' life has been involved in serious legal troubles on many occasions; he has glorified himself over his sexual conquests and has been often accused of violence against women.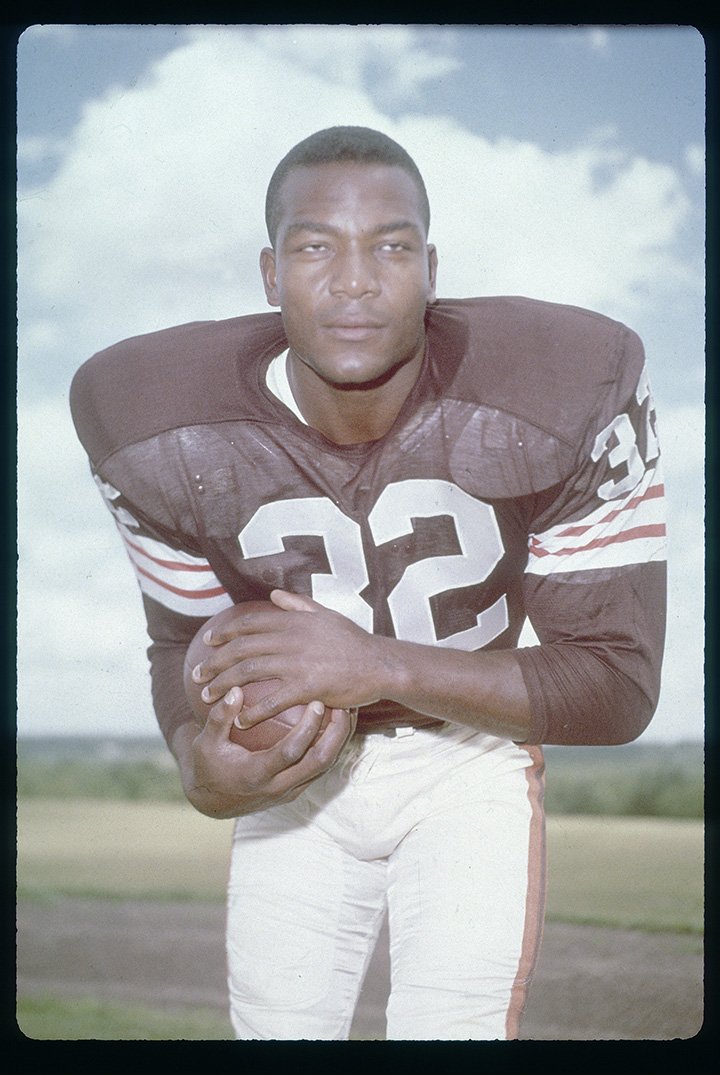 Jim Brown #32 of the Cleveland Browns late circa 1950's. Brown played for the Browns from 1957-1965. I Image: Getty Images.
He was arrested for assault and battery against an 18-year-old girl, and charged with assault with intent to commit murder after model Eva Bohn-Chin was found injured outside his house, just to name a few.
He was also in jail for a day for beating and choking his golfing partner, Frank Snow. Rape and vandalism are part of his charges as well, though he has gotten away with it so far.
An article published in 1968 by Gloria Steinem mentions superficially Brown's personal relationships, despite his arrests for violence against women.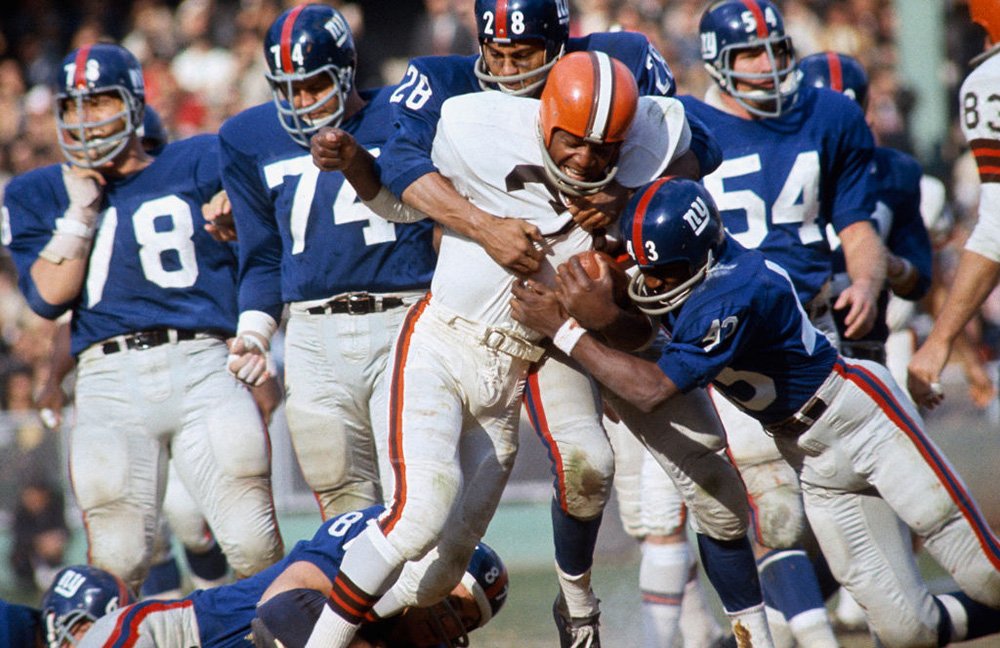 Cleveland Browns' Jim Brown (32) in action, rushing vs the New York Giants at Yankee Stadium. Bronx, NY 10/24/1965. I Image: Getty Images.
By the time nobody cared much about it, which makes it all the more disturbing while we realize today's evidence of decades of institutional cover-ups of violence against women.
MORE THAN SPORTS
Brown played for the Cleveland Browns of the NFL from 1957 through 1965. He was considered one of the greatest football players of his time, winning NFL Most Valuable Player three times, and one championship in 1964.
However, after his retirement from NFL, he went on to have a career in acting, being cast in several movies, became a color commentator for the Ultimate Fighting Championship, an author of his autobiography "Out of Bounds", and executive advisor for the Browns.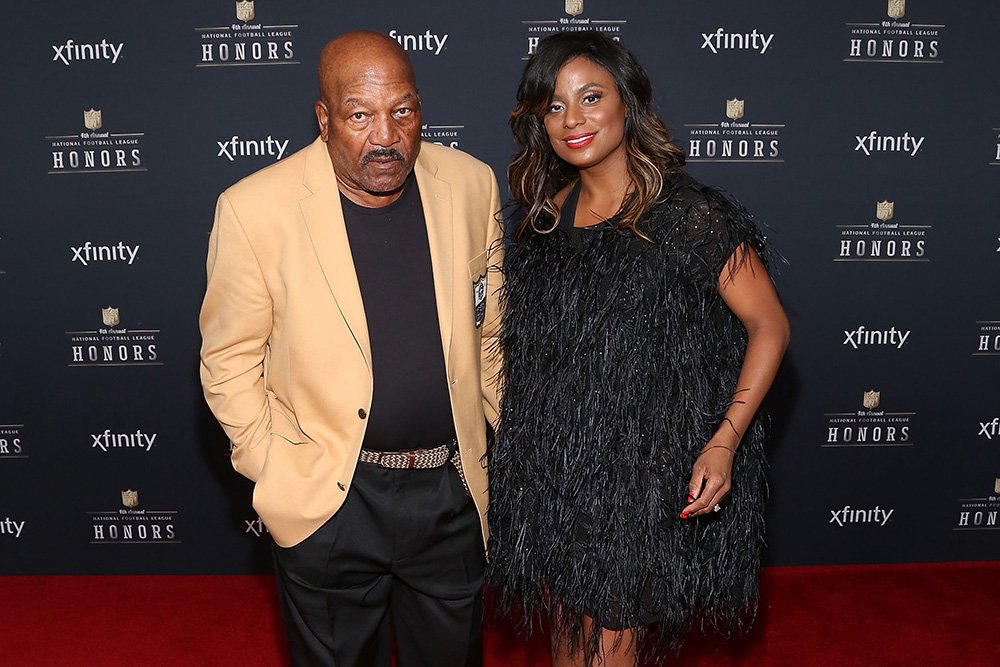 Former Cleveland Browns running back Jim Brown and Monique Brown attend the 2015 NFL Honors at Phoenix Convention Center on January 31, 2015 in Phoenix, Arizona. I Image: Getty Images.
In 1965, he helped to create the Negro Industrial and Economic Union to assist businesses owned by black people, by empowering them financially.
By that time, he also launched an entertainment management company in LA, to help push the careers of several black musical acts.
Please fill in your e-mail so we can share with you our top stories!