Bill Cosby Remembers His Only Son Ennis Who Was Brutally Murdered in a Candid Post Amid Protests
Bill Cosby posted a heartfelt message about the nationwide protests against police recent actions as he reflected on his only son, who was brutally murdered.
George Floyd's death at the hands of a police officer, who had his knee pinned to his neck until he couldn't breathe has triggered national and international protests against police recent actions.
Countries across Europe and Latin America have joined America in demanding justice for Floyd. Celebrities such as Hasley, Nick Cannon, Ariana Grande, and Kendrick Sampson have taken to the streets to join protesters.
Floyd's death has sparked a lot of concern among parents for their sons in light of the history of police brutality. 
One parent, who can relate to the emotional toll of senseless killing is disgraced comedian, Bill Cosby. While continuing communication from his jail cell, he shared his personal story of the murder of his son, Ennis Cosby.
home yesterday, as the late Ennis Cosby smiles in the background. #RestorationOfLegacy#BillCosby#ArtistMichaelAtkins pic.twitter.com/se2zrmVt87

— Bill Cosby (@BillCosby) May 12, 2017
In a heartfelt message showing support to protesters, Cosby admitted that the murder of Breonna Taylor, George Floyd, and Ahmaud Arbery had him thinking about his son, who was brutally murdered, he wrote:
"I understand the pain; NO parent has willingly become a member of the 'My Child Was Murdered by Racial Hatred' club."
While Cosby acknowledged the usefulness of protests, he argued that a peaceful movement would be more effective. He also urged the government to turn away the forceful measures they were using against citizens. His post has gotten over 2900 likes on Instagram. 
"This is a beautiful post, Mr. Cosby," commented one fan. "Thank you for all the knowledge and love you shared with us for all these years. May your beloved son Ennis rest in peace," added another fan. One person recalled a memory he had when Cosby mentioned his son during a comedy special.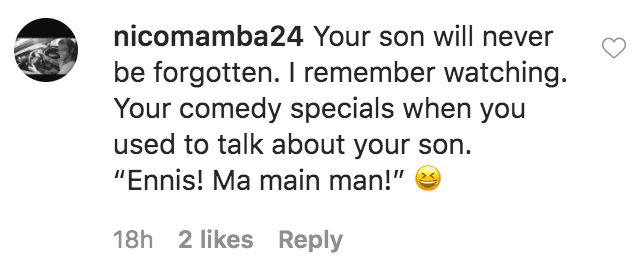 It is 
reported
, Ennis died on January 16, 1997. He had stopped to change a flat tire on his Mercedes Benz along a highway in Los Angeles when he was murdered.
Ennis was shot to death by a Ukrainian-born teenager named Mikhail Markhasev during an attempted robbery. 
4. Remember when Bill Cosby's son Ennis was murdered? They tried to pass it off as a random car jacking that happened on the freeway. First of all, PEOPLE DON'T JACK CARS FROM A DAMN FREEWAY. Second, when Ennis was killed, the car, his money and his Rolex watch was with him pic.twitter.com/hURUW9iL6W

— Tariq Nasheed 🇺🇸 (@tariqnasheed) October 5, 2018
ABC News reported, after confessing to the murder, Markhasev decided in 2001 to withdraw his appeals and serve out his life sentence.
In a statement, Markhasev apologized to the Cosby family and said that he wanted to do the right thing and take responsibility for his actions. Legal experts who weighed on the case said his appeal withdrawal was surprising and a rare occurrence.