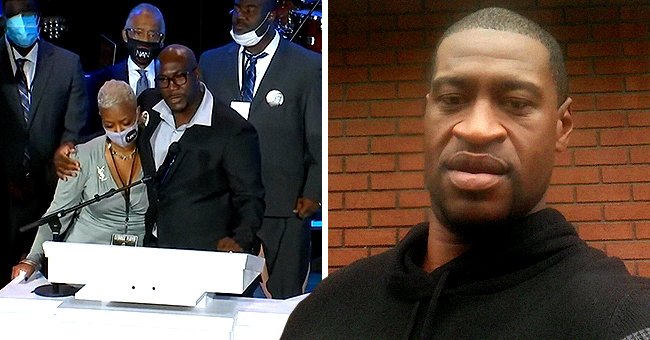 YouTube/CBS News. | Twitter/WCVB.
Watch George Floyd's Loved Once Say Goodbye to Him during an Emotional Memorial Service

The first of three memorial services took place to honor the life of George Floyd, who tragically died in police custody late last month, and well-known people from all walks of life attended to show their support.
On Thursday, the first of three memorial services took place to honor George Floyd's life following his tragic death by the hand of a former Minneapolis police officer on May 25.
Held in the Frank J. Lundquist Sanctuary at North Central University, a couple of hundred invited guests attended George's service alongside his family, who each delivered emotional final farewells in his memory.
FAMOUS FACES EVERYWHERE AMONG ATTENDEES
The family said that they could feel the love as they stood in the room filled with guests from all walks of life. The founder of the National Action Network, Rev. Al Sharpton delivered the eulogy which attendees such as Martin Luther King III, Senators from Minnesota Tina Smith and Amy Klobuchar, Governor Tim Walz, and the mayor of Minneapolis, Jacob Frey listened to intently.
The event got streamed live, and the memorial also had celebrities in attendance that included Tyrese Gibson, Ludacris, Tiffany Haddish, actor Kevin Hart, T.I. and his wife Tiny, and the former NBA star, Stephen Jackson, who happened to be friends with George.
HIS FAMILY PAY TRIBUTE
George's family painted a picture of a man who played a significant role in their lives, a man who knew how to make others feel comfortable and safe. Grateful that George "touched so many people's hearts," his brother, Philonise Floyd assured that justice for George's death would prevail, as he added:
"I'm just staying as strong as I can, because I need to get it out. Everybody wants justice for George. He's going to get it."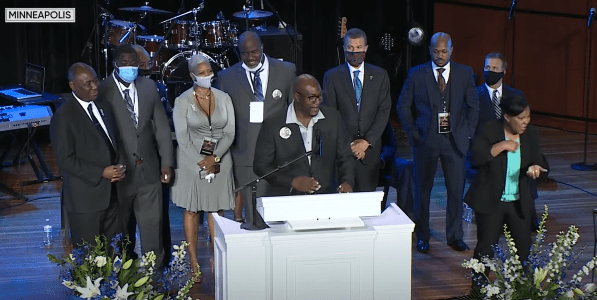 George Floyd's family speaking at his memorial service held in Minneapolis on June 4, 2020. | Source: YouTube/ CBS News.
THEY LOOKED UP TO GEORGE
Philonise spoke about the banana and mayonnaise sandwiches they used to make together and how George would love to play football and be welcoming to those that entered their home, especially children.
Their brother Rodney also recalled their days together in Houston, and the more the family members spoke, the more a picture formed of a close-knit family who cared about each other and their neighborhood.
"He was teaching us how to be a man," Rodney said. "He would stand up for his family and friends, and he was great at that, and I want you guys to know that he would stand up for injustice anywhere."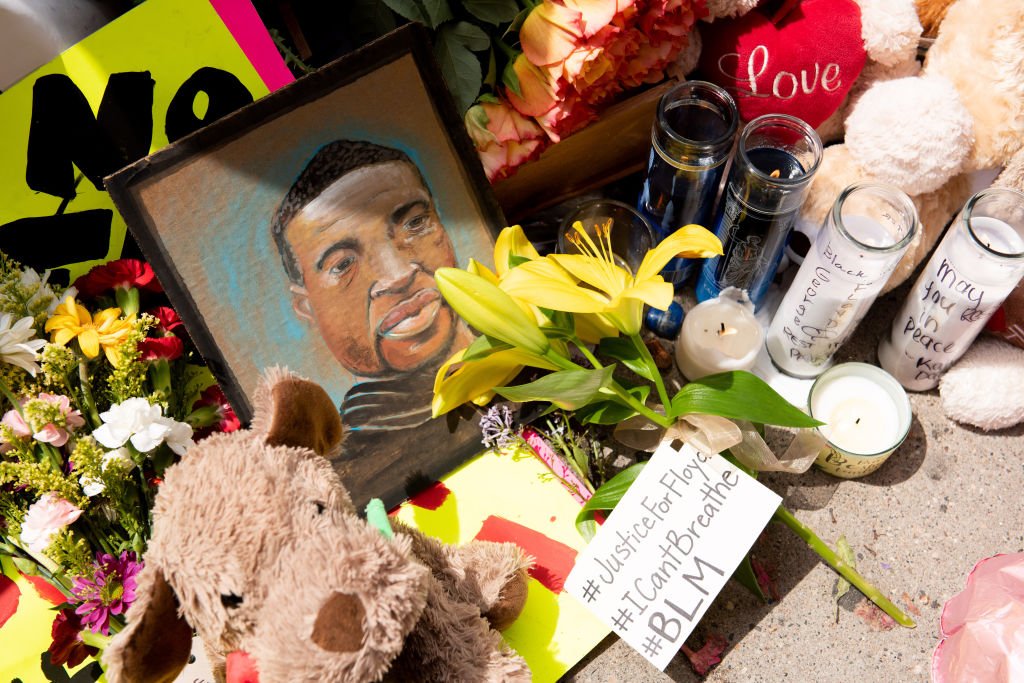 The memorial for George Floyd is seen on Wednesday, May 27, 2020 during the second day of protests over his death in Minneapolis. | Source: Getty Images.
THE TRIBUTE OF SILENCE
When Rev. Al Sharpton finished his eulogy, he asked everyone in attendance to join in on eight minutes and forty-six seconds of silence - the length of time the police officer had his knee pressed down on George's neck.
Members of the general public also came together at Brooklyn's Cadman Plaza on Thursday to commemorate George's life, and another of George's brothers, Terrence Floyd, took time to address the crowds, a Brooklyn resident himself.
MOURNERS ALSO CAME TOGETHER IN BROOKLYN
He reportedly implored protestors to remain peaceful, and said that he felt proud that people are protesting the incident, but warned that his brother "wasn't about that" destruction as they are a "God-fearing family."
The memorial service also comes shortly after George Floyd's family received the results of the independent autopsy they had performed.
When the results indicated that George died from asphyxiation, they requested that the former police officer in question, Derek Chauvin, be charged with first-degree instead of third-degree murder.
Please fill in your e-mail so we can share with you our top stories!