Cookie and Magic Johnson Celebrate Their Son EJ's 28th Birthday with Heart-Melting Posts
EJ Johnson, the son of legendary basketball player Earvin "Magic" Johnson, celebrated his birthday recently. As expected, his family made him feel loved via social media. 
Magic was the first parent to get in on the fun. The former Los Angeles Lakers point guard shared a picture on Instagram, where he wished his boy a happy birthday. 
Magic's photo showed him and EJ on a yacht as they appeared to be holidaying together and celebrating something. The former basketballer wore a green Nike shirt and a pair of matching shorts, while EJ looked fabulous in a Versace shirt and a pair of ripped jeans.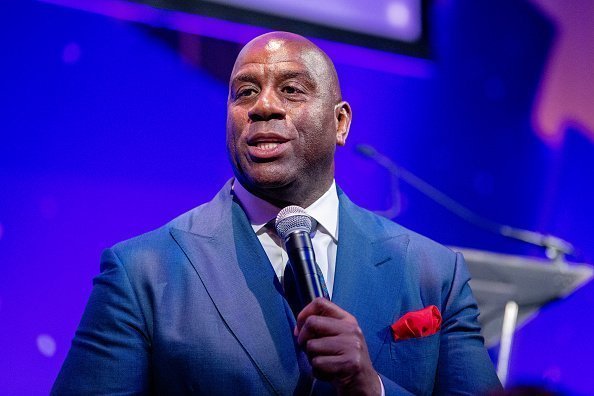 In the photo, Magic calls EJ an "amazing" son, adding that he loves how he has been able to touch the world in his own way. The proud father encouraged his son to keep shining his light. 
Cookie Johnson, Magic's wife, shared her birthday tribute on Instagram a few hours later. Her post featured a snap with her son on a red carpet, as they both stunned in black and white. Captioning it, she wrote:
"Happy Birthday My Love @ejjohnson_!!! You are a bright light in my life, and I feel blessed everyday since the day you were born..."
EJ has been a significant voice in the LGBTQ community. He's been vocal about his experience coming out and supporting other members of the community. However, his 28th birthday is all about him. Surely, his parents made him know that.
Magic explained that he worries his children could also be victims of police brutality.
As for Magic, he's also been a voice of reason at a time when the country appears to be on the brink of a revolution.
He revealed in a recent interview that he continues to worry about his children and possible police interactions. In part, he said:
"I had that conversation because it's important that I have that conversation with both EJ and Andre."
Johnson further said that George Floyd, the Minnesota man whose death sparked the protests, did everything he should have. Despite that, the police officer continued to choke him. 
With the reality of the situation, Magic explained that he worries his children could also be victims of police brutality. If it could happen to George, it could happen to them too. 
Magic added that the death goes on to show the distrust between members of the African-American community and police.
Putting his support behind the protesters, he said that the reason for such outrage is understandable. People are fed up, and they want a change.