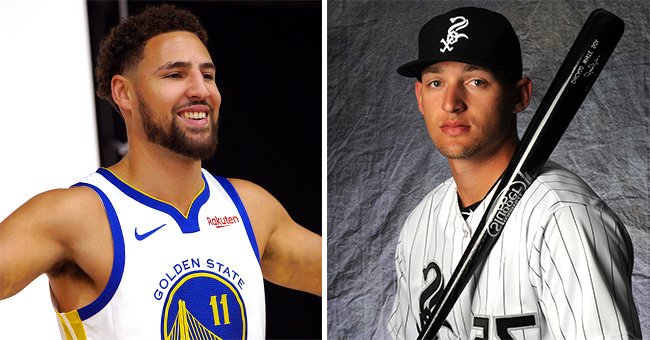 Instagram/klaythompson GettyImages
Meet Former MLB Star Trayce Thompson, Younger Brother of NBA Star Klay Thompson

NBA star Klay Thompson's brother is an athlete, too, choosing to pursue an entirely different sport as compared to his brother.
Trayce Thompson was a former Major League Baseball player, joining the Chicago White Sox straight out of high school. After years in the league, he rejoined his first-ever team after being traded a couple of times.
The 29-year-old is the younger brother of Golden State Warriors guard Klay Thompson, and son of former NBA player Mychal Thompson. Although he chose to pursue a career in baseball unlike the rest of his family, he is doing quite well for himself.
HIS MLB DEBUT
During his debut with the Chicago White Sox, he batted .295 with five homers an 16 RBIs in a total of 44 games. He was then traded to the Los Angeles Dodgers as a part of a three-team deal.
At the time, Thompson revealed the trade was devastating for him, and White Sox general manager Rick Hahn echoed his sentiments, saying that it was also a tough move for them to trade him.
HIS NUMEROUS TRADES
While with the Los Angeles Dodgers, he hit 13 homers in 2016. Unfortunately, he was cut by the team in spring training, which began his long journey across the country.
After LA, he traveled to the New York Yankees before being waived just a couple of days after practice. He then got picked up by Oakland, which reunited him with his brother Klay who was also residing in the area.
PROVING HIMSELF WORTHY
Unfortunately for him, that was also a quick stay and he ended up back with the Chicago White Sox. Despite everything that happened, he remained confident through it all and hoped to prove himself as worthy to stay with the team.
"I always thought that I had the ability to play every day. I feel like I showed that when I was here in '15 for I know it was brief, small sample size."
A couple of months after rejoining the organization, he elected free agency. By December 2018, he opted to stay in the minor league instead and joined the Cleveland Indians. In February 2020, he signed a minor-league deal with the Arizona Diamondbacks and that is where he continues to take his talents until today.
Please fill in your e-mail so we can share with you our top stories!