Tamela Mann's Husband David and Son Celebrate Her 54th Birthday in Sweet Posts
Star of 'The Manns,' David Mann wrote a sweet birthday message to his wife, Tamela Mann. The couple's son and daughter also posted their birthday messages to her.
The Mann family matriarch, Tamela Mann, celebrated her 54th birthday with special messages from her husband and their two children.
On the couple's joint Instagram account, David Mann asked his followers to join him in helping to wish his wife a happy birthday. The proud husband posted a picture of Tamela looking gorgeous in a black ensemble.
Many of the couple's fans and famous friends joined David in sending Tamela heartfelt birthday messages. Gospel singer Karen Clark Shead said, "happy birthday thanking God for this beautiful gift to the world!"
Cece Winans wrote, "looking great! Happy Birthday!" In a post that received over 200 000 likes on Instagram, Tamela replied to many of her comments. Kim Fields had a hilarious exchange with the couple as she teased them about Tamela getting what she called "birthday love."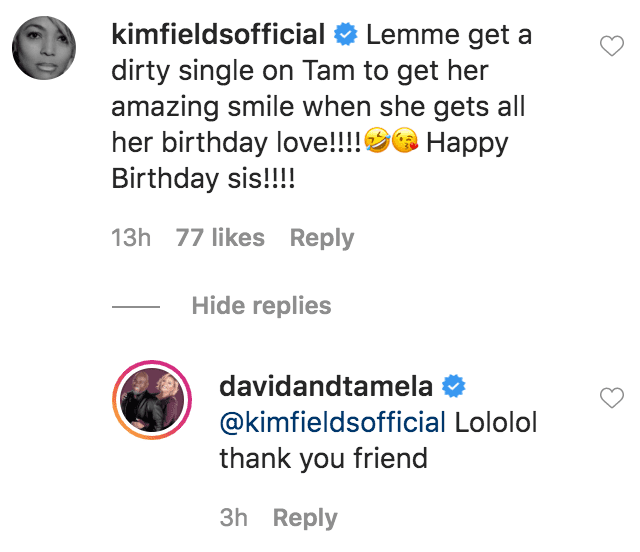 In the past year, Tamela made a drastic change to her life when she decided to lose weight by becoming a "Weight Watchers" Ambassador.
According to Essence, she had lost almost 50 pounds by the start of 2020. In a birthday tribute from her son David Jr, he gushed over her progress and said, "54 and dope."
Not to be outdone by her sibling, David and Tamela's daughter, Tia, also shared a special message to her mother. In her caption, she sweetly called her "my angel on earth."
David and Tamela have two children. The couple has detailed in their book, "Us Against the World," how David's fathering a second child outside of their marriage almost ended their relationship.
Fortunately, they have stuck together through the ups and downs and used the lessons from their 32-year to help other couples better navigate their relationships.
Showing just how united they are, David made the brave decision to support Tamela's weight loss journey by also joining "Weight Watchers" as an ambassador.
It is reported, David's daughter, Tiffany Mann, praised Tamela for embracing a healthier lifestyle. She said her stepmother had always led by example for the family.
Tiffany admitted that she has also found herself making changes to her diet and fitness routine because of the progress she saw Tamela making.