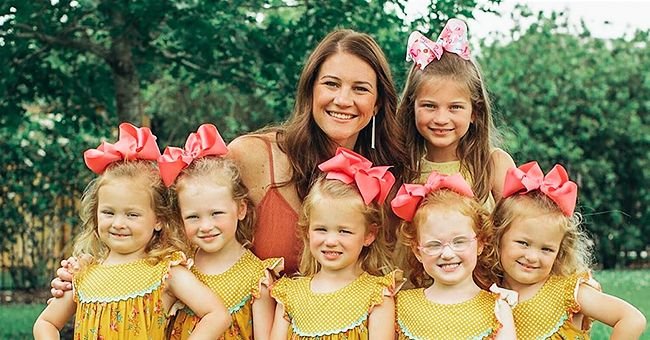 instagram.com/dbusby
'OutDaughtered' Star Danielle Busby — A Glimpse Into Her Life, Reported Job and Salary

Danielle Busby has made a name for herself as the mother of quintuplets – although that's not the only job she's using to stay afloat.
Over the last few years, Danielle Busby and her husband, Adam Busby, have gained fame for being the celebrity parents.
According to her biography on the TLC website, the Busby's welcomed their first child, a girl named Blayke, through IUI procedures. Some years after that, Danielle became pregnant for the second time and unlike the first one, she was carrying quintuplets.
[Adam Busby] accepted a new role as a partner at a health and wellness company in Dallas.
That was the beginning of their turn in luck as they soon landed a show on TLC known as "Outdaughtered" and gained both money and popularity.
While pointing out that the show pays an estimate of $25,000 to $40,000 an episode, Yahoo! reported that the Busbys have more than one form of income.
Besides being an independent beauty consultant, Danielle is also a Project Coordinator Team Lead at AP-Networks, according to her LinkedIn page.
In addition to that, the mother of six is the co-owner of a fitness wear shop, Cadi Fitness and has an Amazon shop, It's a Buzz World, which she runs alongside her husband.
Even though the duo also runs an online clothing store, Buzz World, Romper revealed that they have plans to go into business with another couple who are also well-rooted in the business world.
Danielle claimed that she has hopes that the business, which is an indoor cycling studio, would help her get "back into the groove of things."
Luckily, Danielle isn't the only one bringing in the big bucks as Good Housekeeping divulged that Adam is in charge of Adam Busby Media, which reportedly focuses on "photo and video projects from large brands to priceless memories for family events."
The father of six, who used to be the Key Account Manager at Intrinsic Solutions and Sprint Safety, seemed to be on another path at the end of last season when he accepted a new role as a partner at a health and wellness company in Dallas.
Even though the new position seemed to be a good move, fans were surprised that he had accepted the deal without talking to his wife about it. Hence, it wasn't a surprise when The List reported that Danielle wasn't too pleased with his new Dallas gig.
It also didn't help when Adam brought a dog home for their six daughters, as Danielle shared that taking care of the puppy would fall to her. Fans of the show cannot wait to see how this dynamic will affect the Busbys in the long run.
Please fill in your e-mail so we can share with you our top stories!