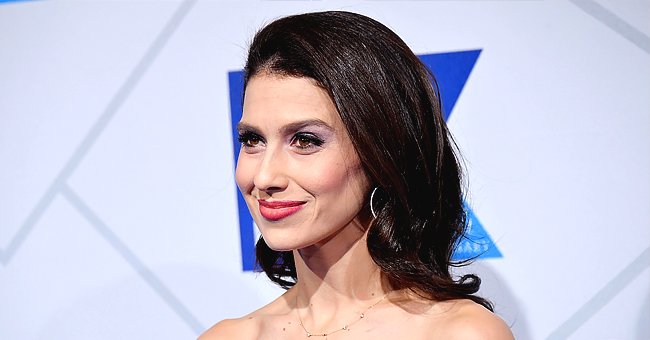 Getty Images
Pregnant Hilaria Baldwin's 6-Year-Old Daughter Carmen Asks Mom How Babies Are Made

Hilaria Baldwin is pregnant with her fifth child, and her only daughter is busy asking questions about babies. The star looked to her fans to help her with the answer.
On Tuesday, Hilaria Baldwin posted a sensitive topic to her Instagram stories. Namely, how she should respond to six-year-old daughter Carmen who's started asking where babies come from.
Hilaria, 36, shares daughter Carmen, and sons Rafael, four, Leonardo, three, and Romeo, two, with her husband and actor Alec Baldwin. The post is found below.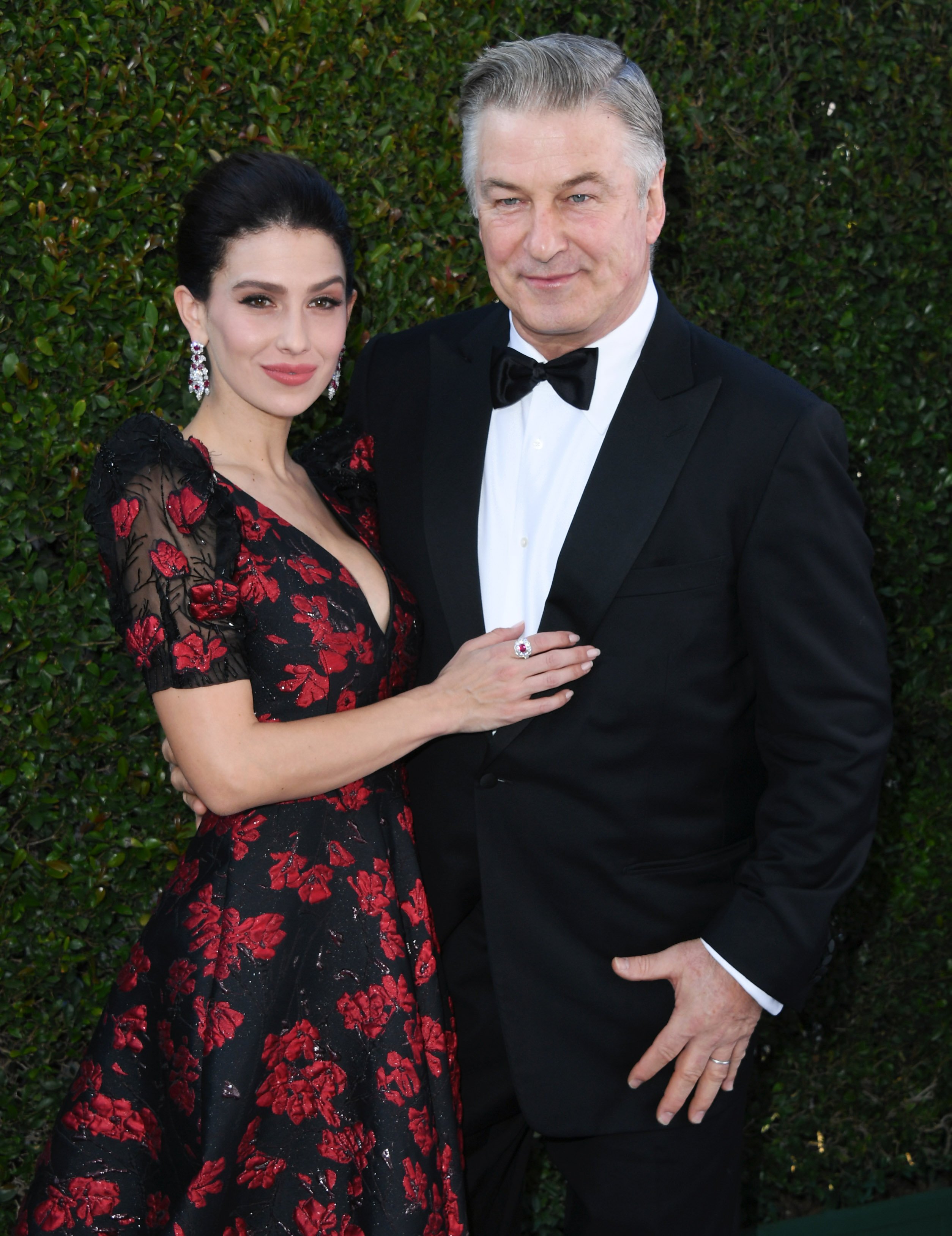 Hilaria Baldwin and Alec Baldwin attend 25th Annual Screen Actors Guild Awards on January 27, 2019, in Los Angeles, California. | Source: Getty Images.
HILARIA CAN NO LONGER AVOID THE TOPIC
The couple announced they were pregnant once more in September 2019. Hilaria's baby bump was most likely what prompted young Carmen to ask questions.
In her story, Hilaria shared an interactive post about her situation. "I need advice," she began. She explained that Carmen has become "fascinated" with how babies come about.
Hilaria noted that she could more easily get out of the conversation before by asking Carmen her thoughts. The little one would quickly lose interest. Those days are gone.
LOOKING TO HER FANS FOR HELP
"She will be 7 in a couple of months," Hilaria told her followers. She further revealed that a friend told Carmen that babies require a seed and an egg, but it's not enough for the little girl.
"She wants to know how they get inside the woman's body. Is that too young? What do I do?" A box space for her followers to respond lay in wait.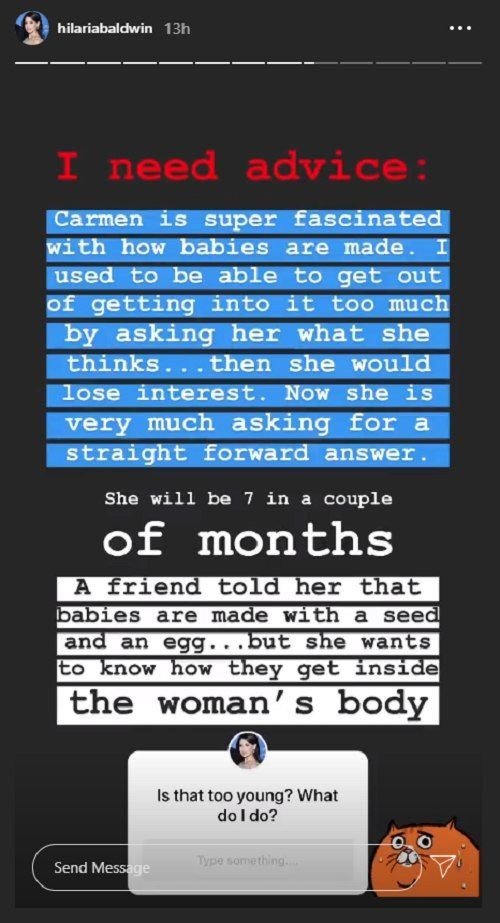 Hilaria Baldwin posts interactive message on Instagram stories | Photo: Instagram/ Hilaria Baldwin
CARMEN HAPPY TO BE A BIG SISTER
The curious toddler's question comes as no surprise. Back in May, Hilaria shared how excited Carmen was to know that she's going to become a big sister again in a sweet photo.
In the picture, the fitness guru lay on a bed with her daughter. Carmen rested her head on her mom's large belly, with one hand hugging the other side.
HILARIA COMMEMORATE LOST DAUGHTER
Hilaria and Alec's joy of expecting is tainted only by the loss they experienced in November. In April, Hilaria paid tribute to her late daughter on the date she was expected to enter the world.
She shared a video of some greenery outside along with a heartwrenching caption. The miscarriage was the second Hilaria suffered within seven months.
PRAISING ACTIVISTS FOR MAKING A CHANGE
In early June, Hilaria turned her focus to the ongoing protests that are happening across the nation following the death of George Floyd. She sees the good in the movement.
Again on Instagram stories, the "Living Clearly Method" author penned a message admitting that she was constantly waking up in the night to check on her children.
She said she feels a mix of sadness regarding the injustices in the world. She also said she feels "extreme awe and inspiration of how much change can be created by this rallying together."
SENDING HER FOLLOWERS A MESSAGE
She closed off by thanking everyone who's contributing to the protests. The temporary post followed one in which Hilaria praised all the people "working so hard to make this world a better place for [her children.]"
She reminded her viewers that it's essential to raise children to be compassionate, respectful, and without prejudice.
Please fill in your e-mail so we can share with you our top stories!