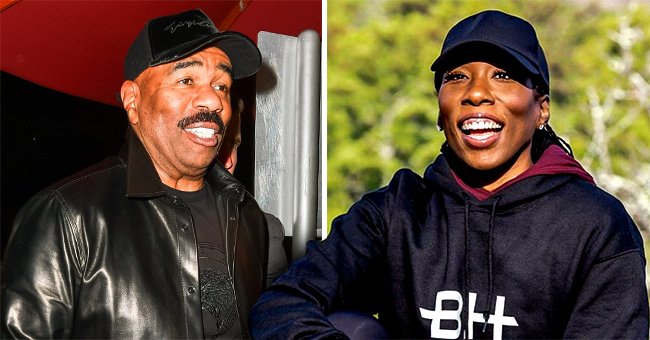 Instagram/iambrandiharvey GettyImages
Steve Harvey's Daughter Brandi Shows off Her Abs and Curves While Working out in a Video

Brandi Harvey, the daughter of comedian and television host, Steve Harvey, takes to Instagram to stun her followers with a workout video showing off her flawless figure.
Steve Harvey's thirty-eight-year-old daughter, Brandi, aimed to inspire her followers to get their bodies moving on her Instagram by sharing a video of herself at the gym getting her fitness on. Following the seconds-long clip was a lengthy caption which read:
"My legs are killing me, I have knots in my shoulders and traps, and I stood in line; your girl is tired! But, I am so grateful..."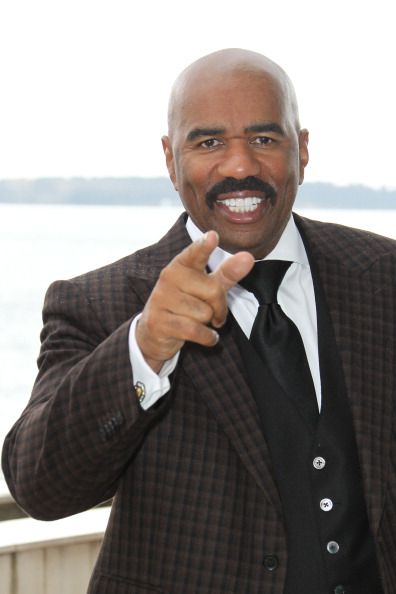 Steve Harvey at the 2013 Cannes Film Festival. | Photo: Getty Images
In the video, Brandi was dressed in a matching black sports bra and workout leggings ensemble while doing a set of jump squats. She secured her flying locks with a black baseball hat and capped off the outfit with bright pink running shoes.
Brandi encouraged her followers to go out and vote by sharing that she had voted in the morning. The caption also added that she was grateful to be able to move because not everybody could.
She advised people to do whatever they needed to do to keep their bodies moving and energetic. She concluded that bodies were meant to be moved, and they should think big and do better. Her followers agreed with her and commended her energetic form in their comments.
Brandi described getting fired as being "released into your destiny."
Brandi is a multi-talented young woman who is one of the seven kids that Steve Harvey has. The thirty-eight-year-old is the founder of Beyond Her, an establishment aiming to bring active wellness to women of color with food, lifestyle, and fitness.
The fitness-enthusiast is also a motivational speaker who takes time to connect and teach various young women how to assume their God-given identities and purpose in life. In October 20019, she published her book "Breakthrough Sold Separately," and shared her motivation with Rolling Out:
"I open my book by talking about getting fired. So often we get stuck being in places because of what other's expectations are from us."
Brandi was fired from her father's foundation, the "Steve and Marjorie Foundation," but the sad news was only the springboard that launched her into her own success.
In the interview with Rolling Out, with her twin, Kali, by her side, Brandi described getting fired as being "released into your destiny."
Her father, Steve, fired Brandi although she admitted that she had been slacking in a lot of places, and the time finally came. Steve, of course, bears no ill will towards his daughter. The talk show host is a devoted family man.
He married his current wife, Marjorie, in 2007. Brandi, her twin sister, Karli, and their brother, Broderick, were born from his marriage to Marcia Harvey.
His second marriage with Mary Lee Harvey produced a son named Wynton. He adopted Marjorie's three kids, Lori, Morgan, and Jason when they married.
When it comes to Brandi and her father, it appears that the apple did not fall too far from the tree. Brandi's advocacy for what she believes in is evident in Steve.
In a recent NBC interview, he shared his opinion about the recent protests in the country, explaining the catalysts and his pride in the displayed solidarity.
Brandi and her father share more than a striking resemblance, but also the need for change, as is evident in her advocacy for political proactiveness on her own Instagram account.
Please fill in your e-mail so we can share with you our top stories!