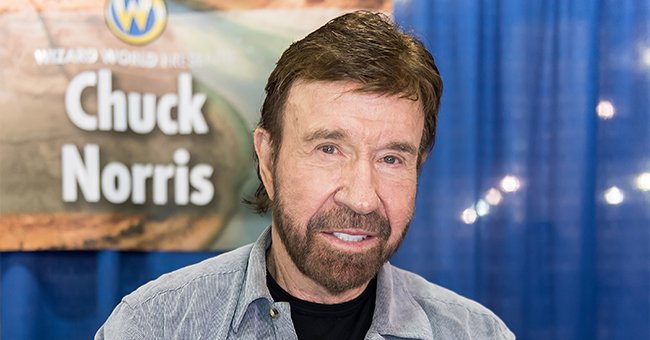 Getty Images
Chuck Norris — Interesting Facts about the Legendary Actor's Life and Career

Chuck Norris is one of the most famous faces in the entire world, not only because of his renowned hit show "Walker, Texas Ranger," but also the several memes made with his name.
A ctor and martial artist, Carlos Ray Norris, was born in Ryan, Oklahoma, to Wilma Scarberry and Ray Norris. His father worked as a truck diver and a mechanic.
Being the eldest, Norris helped his mother raise his younger brothers in Torrance, California, where the family moved to when he was just 12 years old.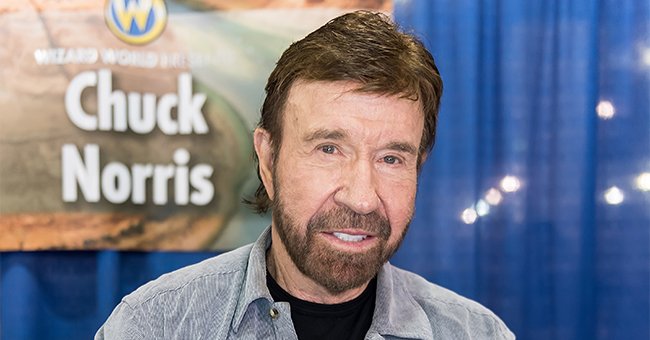 Chuck Norris at Wizard World Comic Con in 2017 in Philadelphia, Pennsylvania | Photo: Gilbert Carrasquillo/Getty Images
BULLIED AS A CHILD
As a young boy, he was a target for bullies, and the only way he found to escape was to join the Air Force as soon as he turned 18. That was also when he discovered his love for martial arts.
While stationed in Korea, Norris began studying the art of Tang Soo Doo and even came up with his own style of martial arts, which he named Chun Kuk Do (the universal way).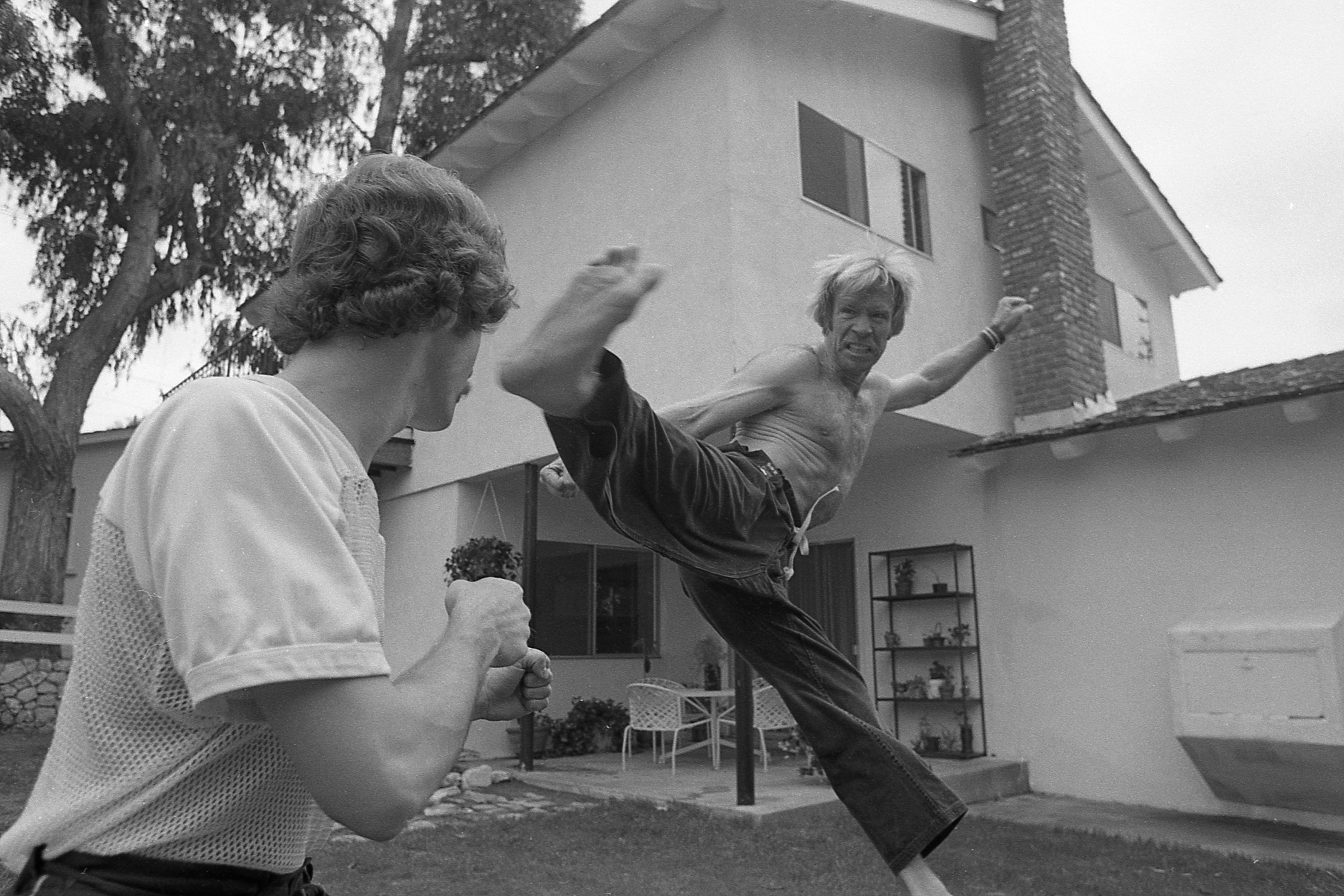 Chuck Norris practicing Kung Fu with a trainer in the back yard of his house in 1978 in Palos Verdes, California circa 1978 | Photo: Nik Wheeler/Corbis via Getty Images
HIS LIFE-LONG LOVE
His passion for martial arts led him to study several other types of self-defense, such as Karate, Taekwondo, Judo, and even Brazilian Jiu-Jitsu, having earned black belts for each of them.
Upon his return to the United States, Norris got a job at Northrop Aviation while working as a karate instructor and shared his knowledge with a great number of students.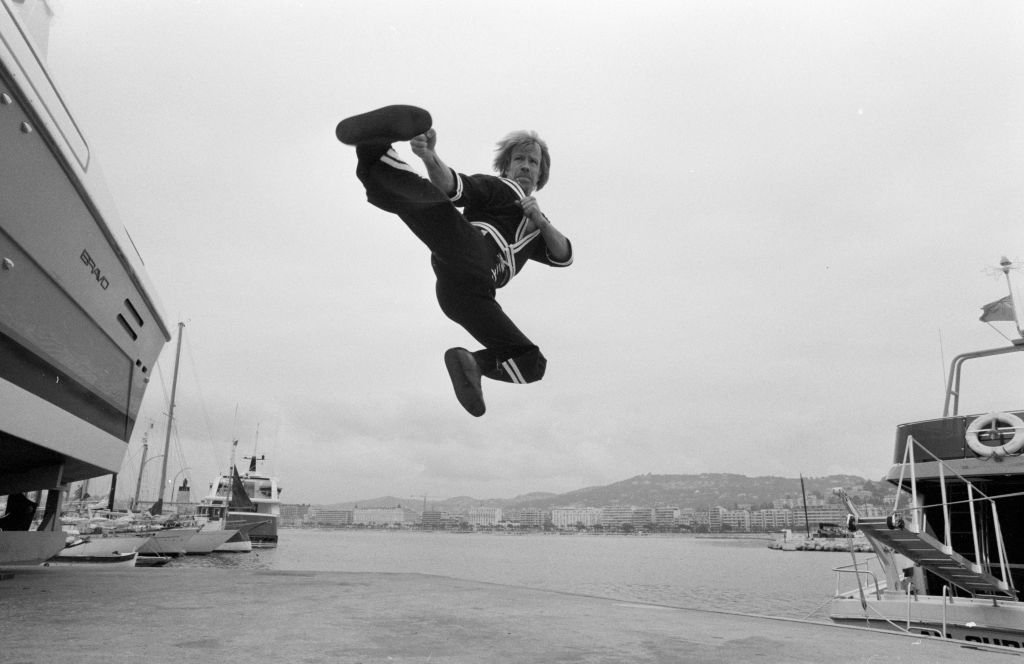 Chuck Norris doing a karate kick at a port in Cannes, France | Photo: DEUTSCH Jean-Claude/GYSEMBERGH Benoit/Paris Match via Getty Images
One of those students was none other than the famous Steve McQueen, the actor from "The Magnificent Seven," who tragically passed away at age 50 from heart failure.
Before becoming a star in front of the cameras, Norris made a name for himself as a martial artist. He was a six-time undefeated World Professional Middle Weight Karate Champion.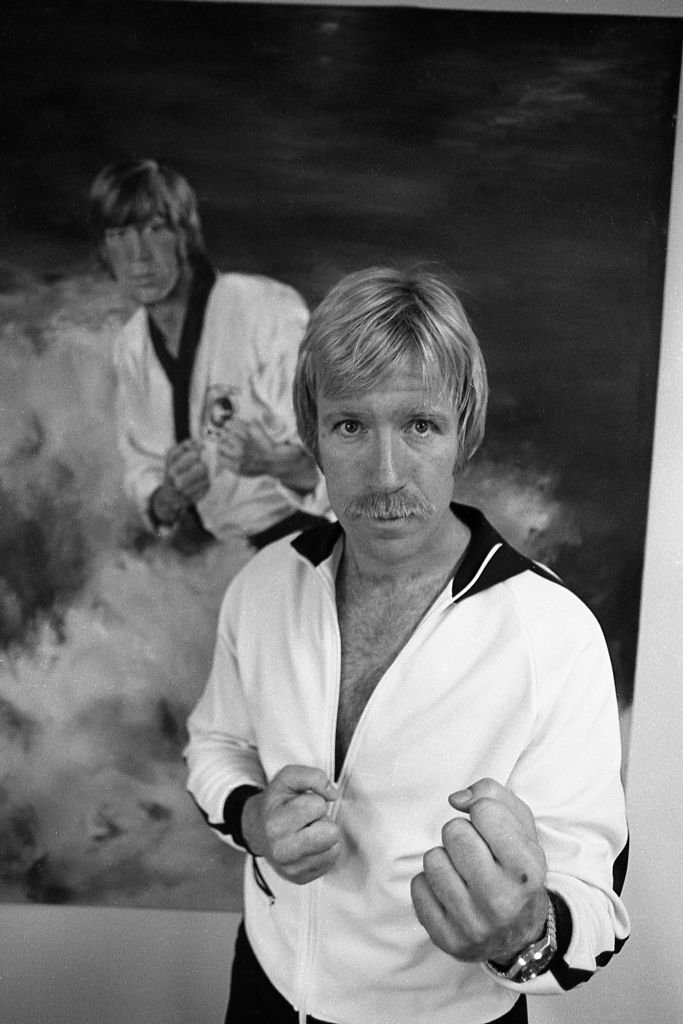 Chuck Norris posing in front of a poster on the wall of his home in 1978 in Palos Verdes, California | Photo: Nik Wheeler/Corbis via Getty Images
Not only that, but back in 1997, he became the very first man from the western hemisphere to be awarded an eighth degree Black Belt Grand Master Ranking in Tae Kwon Do, a tradition with over 4,500 years.
The actor filed a lawsuit in San Francisco Superior Court against medical device manufacturers.
McQueen was the one who approached Norris about the possibility of joining show business and was one of the reasons behind his arrival in Hollywood, even though he failed several auditions.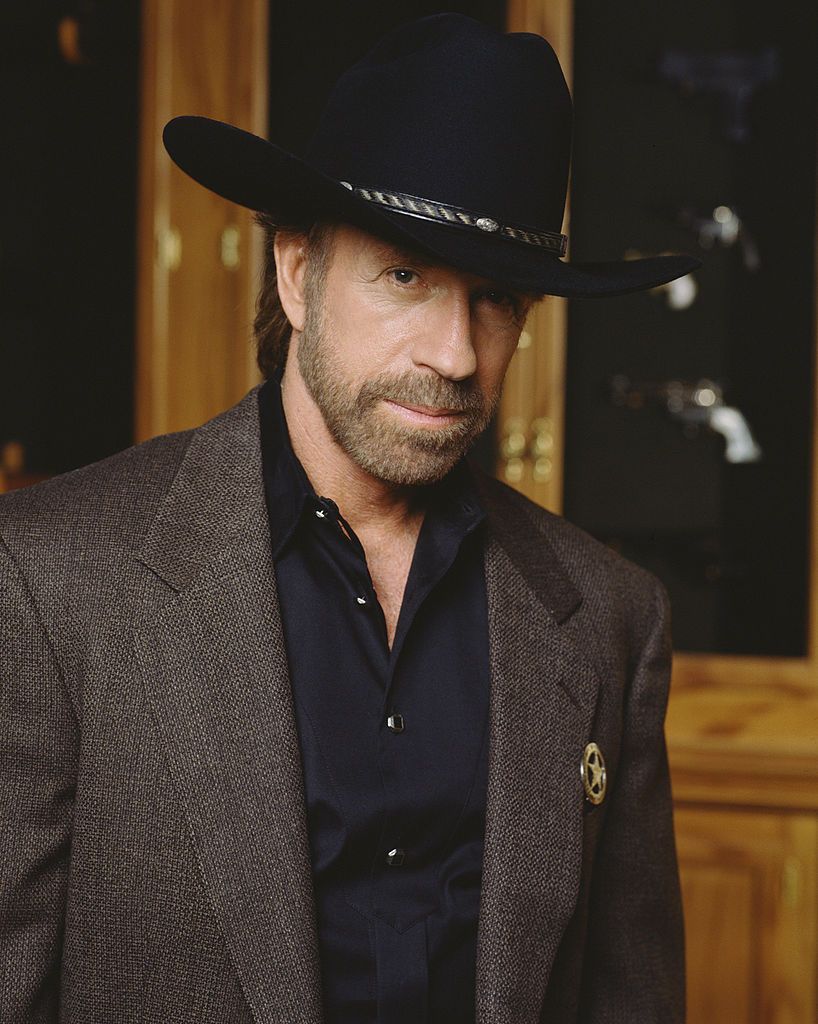 Chuck Norris dressed for his role in "Walker, Texas Ranger" | Photo: Getty Images
ENTER BRUCE LEE
In fact, the 80-year-old was turned down so many times that, at one point, he believed Hollywood was not for him. Eventually, he landed a role in "The Wrecking Crew" but wasn't credited for it.
For that reason, "The Way of the Dragon" is considered to be the first film of Norris' career, and what a way to start because he had the chance of working alongside fellow martial art legend Bruce Lee.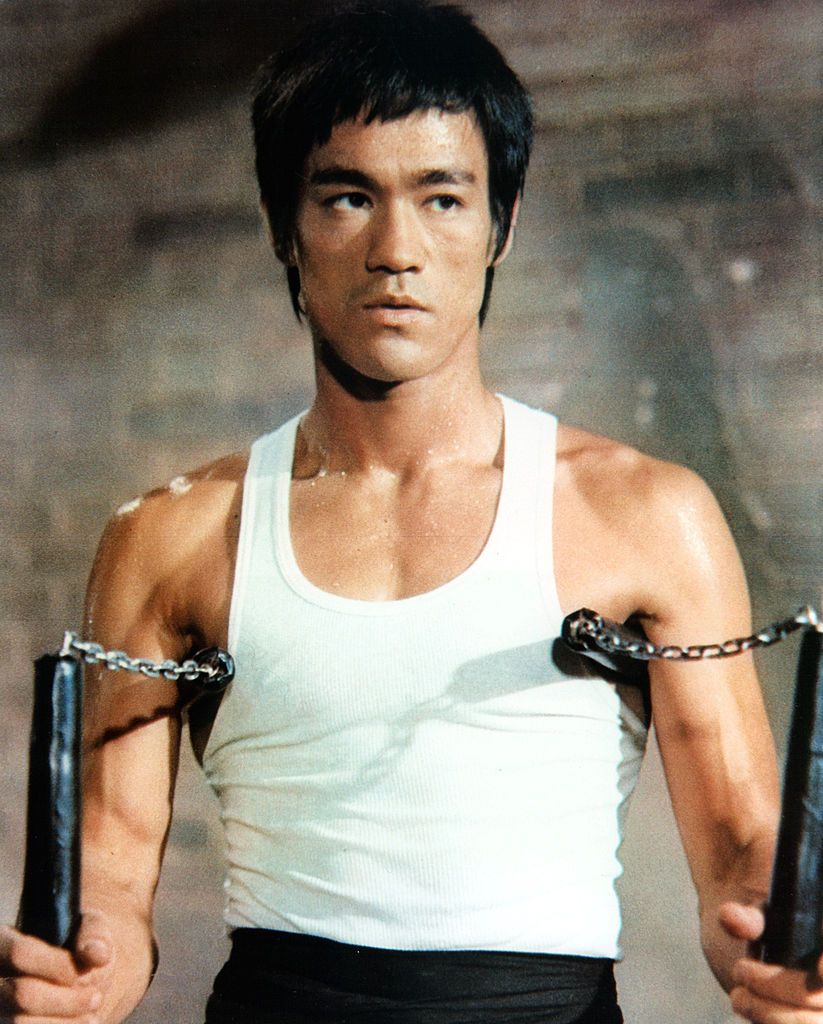 Bruce Lee posing for a publicity portrait in 1972 | Photo: Getty Images
In the film, Norris and Lee engage in a fight that is still to this day one of the tensest, exceptionally choreographed, and overall fun-to-watch scenes of all time.
Filming the fight, however, was no easy task. Having control over everything related to the movie, Lee wanted to shoot the epic fighting encounter inside Rome's Colosseum.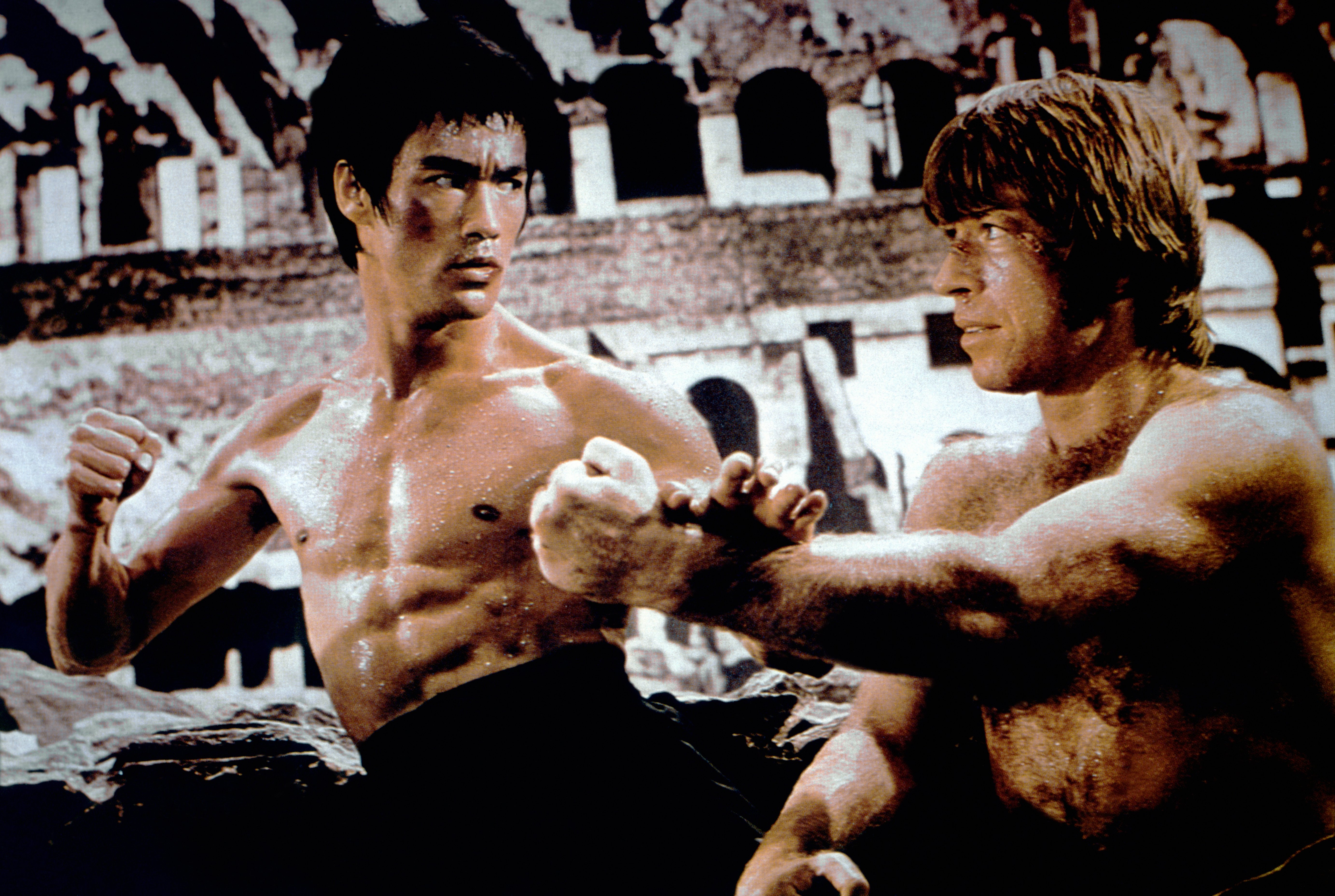 Chuck Norris with Bruce Lee on the set of his movie "The Way of the Dragon" | Photo: Concord Productions Inc./Golden Harvest Company/Sunset Boulevard/Corbis via Getty Images)
It has been reported that the late actor wanted to fight the villain in the Colosseum after being inspired by the 1960 film "Spartacus," directed by Stanley Kubrik and featuring Kirk Douglas.
The problem was that filming inside the Colosseum is illegal. Not even "Spartacus" or "Gladiator" had the opportunity to shoot inside the structure and were forced to film in the amphitheater only.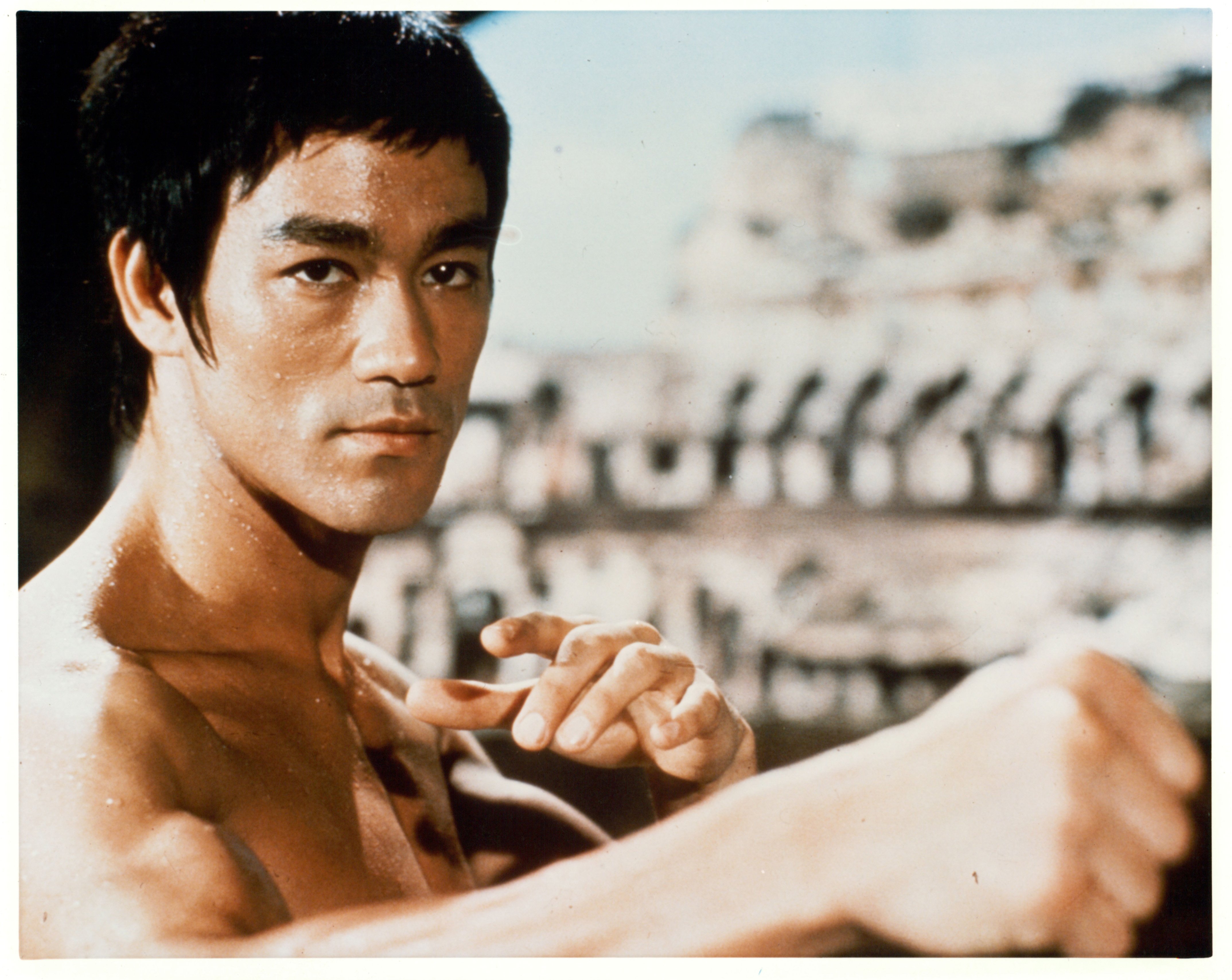 Bruce Lee during the Colosseum scene from the film "The Way of the Dragon" in 1972 in Rome, Italy | Photo: Warner Brothers/Getty Images
BY ANY MEANS
Lee, however, was determined to bypass security and did so by bribing Roman officials, who let them get inside the Colosseum and sneak cameras in their bags.
The plan was to pretend to be tourists, giving filmmakers just enough time to get a few crucial shots, although they had to film the rest of the sequence at Golden Harvest.
Like Lee, Norris took pride in incorporating everything he knew about martial arts in his projects and highly valued technique, coordination, and action over actual violence.
Aside from being a famous film star, Norris, who has been away from the spotlight for quite some time, is also a published author with nine books under his belt, such as "The Secret of Inner Strength."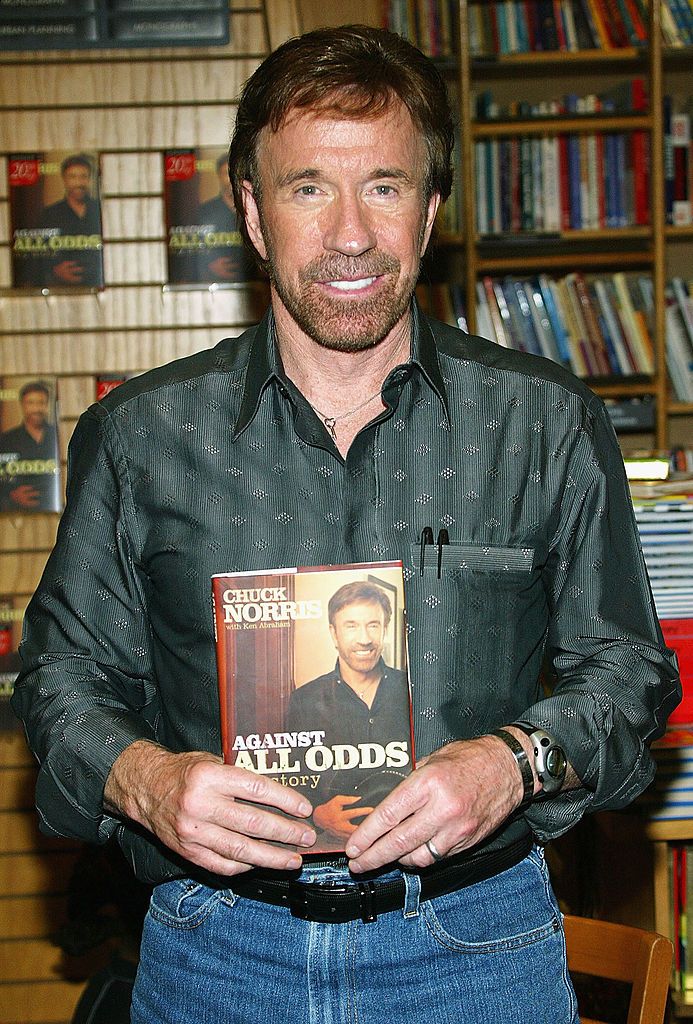 Chuck Norris holding "Against All Odds," one of his books | Photo: Getty Images
PASSING THE TORCH
"Walker, Texas Ranger" will forever be his most famous role, but former "Supernatural" star Jared Padalecki has taken on the part of the renowned ranger in the series reboot.
While fans expect Norris to make a cameo at some point, nothing has been revealed about it since the actor has only taken three roles since 2010 in "The Expendables 2," "The Goldbergs," and "Hawaii Five-O."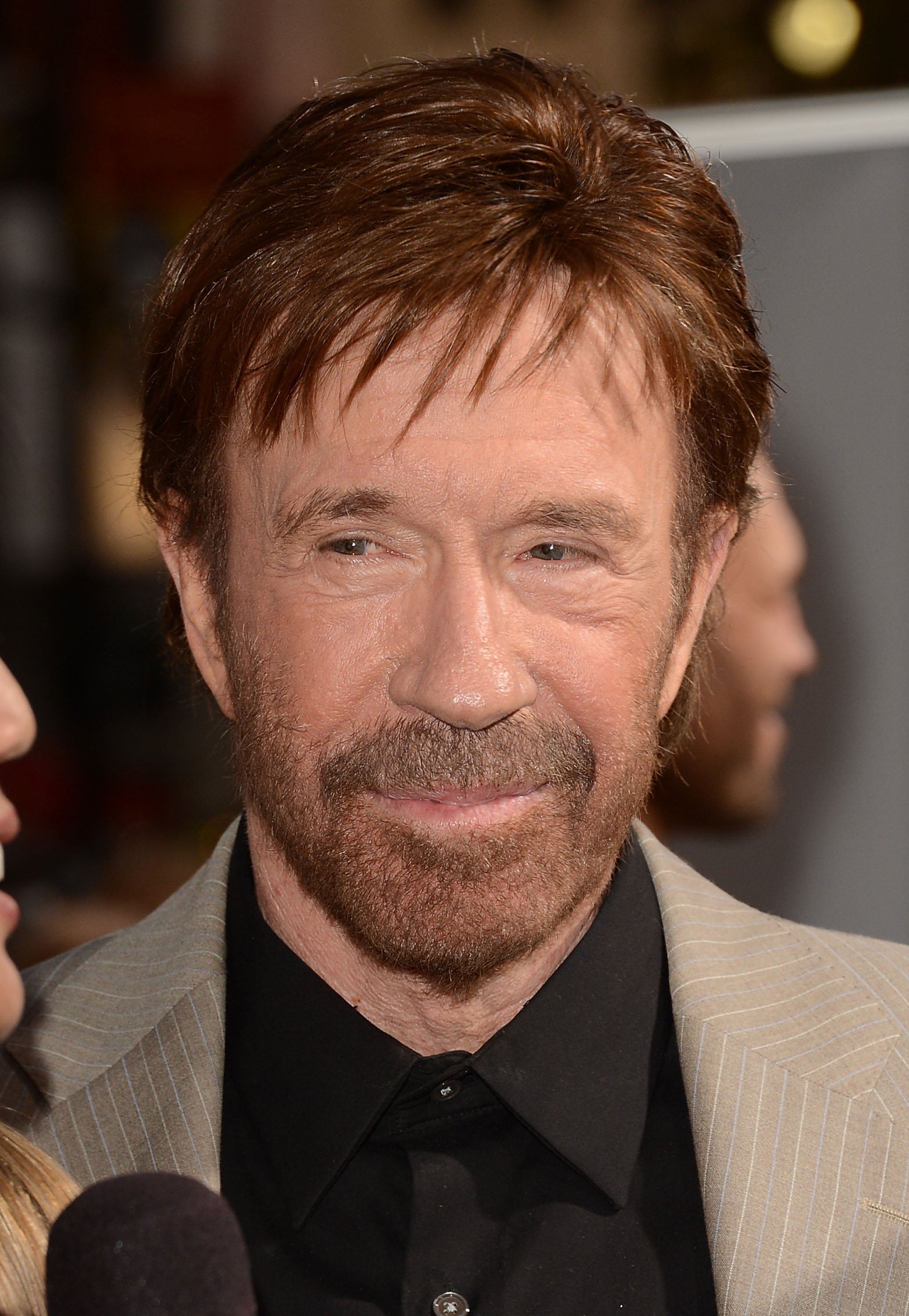 Chuck Norris at Lionsgate Films' 'The Expendables 2' premiere in Hollywood, California | Photo: Jason Merritt/Getty Images
GOING TO COURT
Back in 2017, the actor made the news after filing a lawsuit in San Francisco Superior Court against medical device manufacturers, whom he accused of poisoning his wife, Gena O'Kelley.
According to him, O'Kelley was left in a weakened and tired state while feeling "debilitating bouts of pain" after doctors injected her with gadolinium before an MRI scan.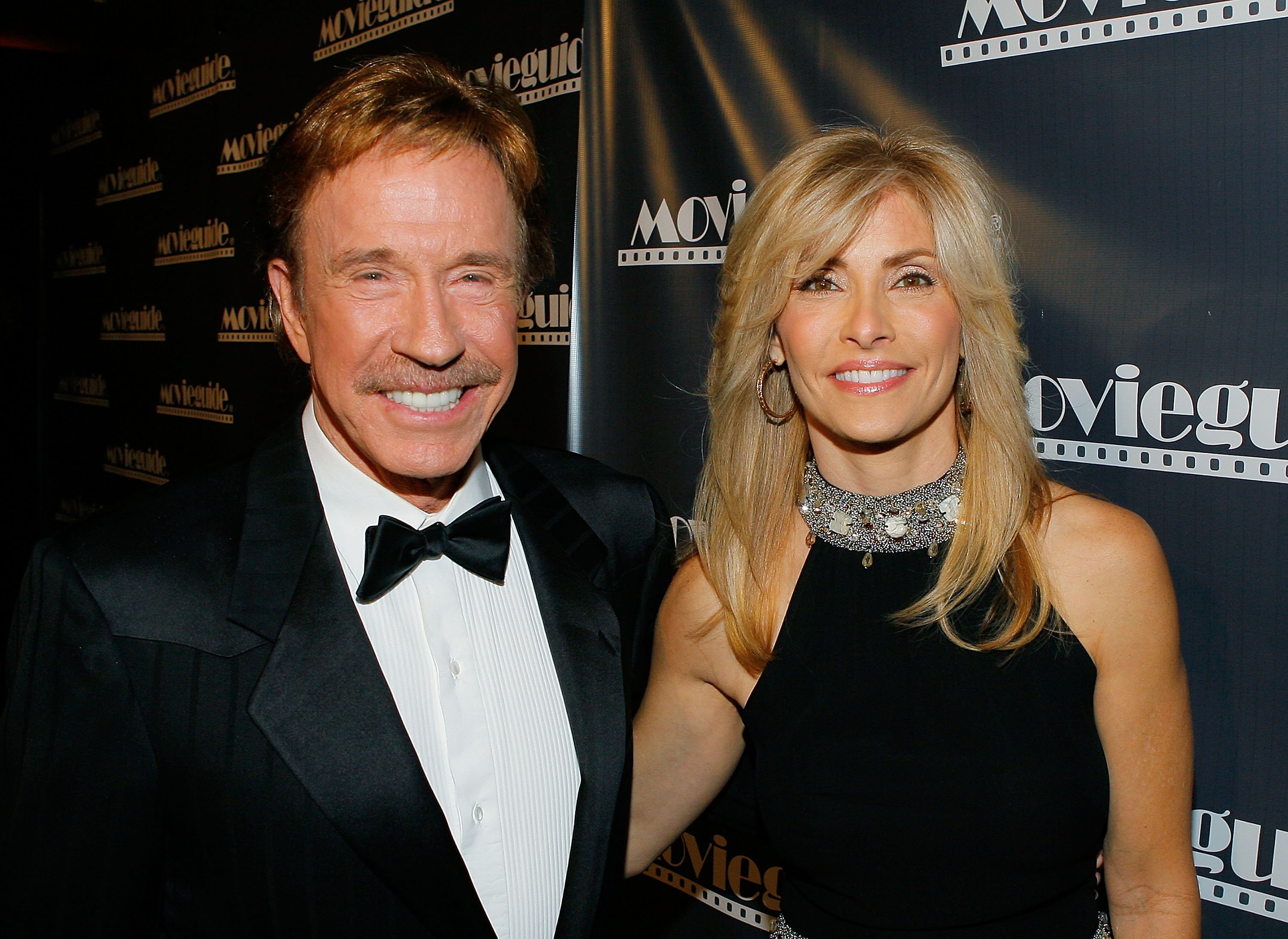 Chuck Norris and wife Gena O'Kelley at the 17th Annual Movieguide Faith and Values Awards at the Beverly Hilton Hotel in Beverly Hills, California | Photo: Vince Bucci/WireImage via Getty Images
It has been reported that the contrast agent is commonly used to improve the clarity of the scannings, and the Radiological Society of North America was quick to respond to Norris' accusations:
"Gadolinium-based contrast agents have been used for diagnosis and treatment guidance in more than 100 million patients worldwide over the past 25 years and provide crucial life-saving medical data."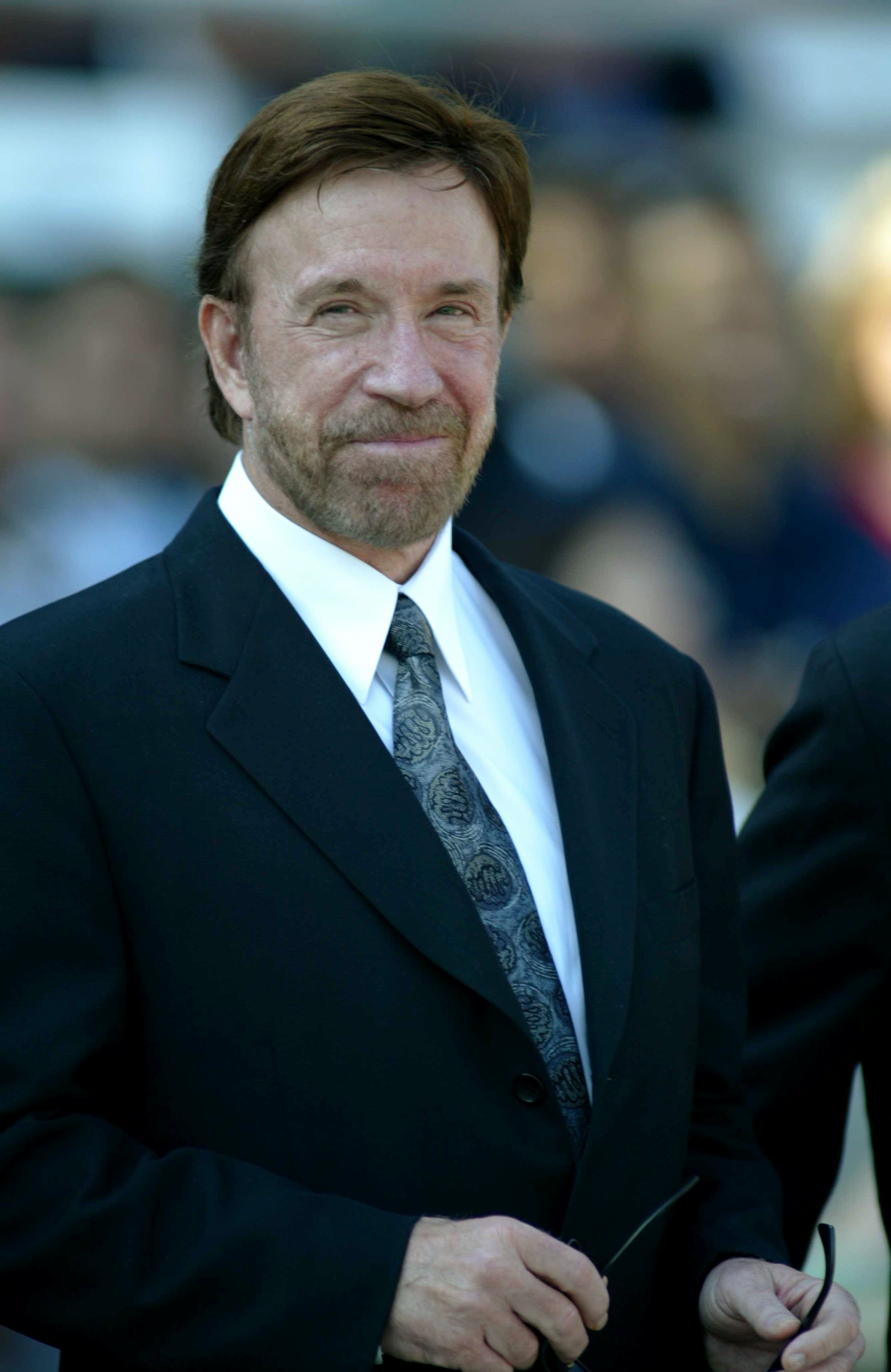 Chuck Norris at the 2003 Breeders' Cup World Thoroughbred Championships hosted by the Oak Tree Racing Association at Santa Anita Park in Arcadia, California | Photo: Jeff Golden/Getty Images
At the time, the actor was seeking over $10 million to cover the millions of dollars that they were forced to spend on treatments for O'Kelley, who said that she started feeling the effects immediately. She recalled:
"After the third scan, I was definitely noticing that something was wrong. it started out with this intense burning inside my body that I can't describe like someone has poured acid on your tissues."
Following the controversy, a report by the U.S. Food and Drug Administration revealed that they did not identify adverse health effects from gadolinium.
Please fill in your e-mail so we can share with you our top stories!