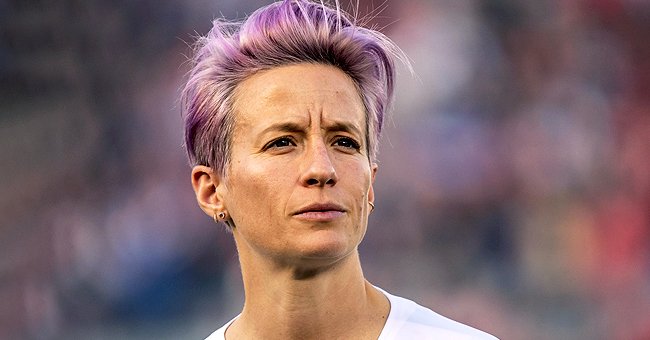 Getty Images
Megan Rapinoe Speaks out on Black Lives Matter Movement Amid George Floyd's Death

Megan Rapinoe continues to use her voice and platform to make a difference as she speaks up on recent protests. The soccer star is also urging others to make a change.
On Thursday, Megan Rapinoe jumped onto a video call for "The Late Show with Stephen Colbert" and discussed the steps she's taken to show support for the Black Lives Matter movement.
Protests erupted nationwide after a 46-year-old man named George Floyd was allegedly killed by a police officer late last month. Rapinoe and Colbert's discussion is found below.
RAPINOE SEEING A DIFFERENCE
When asked about what others are doing to push for a change, Rapinoe said that while the activism encourages her, she's frustrated that it had to reach this point in the first place.
She added: "But I think people are really getting it. They're like, 'Got it. We can't say all lives matter anymore because the all lives house isn't on fire right now; it's just the black lives right now.' "
Rapinoe also described an awakening of the public over the last three to four years. It's culminated in the coronavirus pandemic and the realization that people "have a lot more power than they've been told."
HER PAST ACTIVISM AND ITS ORIGIN
The 34-year-old was prompted to reflect on previous actions she took to show solidarity with the plight of African Americans. For instance, she was the first non-NFL athlete to kneel after Colin Kaepernick did so years back.
At the time, Rapinoe recalls how people chastised her for kneeling, but now, the rebellious display is seen as a good thing by most. Colbert asked how her activist spirit first came about.
Rapinoe responded by citing her conservative origins in Northern California. It was her parents, she said, who taught her to use her talent to help others and be who she is today.
The soccer star further urged others like herself, as well as those who have more regular jobs, to do what they can to spread the message about black lives.
EQUAL PAY FIGHT & ESPN COVER
In early May, Rapinoe was more focused on the result of an equal pay suit that the US women's national team lost against the US Soccer Federation. She sat down with Good Morning American to express her disappointment.
Joined by fellow soccer player Alex Morgan, the women pledged to continue fighting by appealing the court's decision. Judge R Gary Klausner rejected the discrimination claims.
Rapinoe has reached landmarks in other ways. For instance, she and her partner Sue Bird were the first gay couple to make the cover of ESPN's Body Issue in 2018.
OTHER CELEBRITIES SPEAKING OUT
The FIFA 2019 player of the year joins others like Tyler Cameron, Kate Beckinsale, Billie Eilish, and more who are using their celebrity platforms to raise awareness that black lives matter.
Via Instagram, "Game of Thrones" alum Sophie Turner shared the names of several other black people who appeared to have died at the hands of police purely because of their skin color.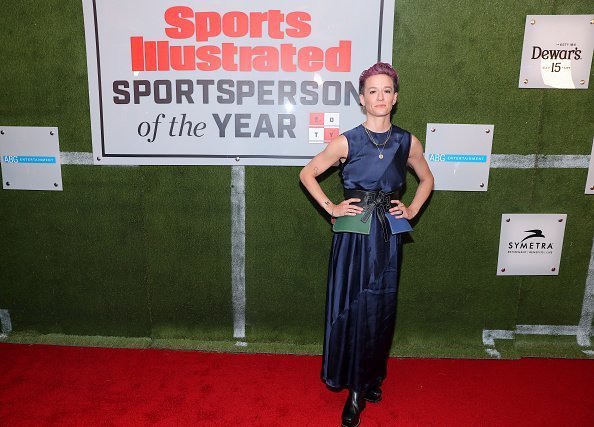 Megan Rapinoe at the Sports Illustrated Sportsperson Of The Year 2019 on December 09, 2019 | Photo: Getty Images
Others who have spoken out and defended the phrase black lives matter — as opposed to all lives matter — include singer Pink, Blake Griffin, Seth Rogen, and Tyler Cameron.
Please fill in your e-mail so we can share with you our top stories!