Malika Haqq Is a Doting Mom to 3-Month-Old Son Ace — Inside Her Motherhood
The "Sky High" star has made herself a name as an actress, a socialite, and a reality TV star, but in recent months she has been embracing her favorite role to date: that of a mother.
As Khloé Kardashian's best friend, the 37-year-old actress and TV personality Malika Haqq has earned her place as an honorary Kardashian (as Elite recently called her), having appeared in "Keeping Up With The Kardashians" on many occasions.
And since Haqq welcomed her firstborn in March 2020, Kardashian has been really supportive of her friend, even throwing her a beautiful baby shower back in February.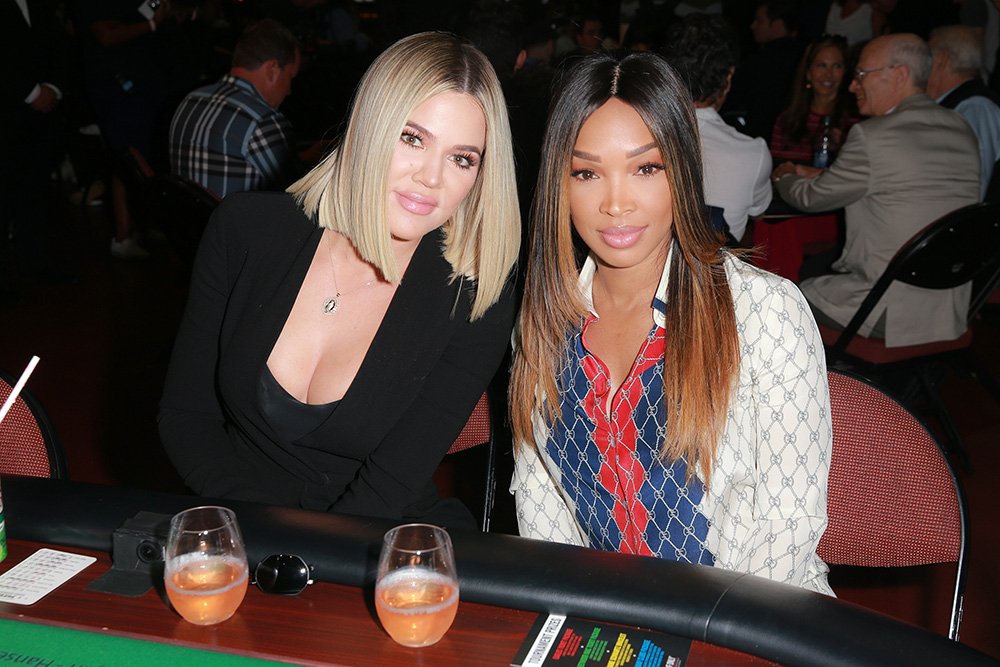 During Haqq's pregnancy, which she found out soon after breaking up with her boyfriend, she needed somebody to always stand by her as a friend, so it has been a blessing for Haqq to have Kardashian around. Let's revisit Haqq's road to motherhood.
DATING O.T. GENASIS
Early in November 2017, the media found out about Haqq dating then 30-year-old rapper O.T. Genasis, reportedly in the early stages of the romance.
The confirmation came after Haqq was recognized as she accompanied Genasis to an interview with Charlamagne Tha God for "The Breakfast Club."
18 Mo' Years: Malika Haqq's Ex-Boyfriend OT Genasis Confirmed As Her Baby Daddy https://t.co/aDcBtcZMb4

(Photo: Getty) pic.twitter.com/aCZECldWuK

— Bossip (@Bossip) October 1, 2019
While the radio host kept inquiring about Genasis' relationship with Haqq while on air, Genasis neither denied nor admitted that the two were dating. Still, it was enough for the public to take notice of the new couple.
It was definitely too early to jump to conclusions, but while breaking the news about Genasis and Haqq dating, HollywoodLife brought up an old interview where Haqq said she wanted a child. The publication suggested the rapper as a possible candidate to make her dream come true; talk about foresight.
A LOVE LETTER
By October 2018, even after briefly breaking up earlier in the year, Genasis and Haqq were an established celebrity couple, and to clear any possible doubts about his devotion to his girlfriend, the rapper shared an open love letter to her.
Genasis took to his Instagram account at the time to declare his love for Haqq and to promise her that there was no other woman in his heart, writing: "To the world, you may be one person, but to me, you've become my world."
"YOU and only YOU made me a better man and want to be a better man… You're not only my partner but my best friend…" Genasis added as a caption to a black-and-white photo of the two sharing a romantic moment.
BUT IT ENDED
Despite the beautiful feelings that Genasis candidly shared on social media less than a year earlier, he and Haqq didn't manage to remain together, and by June 2019, they had split up for good.
The rapper and the reality TV star were only an item for almost two years, and Haqq put an official end to it by taking to Instagram to update her relationship status, writing "single" alongside a provocative snapshot of herself wearing a sheer dress.
Close fans of the couple had been noticing that the relationship was weakening, considering their social media activity at the time. Still, there was no way fans could have seen how the story would turn out.
PREGNANCY ANNOUNCEMENT
Two months after breaking up with Genasis, Haqq surprised everybody with a mysterious announcement via Instagram. While she revealed she was expecting her first baby, she kept the identity of the father to herself.
 "I listen to my heart, and I've decided that the rest of my life will be the best of my life. I'm pregnant!" Haqq captioned a September 27, 2019 photo of herself holding a pregnancy test and starting the countdown for her "2020 baby."
Following the announcement, Haqq granted People magazine an interview where she said she was expecting her baby in March 2020. Still, she refused to reveal the father's identity. 
Upon learning about Haqq's pregnancy, her loyal best friend Khloe Kardashian publicly congratulated her in an Instagram post that pictured the two longtime friends together. "My baby is having a baby! I am literally so so so excited! Congratulations Mika! I love you!" Kardashian captioned the snapshot.
CO-PARENTING
The mystery couldn't go on for too long after the announcement, and, anyway, the truth about Haqq's baby daddy wasn't hard to guess: her ex-boyfriend Genasis.
Soon after confirming what everyone imagined, Haqq shared -- in a since-deleted Instagram post of Genasis and her side-hugging and smiling during their baby shower -- that despite not being together anymore, they had decided to be friendly co-parents.
Haqq went on to say that Genasis accompanied her to every doctor's visit since he learned about the pregnancy. She made it clear that she wanted her ex to be present in their child's life.
Once Haqq revealed him as her child's father, Genasis felt free to comment on the issue, and he took to Instagram to celebrate with a picture of himself that read, "Malika is having a baby!" on top.
"My son on da way… Give me a baby name now…Go!!!" a proud and excited Genasis captioned the post.
WELCOMING A SON
Haqq and Genasis' son was born on March 14, 2020, and his name was revealed to be Ace Flores (Genasis' real name is Odis Flores) on both parents' verified Instagram accounts.
Haqq posted a photo of the newborn's tiny hand resting in his mother's and Genasis's palm, and she captioned it with the baby's full name and date of birth.
Genasis was more revealing in his announcement, and he posted a beautiful up-close portrait of baby Ace, captioning it, "Ace, I love you."
Since Ace arrived, Haqq has regularly taken to her Instagram feed to share her excitement about becoming a mother, and when Ace made his debut on her page, she described her time with him as the "best week of [her] life."
In the earliest days of Ace's life, Haqq posted a picture of her baby every time he turned another week, and by week 3, she admitted to falling "dangerously in love" with her son.
"I tried to envision what it would be like to hold my precious baby in my arms. Nothing could've prepared me for this feeling—this love overflows!" Haqq reflected on April 8, captioning a loving image of herself holding Ace against her chest.
FRIENDSHIP WITH KHLOE
Haqq and Kardashian have been friends for more than two decades. The two met at age fifteen when Haqq started dating one of Kardashian's friends, as Kardashian would reveal later.
According to Kardashian, it didn't take long for the two to become best friends, and they have only grown closer over the years, to the point of being like sisters.
Kardashian and Haqq have been there for each other in the bad times, as well as the good ones. In 2015, when Haqq's ex-boyfriend Chinx died in a gun violence incident, it was Kardashian who consoled her.
Also, when Kardashian's then-boyfriend Tristan Thompson reportedly cheated on Kardashian, who was pregnant with his child, Haqq stood in support of her best friend on social media.
Kardashian and Haqq are also business partners, and the two launched their makeup collection, named Becca BFFs, in 2018.
Kardashian has managed to remain close to Haqq in these important first months of motherhood via FaceTime, due to the social distancing measures amid the COVID-19 outbreak, and she naturally calls Ace her nephew.
ⓘ We at AmoMama do our best to give you the most updated news regarding the COVID-19 pandemic, but the situation is constantly changing. We encourage readers to refer to the online updates from CDС, WHO, or Local Health Departments to stay updated. Take care!