'Pioneer Woman' Star Ree Drummond Shares Photo of Daughter Alex to Wish Her Happy Birthday
Ree Drummond's daughter, Alex, recently turned 23, and the doting mother took to Instagram, where she shared an adorable photo alongside a touching tribute.
Famous food blogger, Ree Drummond recently celebrated her oldest daughter's 23rd birthday with a touching birthday tribute. Taking to Instagram, Drummond shared a gorgeous photo of her daughter, Alex, who was captured holding a grey tripod.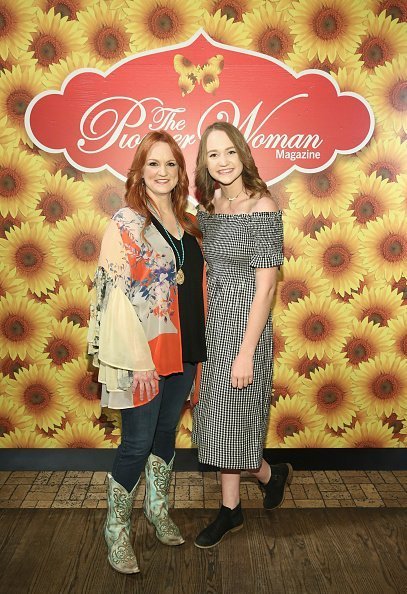 Donning a pink loose fitted top, Alex flashed a charming smile as she posed for the adorable bright photo. While adding a caption, Drummond wished Alex a happy birthday while mentioning some nice characteristics of her daughter. She wrote:
"Here's what she brings to our family and our home: Love, joy, peace, patience, kindness, goodness, faithfulness, gentleness…… I love this child of mine. Happy birthday, Alex!"
Shortly after sharing the post, fans and followers flocked the comments section where they left sweet notes for the birthday girl.
One user wrote, "She's the most perfect oldest child! Happy Birthday, Alex Marie! ?" while another added, "Happy birthday Alex. Wow 23 already? That is crazy," with many others leaving their best wishes.
Drummond and her husband have been married for over a decade.
Alex was born, in 1997, to Ree Drummond and her husband, Ladd. Unlike her mother, who has a knack for cooking, Alex doesn't seem to enjoy the activity so much.
Earlier in February, Drummond revealed that she had been getting a lot of cooking-related calls from Alex since she left for college. She added:
"It's fun because she's figuring it out. She has a built-in app in me. She can just call me if she has a question. She doesn't have to search the internet."
Drummond and her husband have been married for over a decade, and in addition to Alex, they share daughter Paige and sons Bryce and Todd. While the two girls are currently college students, Bryce and Todd still live at home with their parents.
Last year, Drummond took to Instagram, where she shared a photo of herself posing with her sons, and even Drummond was surprised by how much her babies had grown.
While adding a caption, she wrote, "Todd and Bryce. And me! I'm now the sixth tallest person in my family (of six)." Although Drummond is busy running her successful career, she enjoys being a mother to her children and a loving wife to her husband.