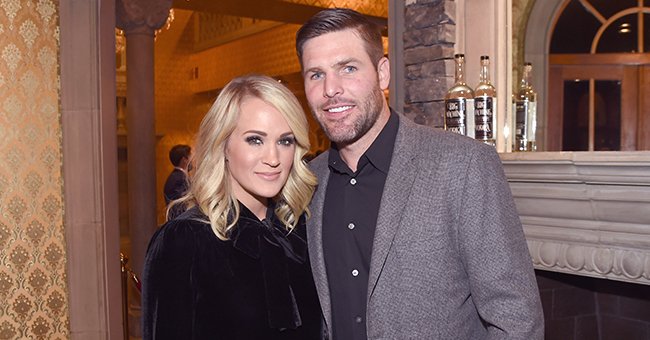 Getty Images
Carrie Underwood Has Gone through Many 'Difficulties' with Husband Mike Fisher - Inside Their Love Story
Carrie Underwood and Mike Fisher have a love story that endured several trials, but in the end, prevailed. Through their docuseries, they hope their differences in opinions, family, and faith could show others that disagreements in relationships are normal.
Both stars in their own right, Carrie Underwood and Mike Fisher were from different worlds who unexpectedly met through a common friend. Since day one, their relationship has already faced challenges, but they were always resolved through time.
Now happily married with two children, the couple hopes their love story, told through their docuseries, can help others' relationships withstand the tests of time.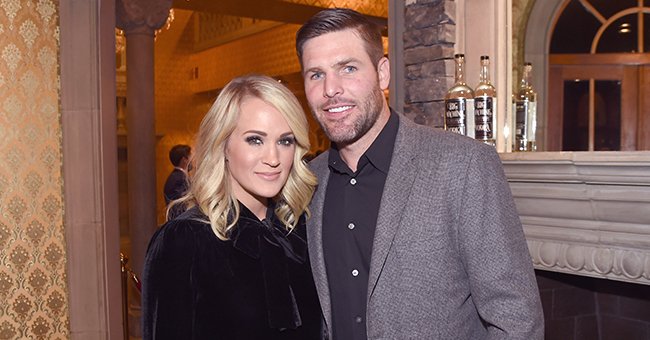 Carrie Underwood and Mike Fisher smile for a photo during an event. | Source: Getty Images
THEIR FIRST MEETING
Underwood didn't think she would end up in a long-distance relationship, but when her friend, Mark Childers, introduced her to National Hockey League star Mike Fisher, everything changed. Initially, Underwood felt skeptical about going on a blind date with someone who lived elsewhere.
However, she and Fisher ended up meeting backstage at one of her concerts, and the outcome was spectacular. Although it wasn't love at first sight, the pair had an undeniable connection and attraction.
Because of physical distance, with Fisher living in Canada, and Underwood's hectic schedule, it would take three months before they physically met again. On New Year's Eve 2008, the two had their first date and sealed it with a sweet kiss.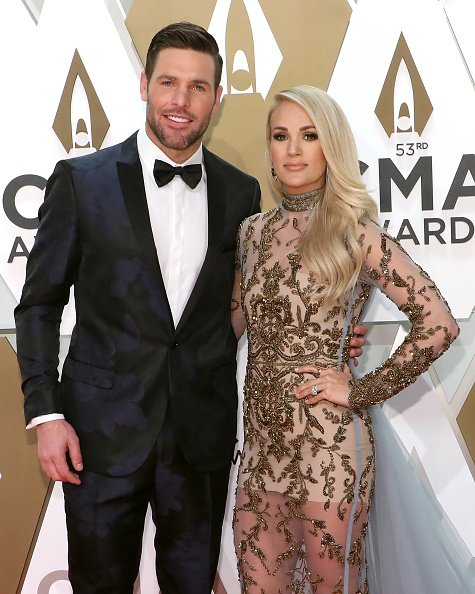 Mike Fisher and Carrie Underwood during the CMA Awards at Bridgestone Arena on November 13, 2019 in Nashville, Tennessee. | Source: Getty Images
THE SWEET NYE KISS
Underwood previously shared about their kiss during an interview with Glamour. "Our kiss was when the ball dropped," she said, adding:
"We were in front of people, and he's not a big PDA guy. I figured I'll go in for it because he can't leave me hanging, right? So I made him kiss me in public."
It didn't take long before the couple realized they wanted to spend the rest of their lives with each other. On December 20, 2009, Fisher asked the "Jesus Take The Wheel" singer to marry him.
STARTING A FAMILY
Underwood and Fisher tied the knot on July 10, 2010, at the Ritz-Carlton resort on Lake Oconee, Georgia. The following week, the husband and wife enjoyed their honeymoon in Tahiti, where paparazzi couldn't help but capture their sweet moments together.
However, the distance was still a challenge in their relationship. Given Fisher's career playing with the Ottawa Senators in Canada and Underwood's life in Nashville, they had to be apart for weeks during the first few months of their marriage. Underwood said:
"We're both independent people, so we can't have somebody around 24 hours a day, seven days a week."
FINALLY LIVING TOGETHER
In 2011, Fisher was drafted by the Nashville Predators, allowing their lives to be on the same path. Finally, the athlete could live with his wife.
Underwood revealed that she and her husband don't frequent date nights out because of the convenience of being home.
Fisher prayed about moving teams before he was drafted, revealing that he was frustrated, and said, "'God, if you have me go somewhere, take care of it, look after it,' and he sure did that. He put me in a place I was comfortable with [...]."
BECOMING PARENTS
For some time, the couple focused on their careers and relationship. It wasn't until four years later that they became parents, welcoming their first child, Isaiah Michael, on February 27, 2015. Young as he was, Isaiah had already gone on tours with his mom.
According to the "Good Girl" songstress, her son likes climbing things and listening to music. "There are certain things you don't even realize he's picked up, but sometimes tunes in and will start singing along," she said, as reported by Country Living.
Another four years later, Underwood and Fisher became parents of two, welcoming Jacob Bryan on January 23, 2019. Since then, the doting mom's challenges have shifted to struggles with motherhood and having a postpartum body.
SHARING THEIR LIFE TO THE WORLD
The couple does not shy away from sharing bits and pieces of their everyday lives on social media and in interviews. Once, Underwood revealed that she and her husband don't frequent date nights out because of the convenience of being home.
In 2019, they filmed a four-part series called "Mike and Carrie: God & Country." The show's producer, Jonah Ingram, shared:
"We got into talking about the difficulties of raising a family or some of the personal trials they've gone through, and there's some genuine emotional moments in there."
"MIKE AND CARRIE: GOD & COUNTRY"
Ingram added that there were times when he was happy the couple were together, so they could hold each other's hands and stroll through it together.
Meanwhile, producer John Humphrey explained that their objective was to show who Underwood and Fisher are in a way that many viewers do not know and cannot see on the surface.
In the first episode, Underwood and Fisher came clean about what they would not concede to do, where they stood before starting their family, and how their purposes contrasted before they met.
As reported by ET, "Mike and Carrie: God & Country" will comprise weekly episodes, which are under 10 minutes each, as reported by ET.
Some of the topics they tackled include the singer's three miscarriages before. As reported by PEOPLE, Fisher said that he and Underwood conceived swiftly every time they pursued a second child following Isaiah's birth.
Sadly, they experienced two losses months into the pregnancies. After the third loss, Underwood prayed, and in January 2019, the couple welcomed their second child, son Jacob Bryan.
The singer said that she and her husband learn from one another and have lively conversations about their disagreements. Nevertheless, she also pointed out that they love each other so much at the end of the day.
According to the former hockey player, their strong faith keeps them destined for success. There is always a way, and that it is consistently God who is working in it, he revealed.
Please fill in your e-mail so we can share with you our top stories!