Steve Harvey Attends the '12th Annual Golf Invitational in Honor of Greg Calhoun' Which Benefits His Foundation
TV personality, Steve Harvey, hosted the 12th edition of an annual golf tournament last Saturday. The event raised funds for his foundation, which helps young people.
Steve Harvey took to the gram once again to raise funding for the Harvey Foundation and improve the lives of many young people.
Harvey hosted the 12th "Annual Golf Invitational" in honor of his late friend and pioneer supermarket mogul, Greg Calhoun — who passed away two years ago. The tournament was sponsored by the famous car company Lexus and held on Saturday, June 27, 2020.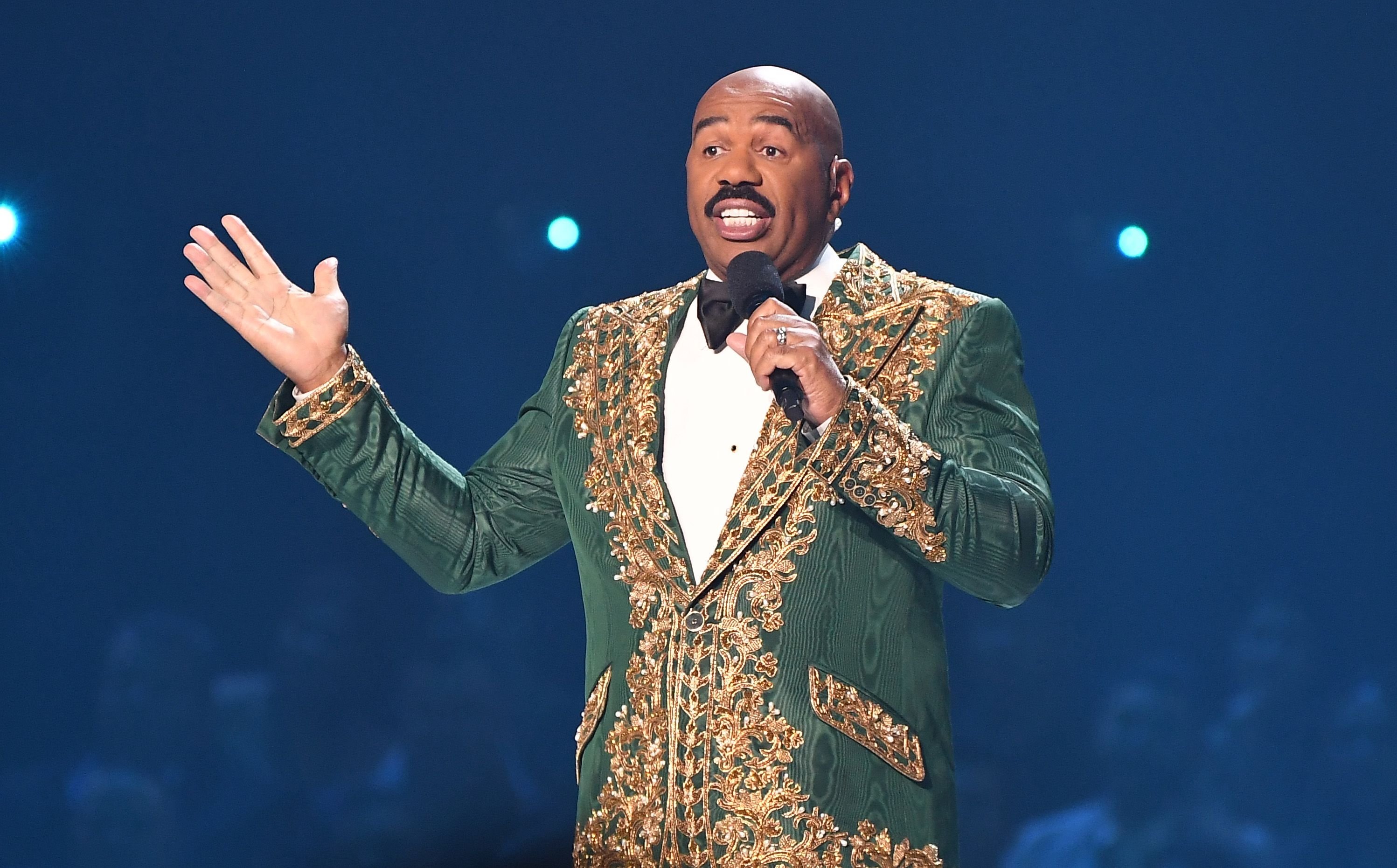 The TV Host turned out with other celebrities and donors to mark the special occasion, whose profits would go directly to "The Harvey Foundation." Harvey sported a pink golf shirt with blue sleeves, on top of dark blue trousers and black leather gloves.
The comedian showed his skills on the course and took time to thank all who contributed to the success of the event. He said on Instagram:
"A big thank you to @LexusUSA for their partnership in support of our mission to positively impact the lives of young people."
In the Instagram slideshow, which showed Harvey with other cheerful participants in face masks alongside displays of Lexus vehicles, the game show host thanked APGA Tour golfers who turned out for the event, as well as "MyMy Johnson."
"
The Harvey Foundation
" is a non-profit organization that strives to improve people's lives, particularly by offering mentoring programs to young men, as well as sponsorships and college scholarships.
Harvey recently bought a $15m Atlanta mansion from Tyler Perry.
Steve Harvey is a revered TV personality who seems to have done it all. From hosting "Showtime" at the Apollo to his critically acclaimed 1999 comedy tour, "The Kings of Comedy," to writing several relationship best sellers.
These days, however, Harvey is more concerned with leaving the world a better place than he found it. In an interview with The New York Times in 2010, "the Family Feud" star said that he is starting to think of life in terms of what people will say about him in the future.
The 63-year-old stressed that he was experiencing a desire to do meaningful things that impacted other people positively.
This does not mean the millionaire won't have time to enjoy himself, though, far from it. Harvey recently purchased a 15-million-dollar mansion in Atlanta, from fellow actor and producer, Tyler Perry.
The property, which is nearly 35,000 square feet in size, boasts of seven bedrooms, an underground ballroom, a gym, an indoor pool, a tennis court, and a guest house, among other attractions.
The father-of-four and his third wife, 54-year-old Majorie, are sure to have a lovely time in their new home as they continue to strive to leave a lasting impact on the world in style.