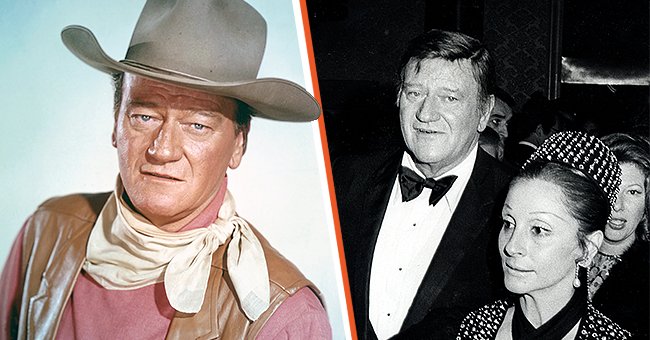 Getty Images
John Wayne & His 3rd Wife Were Married for 25 Years until His Death - He Cut Her Out of His Will
John Wayne was married three times before he passed away. His last wife was Pilar Pallete, and even though they stayed together for over two decades, he never included her in his will.
John "The Duke" Wayne and Pilar Pallete were married for more than 20 years, and she stayed with him until the day he died in 1979. Together they had three children out of his brood of seven: John Ethan, Marisa, and Aissa.
The legendary actor made millions while he was alive, but he left none of his estates to Pallete. Part of the reason for this was that they had been separated for several years when he died.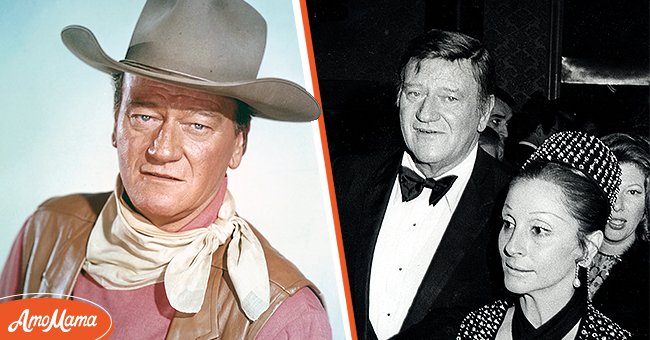 John Wayne in a studio portrait, circa 1970, and the iconic actor and his wife Pilar Wayne at the "Cowboy" Los Angeles premiere in Beverly Hills, California, on February 5, 1972 | Photos: Silver Screen Collection & Ron Galella/Ron Galella Collection/Getty Images
WAYNE'S FIRST TWO WIVES
The actor's first wife was Josephine Alicia Saenz whom he tied the knot with in 1933. The couple was together for 12 years and during that time, they welcomed four children.
The children were Mary Antonia "Toni" Wayne LaCava, Michael Wayne, Melinda Wayne Munoz, and Patrick Wayne. After John's death, Saenz was included in her former husband's will.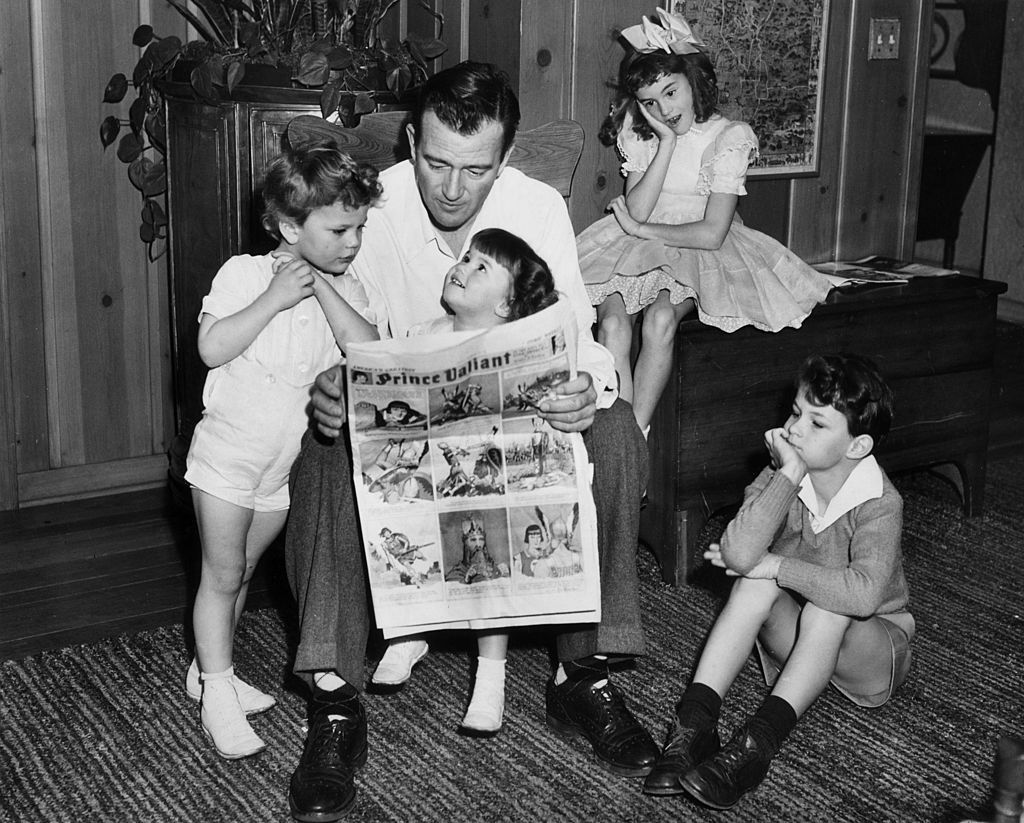 John Wayne reading a "Prince Valiant" comic with his four children Patrick, Melinda, Toni, and Michael in Hollywood, California in 1942 | Photo: Hulton Archive/Getty Images
Esperanza Baur became the star's second wife in 1946 until their divorce in 1954. The former Mexican movie actress never had any children together but had a messy breakup.
Baur believed her husband was cheating on her with Gail Russell, John's co-star on "Angel and the Badman." She was so convinced that when the actor came home after filming, she tried to shoot him in a drunken rage as he entered the home.
HOW JOHN & PILAR MET
In 1952, Pallete was on the edge of a Peruvian jungle while filming John's movie, "The Alamo." She was doing a dance scene and was out of breath when the director introduced her to the iconic star.
At the time, she was a young actress, he was 21 years older, with only one movie credit. The Peruvian star was still married to Richard Weldy and John was with his second wife, Baur. While in Los Angeles, she met the iconic star again, and when their divorces were complete, the pair married in 1954 in Kona, Hawaii.
The couple spent a good part of their marriage traveling because of his work schedule. They settled down in Newport Beach, California but allegedly separated in 1973.
WAYNE'S DEATH
John sadly passed away at age 72 on June 11, 1979, after battling cancer. The estate he left behind was worth $6.85 million, however, Pallete didn't receive much of it because of the separation.
The duo never legally separated or divorced, but Pallete moved from their waterfront home six years before her husband's death. However, she did note that they were still legally married when he died.
JOHN'S ESTATE
According to Pallette's memoir, "Duke: A Love Story," John's former secretary, Pat Stacy, became his live-in companion from 1973 until his death. Pallete was written out of his will according to The New York Times.
However, Stacy and the late actor's first wife and his children were all included. A 27‐page document filing in Orange County Superior Court revealed that John's estate included $1 million in real property.
The star also had $100,000 in income from his holdings and $5.75 million in personal property. His longtime secretary, Mary St. John, received $10,000, while Stacy got $30,000.
HOW PILAR WAS PROVIDED FOR
Pallete had a provision made for her in her and her husband's separation agreement. A generous trust fund was established by John to allow his third wife to be taken care of.
She remarried briefly in 1984 to Stephen Stewart, a municipal judge. Sadly, that relationship didn't last as they were only together for two weeks and the actress described it as a mistake.
The rest of his estate was placed into trusts, one of them provided to Saenz, who got $3,000 monthly checks. Baur sadly passed away in the mid-1950s.
WAYNE'S INFIDELITY
While married to Pallette, the actor allegedly continued having a relationship with actress Maureen O'Hara. The pair had initially met in 1941, with one of his friends stating:
"They would meet in Arizona, at the ranch he owned with a friend. It went on for years, before and during his marriage to Pilar."
According to biographer Scott Eyman's book "John Wayne: The Life and Legend," the iconic actor struggled with several issues. He cheated on all his wives, with his most noteworthy sexual affair being with Marlene Dietrich.
John cheated on Saenz while married to her, and when he tried to be faithful, he met Dietrich, a German actress, and singer. He once hooked up with her in Rome at the Excelsior Hotel and dated for three years.
ETHAN'S REFLECTIONS ON JOHN
During a 2018 Fox News interview, John's youngest son, Ethan, then-56, opened up about his life with the legendary star. He recalled the moment he realized his father was no ordinary man.
Ethan [Wayne] shared how his father [John Wayne] took that bourbon along on trips.
Ethan had gone to a friend's house when an incident occurred. The friend's mother asked him to get the mail and there were only three envelopes, and this surprised John's son.
Ethan recalled how the US postal service had to drag in canvas bags filled with mail to his house! Even though his father was an icon, the star's son said he had a normal upbringing.
He didn't have bodyguards or any security, and John answered his own telephone and door. The actor would often catch his own fish and cook it on the beach while interacting with locals.
KEEPING JOHN'S LEGACY ALIVE
Ethan has worked as the director of the John Wayne Cancer Foundation. He also served as the president of John Wayne Enterprises and in 2018, he helped release a bourbon that was based on his father's personal recipe.
Ethan shared how his father took that bourbon along on trips. People always wanted to drink with the star, while his son carried special food items, packs of candy, and other items.
Please fill in your e-mail so we can share with you our top stories!