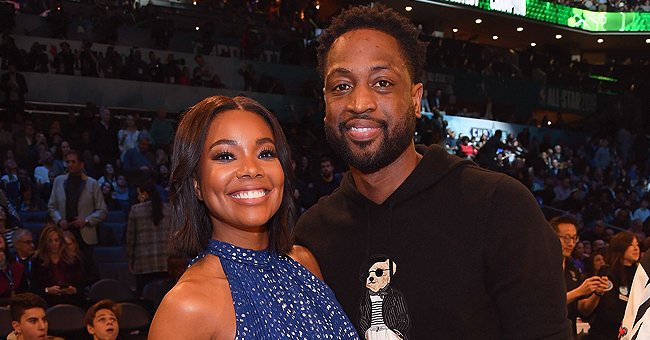 Getty Images
Dwyane Wade Felt His Daughter Kaavia's Picture Is the Perfect Reaction to the Upcoming NBA Comeback
Dwyane Wade celebrated the announcement of the lineup for the NBA teams return to the court with the help of a picture of his adorable one-year-old daughter.
In February 2020, Dwyane Wade retired his number three basketball jersey for The Miami Heat squad. The NBA star had played a successful career spanning over 15 years.
Although Dwyane might not be playing basketball professionally, his love for the sport remains a constant feature in his household.
In an uplifting video that showcased how people have managed to keep themselves active amid quarantine, Dwyane and his family shot hoops indoors.
During an interview on "The Tonight Show with Jimmy Fallon," Gabrielle revealed that since the temporary ban on sports her husband has been watching old games obsessively, she explained:
"[He is watching] 'The Last Dance,' old games, his games, like he doesn't know how they end. You know he's live-tweeting this game."
Dwyane can finally put away his old footage since the announcement was made that the NBA would resume on July 30th.
"Me when the schedule came out last night and Lakers vs. Clippers were game 1," Dwyane joked. He responded to the game lineup along with a hilarious image of his daughter, Kaavia James Wade.
"[I] Just realized her shirt said 'We Out,'" commented one person. One fan gushed over the couple's daughter and wrote, "so cute, good job Dwayne and [Gabrielle]."
In the photo, Kaavia was perched on her knees as she showed off an adorable grin. One commenter said, "this little girl is the cutest one ever. Love the whole family vibe." Another person mentioned that the one-year-old resemblance to her famous father.

A fan commented on a photo of Kaavia perched on the floor in a white onesie | Source: Instagram.com/dwyanewade
Kaavia has a following of over a million people on Instagram; fans are drawn to her
, which has been dubbed by her parents the "Shady Baby."
During an interview with Ellen DeGeneres, Gabrielle joked that she has the comic appeal of George Carlin; in her stone-faced delivery while being so funny.
Please fill in your e-mail so we can share with you our top stories!