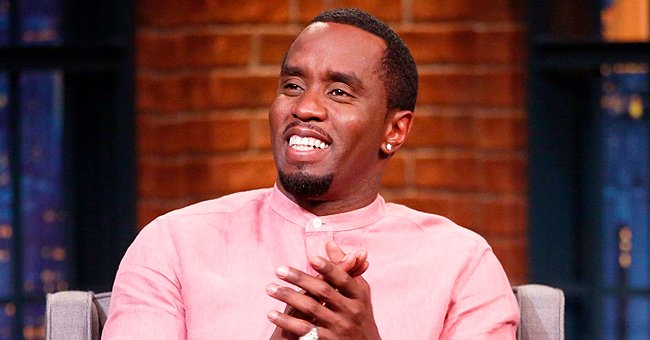 Getty Images
Diddy's Twin Daughters D'Lila and Jessie Look like Their Mom Kim in a New Pic Sporting Matching Hoodies
Diddy and Kim Porter's twin daughters looked adorable as they posed in matching colorful hoodies while bearing a striking resemblance to their late mother.
Diddy and Kim Porter's twin daughters, Jessi and D'Lila Combs have a flair for fashion like their model mother and fashion mogul father.
The twins are known for dressing alike and always style themselves in all the lasts trends. Recently, they were gifted colorful hoodies, which they showed off while holding up a peace sign to reflect the hippie-inspired colors on their outfits.
The girls displayed their modeling skills while flaunting a bold pout for the adorable snap. One fan commented, "looking more and more like your mom."
"Am also a twin, and I love you girls," revealed another person. A fan also wrote, "loving the black excellence right here @the_combs_twins y'all are so beautiful and popin in y'all outfits."
Jessi and D'Lila were dressed in hoodies that were part of an initiative supporting black colleges. One person teased about the twin's college aspirations saying, "see you at Howard or Spellman."
As they stood outdoors, many fans speculated about their location. "look like y'all are in Georgia lol," said one person. Another user reflected on their resemblance to their late mother.

Jessi Combs and D'Lila Combs hold up a peace sign while posing in colorful hoodies | Source: Instagram.com/the_combs_twins
Diddy took on a huge undertaking when the music mogul lost the mother of his children in November 2018.
Only months after her sudden death, the proud father of six was by his daughters' sides to celebrate their graduation from middle school.
According to Essence, Jessi and D'Lila paid tribute to Kim during their graduation speeches. The twins praised their mother for all the runway and fashion tips she shared with them as they reflected on some of their favorite memories.
In December, they celebrated Kim's birthday with a heartfelt message, which said, "I remember this photo like it was yesterday, just like I will always remember everything about you. We all love you and miss you."
Diddy told Essence that when Kim had taken ill with what she thought was the flu, she told Diddy during their last phone call to look after their children.
According to Hollywood Life, the rapper praised his girls for how strong they have been while grieving over their mother. In a conversation he had with them, Diddy recalled how they told him that they felt Kim had prepared them to deal with death.
Please fill in your e-mail so we can share with you our top stories!