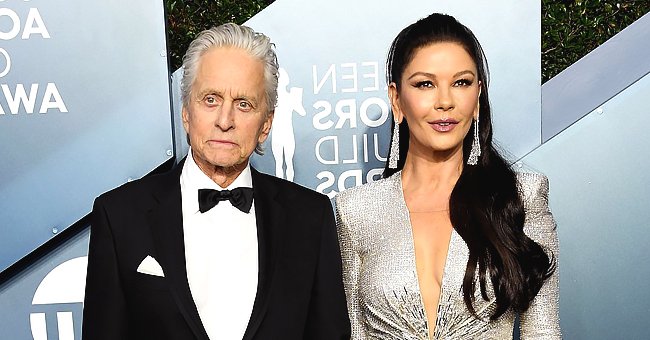 Getty Images
How Catherine Zeta-Jones and Michael Douglas Met and Started Dating Prior to Their Marriage

Catherine Zeta-Jones has had a longlasting marriage with Michael Douglas. In a recent video, she revealed how the pair first met over two decades ago.
On Wednesday, Catherine Zeta-Jones sat down for the second part of a question and answer segment she held for fans. The five-minute video clip covered a range of unrelated topics.
Of course, there was at least one about her husband of 20 years, Michael Douglas. The 50-year-old Welsh actress shared the heartwarming story of how the two met. The clip is found below.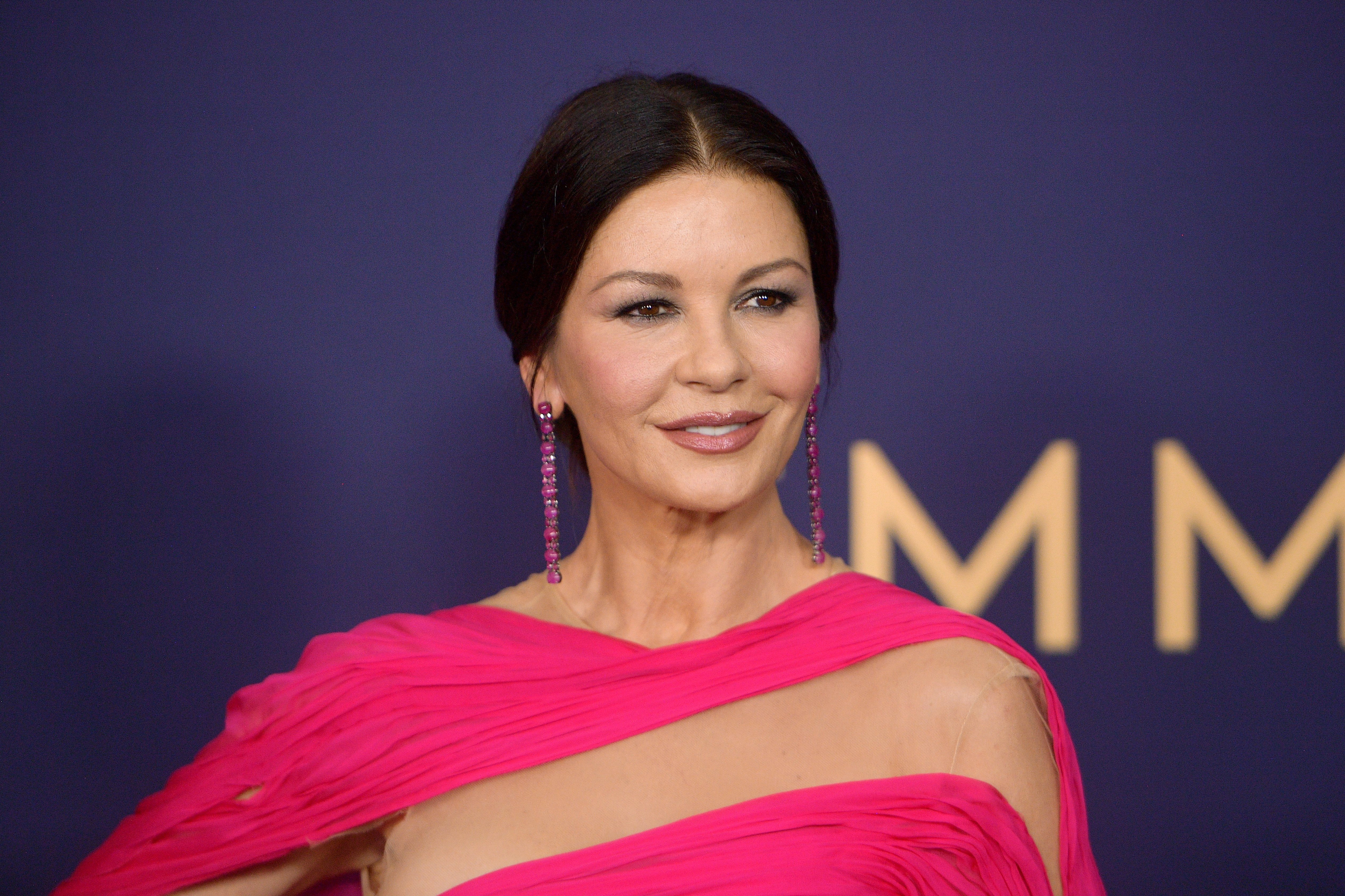 Catherine Zeta-Jones attends the 71st Emmy Awards at Microsoft Theater on September 22, 2019. | Photo: Getty Images
HOW CATHERINE AND MICHAEL FIRST MET
In the video, Zeta-Jones wore a silky white outfit as she sat on a large white couch with black and brown throw pillows. Behind her were two windows and with a painting between them.
The question about Douglas came towards the end of the clip. Zeta-Jones related the story in a very matter-of-fact tone: "I met Michael and the Deauville Film Festival in France when we were speaking French." She continued:
"I was promoting 'Zorro,' he was promoting a movie. And we met, and then we really didn't meet again until nine months later, but we corresponded in letters and over the phone."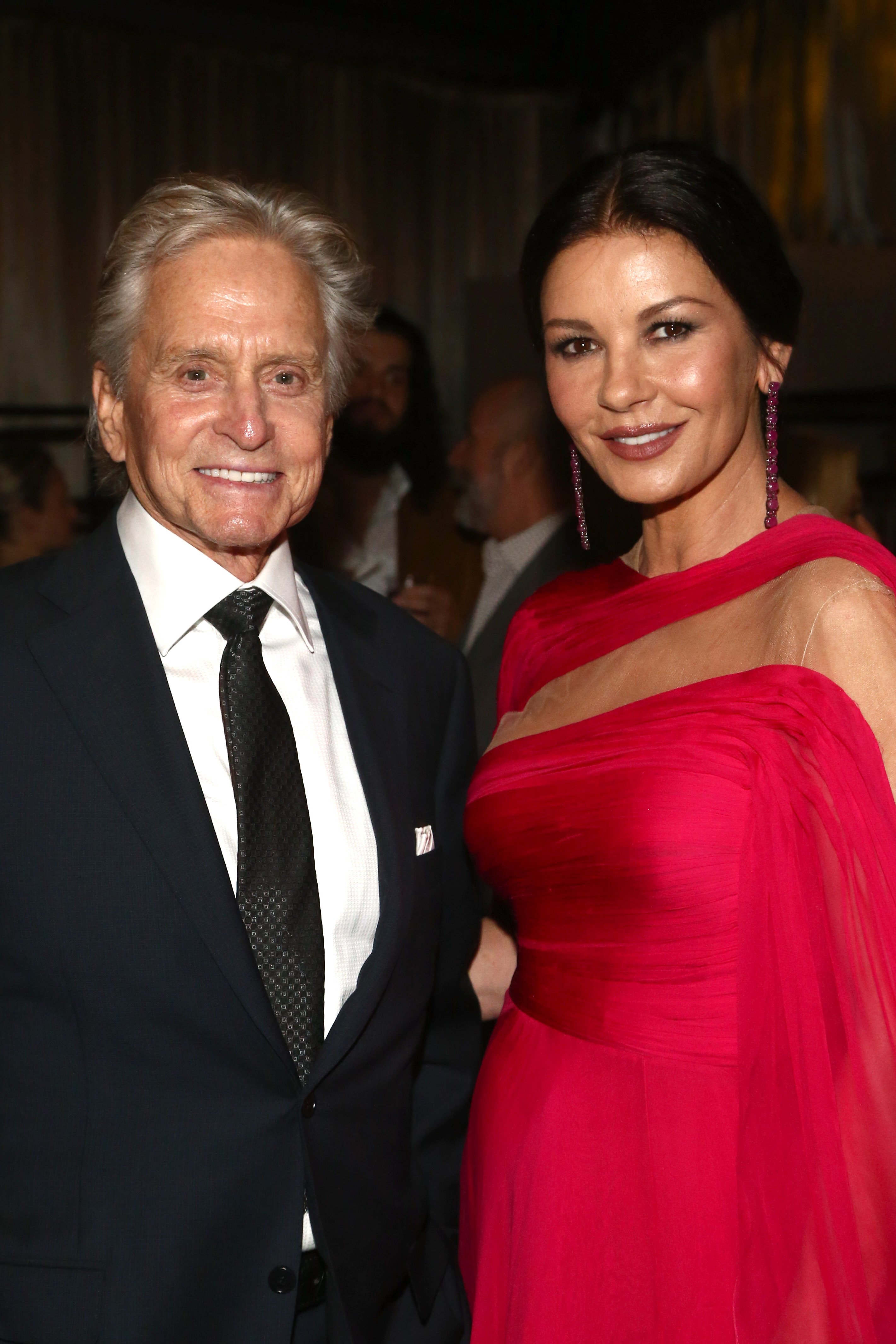 Michael Douglas and Catherine Zeta-Jones attend the Netflix's 71st Emmy Awards After Party on September 22, 2019, in Hollywood, California. | Source: Getty Images.
MORE DETAILS OF THEIR MEETING
The actress described the pair's early stages as being very old-school, which she enjoyed. She then fast-forwarded the rest, saying, "Then we got together, and then we got married really quick and had babies."
Zeta-Jones has shared the story before. Speaking on "Larry King" in a 2001 interview, the actress struggled to recall the year she met her future husband. Her guess was 1996.
The movie Douglas was promoting was "A Perfect Murder." It didn't seem to be love at first sight when, at first, Douglas walked right by Zeta-Jones without saying a word.
GETTING TOGETHER AND MARRIAGE
Mutual friends Antonio Banderas and Melanie Griffith later introduced them. After nine months of long phone conversations, Zeta-Jones wondered why they weren't officially together.
The pair would tie the knot in 2000 at the Plaza Hotel in New York City. Guests included fellow celebrities like Steven Spielberg, Sharon Stone, Barbara Walters, Goldie Hawn, and Jennifer Aniston.
ZETA-JONES CELEBRATES FATHERS DAY
Zeta-Jones' post follows a celebration of her husband on Father's Day last month. She also paid tribute to her father, calling him the "wind beneath my wings" in the sweet post.
For her husband's post, Zeta-Jones shared a rare family photo that featured her and Douglas' children, Carys and Dylan, as well as Douglas' son Cameron from his first marriage to Diandra Luker.
MORE INSIGHT FROM THE Q&A
In the video, Zeta-Jones also spoke about her love of makeup, what she misses about Wales, and the artists she sings to during karaoke sessions.
The actress is a big fan of karaoke and prefers to rock out to Adele and Alicia Keys. She most misses her parents and brothers in Wales, especially in light of the pandemic.
Please fill in your e-mail so we can share with you our top stories!