Instagram/lindsaycz
Craig Melvin and Wife Lindsay Are All Smiles in a Photo with Their Kids Onboard a Boat during 4th of July
Broadcast journalist Craig Melvin's wife, sports anchor and reporter Lindsay Czarniak shares a sweet family photo with their son, Delano, and their daughter, Sybil.
Craig Melvin and his wife, Lindsay Czarniak, and their two kids are showing that they are "family goals." To celebrate Independence Day, Czarniak, a sports anchor and reporter, shared a lovely photo of all four of the Melvin-Czarniak clan and wrote:
"My family was pretty annoyed with me for asking them to take this picture. Well... one person mainly :) glad we took this tho[sic]."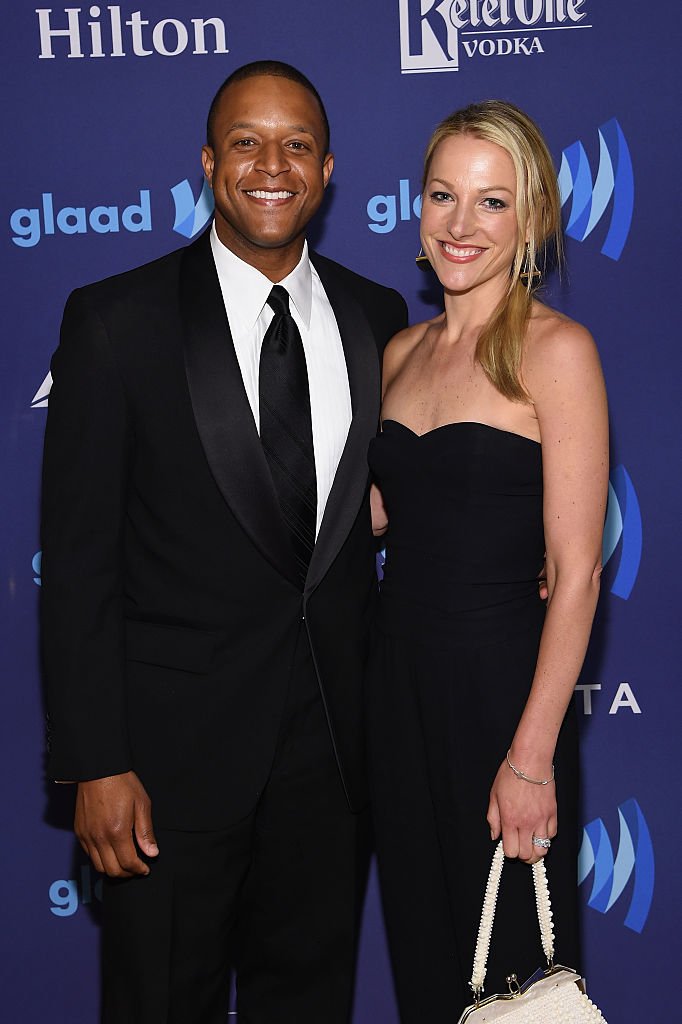 Craig Melvin and Lindsay Czarniak attend the 26th Annual GLAAD Media Awards In New York on May 9, 2015. I Photo: Getty Images.
Czarniak's caption continued, saying that she had no idea the wind was blowing just right to catch the flag waving behind them. She continued her message by wishing her fans a happy July 4.
The caption ended with the sports reporter sending out her love to her followers and their families, expressing her gratitude for "this amazing country," America.
Melvin was sitting by his wife with their son, Delano, sitting between them, and their daughter, Sybil, behind Delano. Czarniak's followers trooped to the comment section to fawn about the beautiful family, wishing her a great July 4.
Melvin and Czarniak kept their relationship away from their friends and colleagues.
Craig Melvin is one lucky man. Besides his stellar career as a broadcast journalist, Melvin is blessed with his wife and their two kids. Czarniak's family with Melvin is always a beautiful sight to behold.
The matriarch and patriarch of the small family share a heartwarming love story of when they first met. The lovebirds first met back in 2008 while Melvin started working at NBC4.
Melvin, who was still the "new guy" at the time, and Lindsay, who previously worked for ESPN and had just returned from covering the Olympics in Beijing, reportedly hit it off and started hanging out quite a lot.
While they bonded over their shared love for live music and "Whatchamacallit" candy, the pair made sure to keep their relationships away from their friends, colleagues, and out of the spotlight.
Eventually, they decided that "this was it," and they became open about their relationship. Finally, wedding bells chimed for the pair, and they tied the knot on October 15, 2011.
The wedding was a quaint affair held at the Church of the Holy City, after which they retreated to the Hay-Adams hotel in Washington DC. Following their marriage, the newlyweds relocated to Connecticut to start a family together.
In March 2016, their first child arrived — a lovely baby boy, Delano. Delano's baby sister, Sybil Ann, came almost three years after he did, in November 2016.
Czarniak told TODAY that although she and her hubby were ecstatic, the most notably excited of them was their then-2-year-old, Delano, who could not wait to meet his new sister.
Since Sybil's arrival, the family of four has continued to be the picture-perfect family that is looked up to by many, blessing their admirers with several photos and other insights into their blissful life.
Please fill in your e-mail so we can share with you our top stories!