Todd Chrisley Reacts to Son Chase's Photo Hugging His Alleged Girlfriend – See His Reaction
Reality star Chase Chrisley shared a warm photo of him and his alleged girlfriend, Emmy Medders. His dad, Todd Chrisley, had an opinion in the comments.
Chase Chrisley took to Instagram, where he posted a romantic photo of him and his supposed girlfriend locked in an embrace.
The image showed the duo bearing bright smiles while engaged in a public display of affection to the delight of fans and his millionaire dad.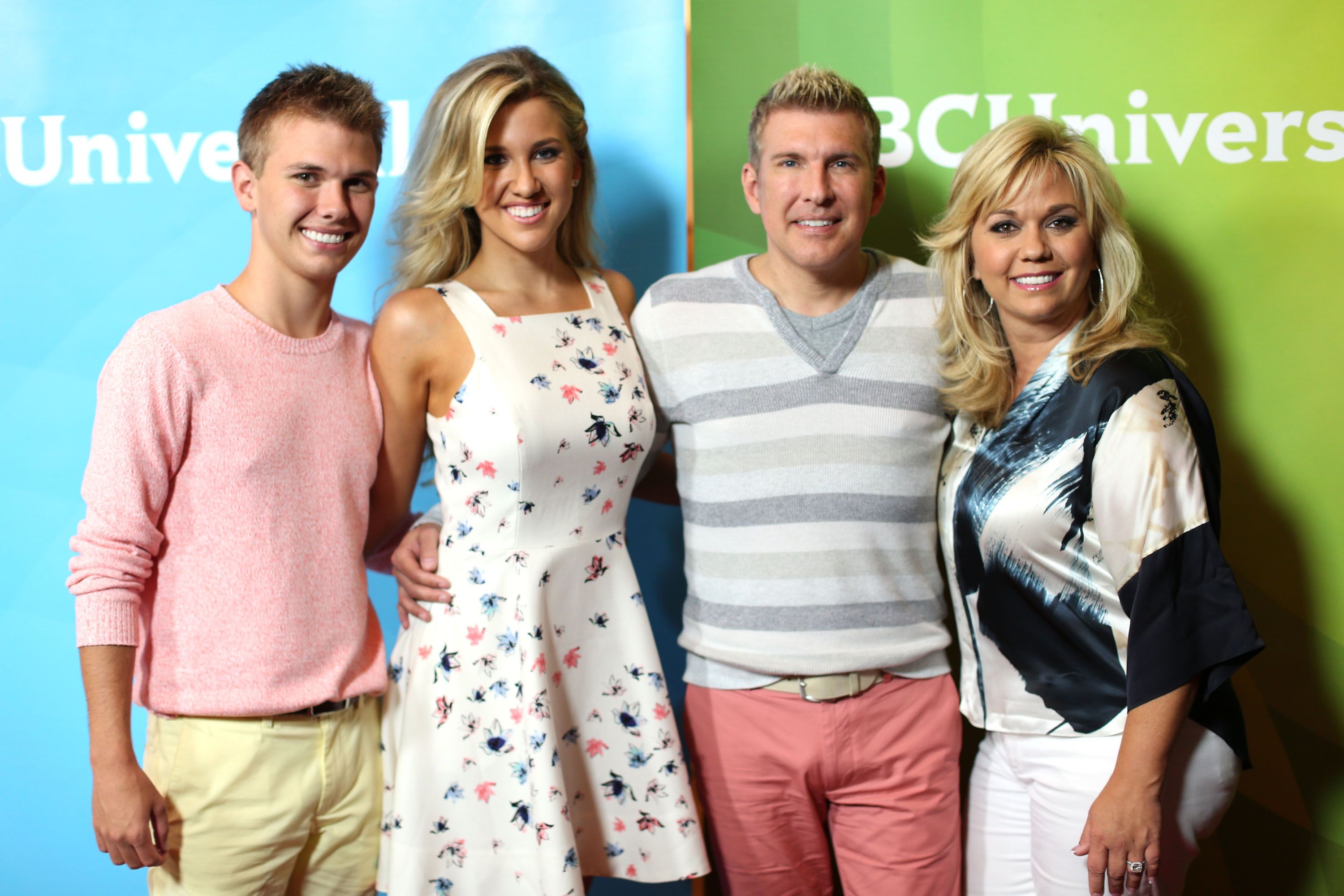 CHASE STIRRED HIS DAD
Chase and Emmy Medders were photographed outdoors with tall trees forming a shade at their location. Medders rocked a print mini-dress and a denim jacket. She completed her outfit with a pair of white footies. Chase looked handsome in a pair of shorts and a grey t-shirt. His feet were clad in matching kicks.
Chase Chrisley captioned his post with a heart emoji, but his many fans, including his dad, were captivated by how romantic the snapshot was. Todd light-heartedly shared: "Be still my heart…" He added another comment while addressing a fan: "and I don't give those likes easily, my friend."
TODD'S APPROVAL 
Once while gushing over his son and his lover, Lindsey Merrick, Todd Chrisley took to Instagram, where he officially introduced Lindsey to fans. At the time, Chrisley shared a black and white photo of Chase and Lindsey enjoying a cozy moment.
Referring to Lindsey as "one of the sweetest souls around," Todd fawned in his caption: "We are so blessed to have this young lady [in Chase's] life, we love you, sweet girl." Todd's approval of his son's girlfriend is quite remarkable as he has always been a devoted dad to his brood.
SINGLE AGAIN
Fans noticed a seeming rift between Chase Chrisley, an original cast member of "Chrisley Knows Best," and his lover, Lindsey Merrick. The reality star later hinted that they were no longer an item after sharing a candid Valentine's Day post on Instagram.
Chrisley posted a photo of himself striking a pose while adding Valentine's Day greeting in his caption. Chase's "note to self" read: "...can't wait to spend the rest of my life with you. I love you…" He, however, didn't mention or tag Lindsey Merrick.
CHASE AND KAYLA PUZAS
Following his separation from Lindsey Merrick, Chase Chrisley met and started dating Kayla Puzas, a girl he waited for, for ages. 
Chrisley and Kayla's relationship got fans speculating if they were still together after a while. However, Puzas shared a Valentine's Day post, where she called Chase her "emergency contact." 
Chase confirmed in his own Instagram post that they were still going on strong. He also attested to their relationship in an interview.