Getty Images
Tamera Mowry's Husband Adam Shares Cute Throwback Pic of Their Kids Ariah and Aden on 4th of July
Multi-award-winning journalist and husband of actress Tamera Mowry celebrates Independence Day with a heartwarming throwback photo of their two children.
For Adam Housley, multi-award-winning journalist and the husband of television star and actress Tamera Mowry, 4th of July this year was a day to celebrate the nation's independence as well as reflect on how fast time has flown for his family.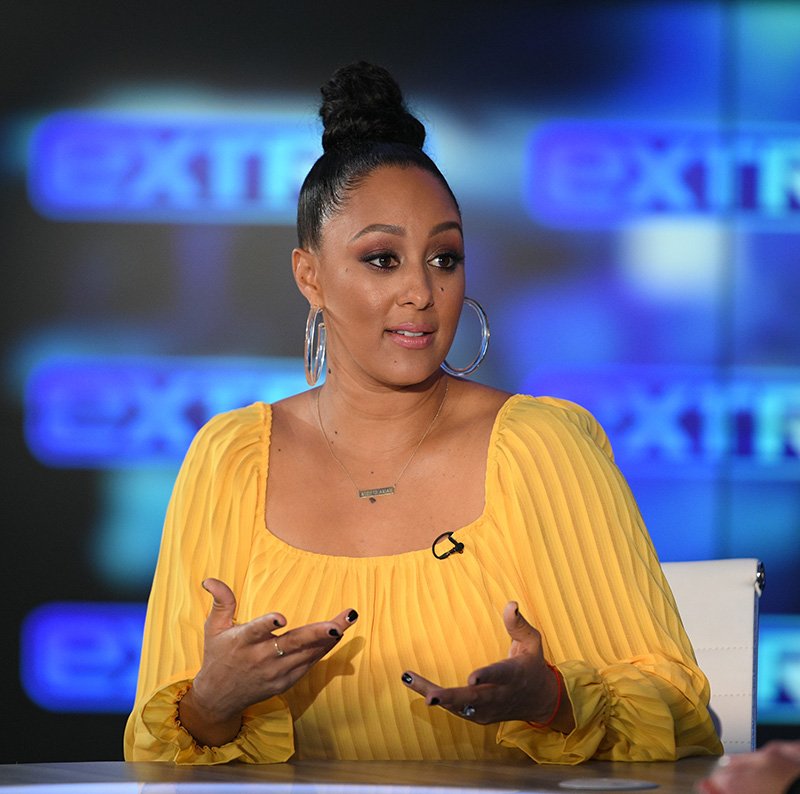 Tamera Mowry-Housley visits "Extra" at Burbank Studios on November 05, 2019 in Burbank, California. I Photo: Getty Images.
The 48-year-old shared a throwback photo of his children with Mowry, their daughter, Ariah Talea, and their son, Aden John. Captioning his post, Housley wrote,
"On this day 4 years ago. Man time flies. Everyone stay safe today and hopefully enjoy a social distance BBQ."
Housley also revealed that his wife, Mowry, a co-host on Fox's daytime show "The Real," would be making burgers and fries for the family to eat while they enjoy the festivities. He concluded his message by wishing his followers a happy 4th of July.
In the old picture, Ariah, who was about a year old then, was sitting with her big brother, Aden, while sporting a flag-inspired top and cool white sunglasses. She looked like a stunning little lady.
In 2018, some internet trolls accused Housley of being a racist.
Aden was dressed in a t-shirt of the same color, and looked very handsome. Housley's followers praised the too cute to handle brother and sister duo while wishing their father a happy fourth of July.
Inside Housley's marriage to Mowry, there is a lot for fans to fawn over. From their love story to the parenting dynamic and the cute moments they share, the Mowry-Housley clan is a perfect bunch.
However, Mowry thinks her kids are already enough work and has decided not to have more. In an episode of "The Real," which Mowry co-hosts, the actress explained the dynamic of her interracial marriage.
Mowry, who is of mixed race, and Housley, who is white, had to learn to be conscious about each other's culture.
Narrating the incident at her twin sister, Tia's wedding, she shared how delighted she was to find out that her hubby fit right into her family without a hitch, and they had all fallen in love with him right off the bat.
Mowry also shared another experience from when they first started dating. Housley had run his hands through his then-girlfriends hair only to be surprised by the weave tracks he felt in her hair.
Mowry then had to explain what the tracks were, and they have since then continued to share bits and pieces of each other's cultural experiences.
Despite the excellent understanding between the husband and wife concerning their different cultures, some people still perceived Housley as racist.
In 2018, some internet trolls accused Housley of being a racist because he worked with FOX News. Mowry made sure to set the record straight that her husband was not a racist.
The Housley's live happily together in their sprawling picturesque Napa Valley Home, where the wonders of whatever it is they are up to take place.
Please fill in your e-mail so we can share with you our top stories!