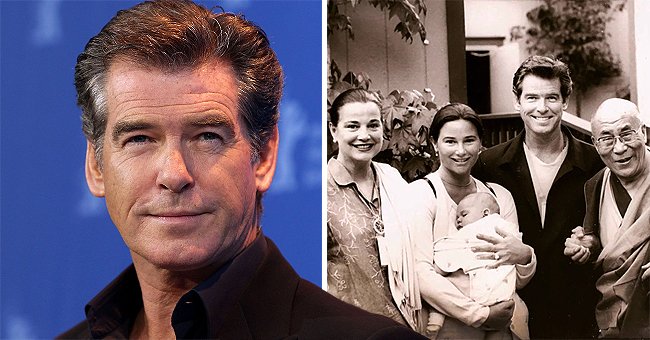 GettyImages instagram.com/piercebrosnanofficial
Pierce Brosnan Marks Dalai Lama's 85th Birthday with TBT Photo of When He Blessed His Son Paris
Irish-American actor, Pierce Brosnan, famous for his role in four "James Bond" movies, marked the 85th birthday celebration of the Dalai Lama, Lhamo Thondup, with a throwback photo on his Instagram page.
The 14th Dalai Lama, Lhamo Thondup, celebrated his 85th birthday on July 6, with many people paying him tribute all over the world. Actor Pierce Brosnan was among those who celebrated the Dalai Lama.
In an Instagram post, the 67-year-old actor shared a throwback picture of when he, his wife, Keely Shaye Smith, her mother, Sharon, and their then baby son, Paris, posed with the Dalai Lama, who bestowed blessings on Paris.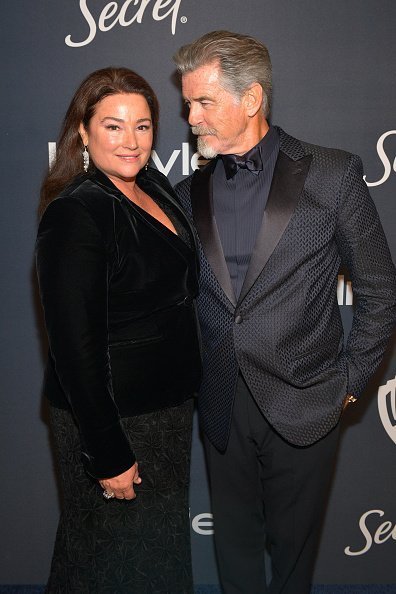 Keely Shaye Smith and Pierce Brosnan attend The 2020 InStyle And Warner Bros. 77th Annual Golden Globe Awards Post-Party on January 05, 2020 | Photo: Getty Images
The family were all smiles as they posed with the religious leader, who also looked cheerful, while baby Paris slept peacefully on his mother's chest.
In the caption to the post, Brosnan wished the Dalai Lama a happy 85th birthday and said the photo was taken 19 years ago in San Francisco when Paris was just a few months old. He also added:
"@keelyshayebrown her Mum Sharon and I spent a few moments with his Holiness (as he blessed Paris) before I introduced His holiness on stage."
The Dalai Lama is one religious leader who is loved by many celebrities and has had many of them meet up with him on several occasions.
Despite being 67, Brosnan has a youthful body and was not worried about showing it off while relaxing.
Pierce Brosnan has been quarantining with his family in his home in Hawaii and revealed to ET in a recent chat that he is taking the opportunity of this period to write a memoir.
The actor also talked about his new Netflix comedy titled "Eurovision," and reflected on his iconic roles in the epic James Bond movies he starred in.
Despite being 67, Brosnan has a youthful body and was not worried about showing it off while relaxing, looking handsome as well with his full-grown grey beard.
In April, the adventurous actor was also caught going on a solo hiking experience, sporting a white T-shirt, gray cargo shorts, and black laced sneakers. Brosnan also wore Apple AirPods in his ear and carried a trekking pole.
The actor who looked unrecognizable at that time, sported a clean-shaven look to go with his salt-and-pepper hair. He completed his appearance with sunglasses and carried a beige backpack on his back.
Please fill in your e-mail so we can share with you our top stories!