Pierce Brosnan Looks Unrecognizable as He Congratulates Son Dylan on His USC Graduation
Actor Pierce Brosnan takes to Instagram to share sweet photos of his family celebrating the graduation of his son, Dylan, who was dressed in full graduation attire. 
Many schools across the country have turned to virtual means to proceed with their calendars. Among these institutions was the University of Southern California. Dylan, Pierce Brosnan's son, who was a USC student, finally graduated. Brosnan wrote:
"Congratulations Dylan on your graduation and academic achievements at USC School of Cinematic Arts."
The actor added that he wanted his son to go forth and succeed on his own in the new world that he had before him. He encouraged his son to be fearless, courageous, and generous. He concluded his caption by expressing his love for his son.
The 23-year-old was dressed in his black graduation cap and gown in all three photos of the slideshow that Pierce posted. In the first picture, Pierce leaned into his son's embrace with a happy and proud look on his face.
The second photo featured a more expressive Pierce with a wide and vibrant smile in a warm side hug with Dylan. Keely, Brosnan's wife, also posed with her oldest son, and the family looked happy together.
Pierce has picked up the habit of looking into the finer details in his life.
Pierce and his family are spending time in Hawaii amid the ongoing pandemic. With the global health crisis looming over everyone, the Brosnans made the healthy choice of relocating to the scenic retreat far away from the public eye. 
Many people have begun to notice how different Pierce's appearance has been in recent times. The "GoldenEye" actor was seen doing a hike in Hawaii. After several decades in the acting industry, looking older was expected. Describing how his appearance affected him, Pierce said:
"My personal style is simple: clothes that are comfortable. I like facing the day in clothes that make me feel competent, secure." 
Pierce added that he liked being well turned out, and cutting a silhouette in the bleakness of the day made him feel good about himself. Comfort was a priority when it came to his looks. His once salt and pepper locks had turned to a full head of silver hair, and he was rocking it!
Having been an actor all his life, it was not surprising that the actor had picked up the habit of looking into the fine details of self-presentation in life.
Like father, like son, Dylan has also developed a knack for fashion and the glamorous runways attached to it. He first came into the runway and flashing lights scene in 2015 when he became one of the faces of the Spring/Summer 2015 Saint Laurent campaign.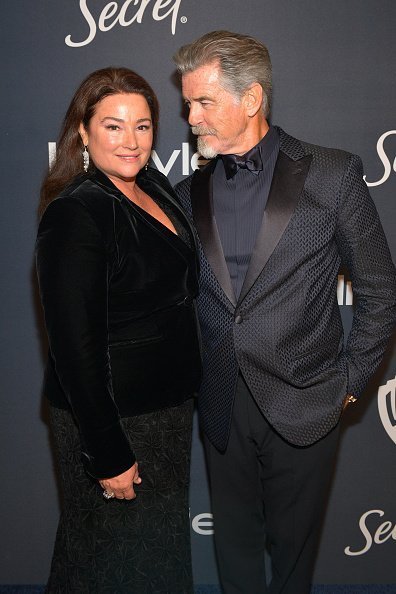 Dylan has three siblings Sean, Christopher, and Paris. They have all had their fair share of the time in the spotlight with Sean and Christopher dabbling in acting and Paris following Dylan's steps in modeling. Charlotte, their sister, died in 2013 from cancer from which Pierce's first wife, Cassandra, died.
Among the bitter has been sweet moments, and as the actor approaches 70, he continues to exude vibrance, happiness, and an alluring aura that may be tied to his sleek new look.