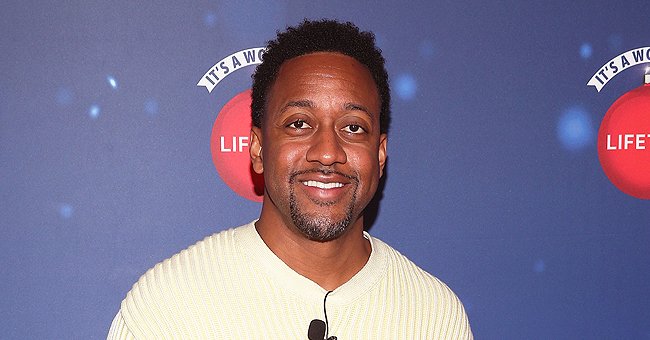 Getty Images
Jaleel White and Daughter Samaya Enjoy a Day Out in LA by Eating Ice Cream in New Pics
American actor and comedian, Jaleel White and his only child and daughter, Samaya, were recently on an outing where they enjoyed yummy ice-creams and cute snaps together.
Actor Jaleel White of "Family Matters" fame took to his Instagram page to share two cute photos of himself and his daughter, Soraya White, on a day out together.
The adorable father-daughter duo visited Los Angeles's "BAE & Co." ice-cream shop, where they got yummy looking delights for themselves.
Jaleel White and his daughter Samaya at the "Jumanji" movie premiere on December 09, 2019 | Photo: Getty Images
The first picture in the post showed White, who wore a red face cap and black facemask, holding out his ice-cream. The actor also wore a white "Tenderfest" customized sweatshirt.
In the second photo, Samaya also held out her delicious looking ice-cream. She wore a white sleeveless top and a black facemask that had "Black Don't Crack" written on it. White captioned his post,
"Ends day with fave soft serve in L.A. Start your engines."
White and Samaya, who is 11 years old, do share a striking resemblance, so much so that they could be likened to twins.
That striking resemblance has been observed by many of White's fans on Instagram where he usually posts adorable snaps of himself and his beautiful daughter every other week.
Sandra "Pepa" Denton said she passed up the chance of dating Will Smith years ago because he was not thug enough for her.
White is famous for his role as Steve Urkel on "Family Matters" where he brought laughter to millions of viewers as a child star in the 90s sitcom.
Being a child star could be difficult for some to manage, but White, with guidance from his mom, was able to escape the child star curse and told Fox News how she helped him navigate those years, saying:
"My mom, she ruled our house with a heavy hand. I think my mom was concerned about me being "normal" than she ever was concerned about what I did as an actor."
Though the actor became famous for his iconic role in "Family Matters," that may not have been the case had he been selected to star in "The Cosby Show" which he auditioned for before playing Steve Urkel.
White was supposed to star as one of the Cosby kids, with the youngest of them, Rudy, originally supposed to be male. He looked set to bag the role before Keshia Knight-Pulliam, who eventually got the role, walked in.
Losing the role hurt young White so much, but his mother was on hand to ensure that it did not get to him for long, and he picked himself up and continued to audition till he finally got the role on "Family Matters."
Though White is loved by many, he found himself on the wrong side of their wrath in 2018, following his comments to an observation made by Sandra "Pepa" Denton, who said she passed up the chance of dating Will Smith years ago because he was not thug enough for her.
In his comments, White enforced Pepa's observation, saying many good men who were not about the gangster life lost the finest black women of those days to the gangsters, rappers, etc., causing many fans to drag him out on social media.
Please fill in your e-mail so we can share with you our top stories!