Getty Images
Ringo Starr of The Beatles Feels Much Younger despite Turning 80 – Here's Why
The Beatles' former drummer, Ringo Starr, hits eighty but feels just as young at heart as he did decades ago and says he hopes for better celebrations when the pandemic is over.
On July 7, singer-songwriter Ringo Starr known famously as the drummer for The Beatles, turned eighty years old. However, due to the pandemic, what would have been a remarkable celebration was turned into a virtual event.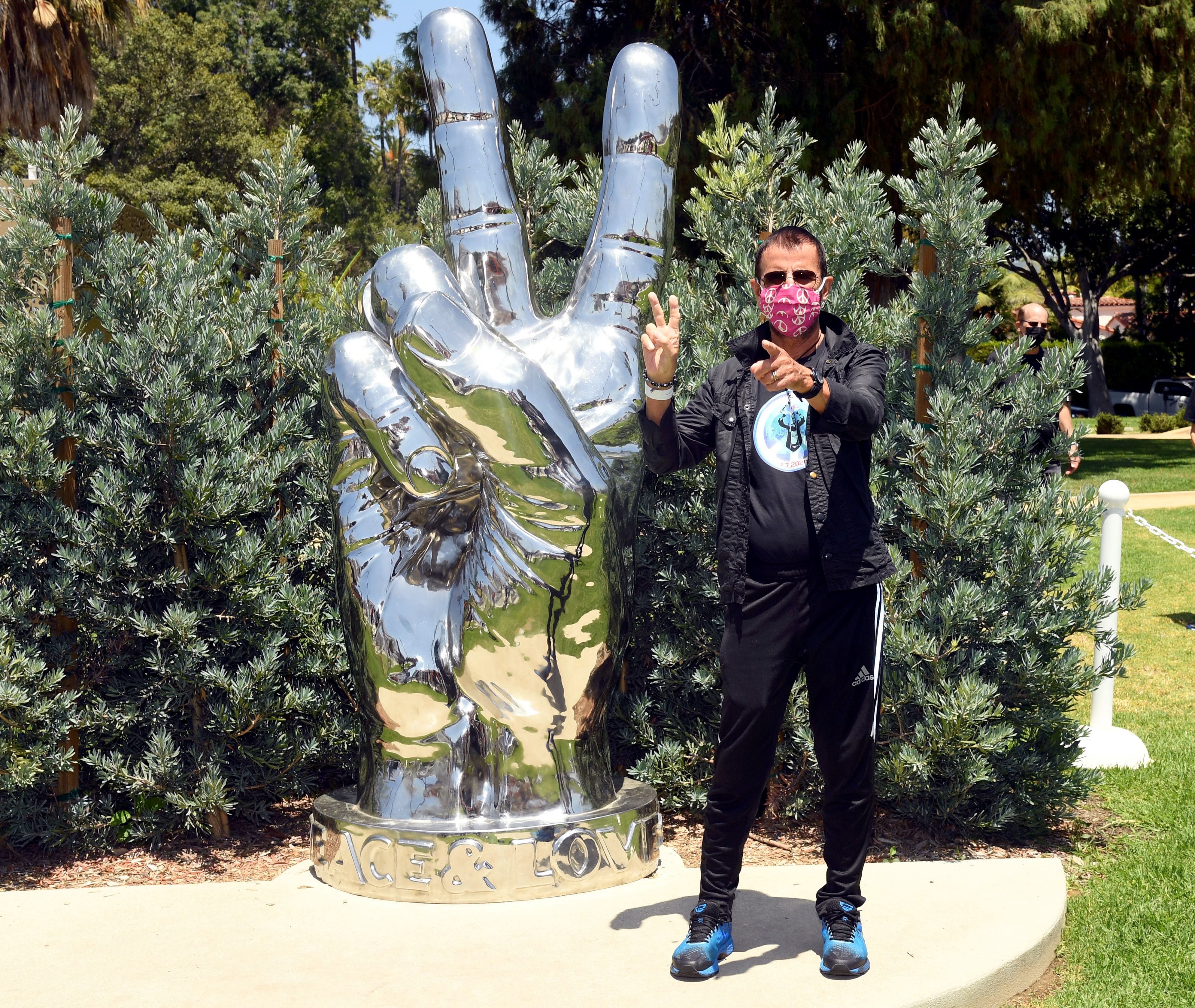 Ringo Starr visits his 'Peace and Love' sculpture to celebrate his 80th birthday on July 07, 2020 | Photo: Getty Images
The musician put together a virtual charity concert he titled "Ringo's Big Birthday Show" and a recorded episode of a video series, "Rolling Stone Interview: Special Edition." In the interview, the singer claimed that he hardly felt his age: He said:
"80? Man, I'm only 24 in here. That's a good thing and a bad thing. Yeah, 80, it's like, far out. It's a difficult one. 70 was easy. I think 40 was the hardest."
To Starr, the real aging began when he crossed 40, referencing the song, "Life Begins at 40." The rock 'n roll icon admitted that he was still saying he was 79 since the celebration would be small, and hopefully, the real grand party would be next year.
He revealed that he had hardly left his house since quarantine began. He had been up to a couple of things to cope with the isolation like painting and drumming. He was enjoying Los Angeles regardless of the pandemic's restrictions.
Starr shared that he missed his band members, the late John Lennon and George Harrison, who passed away several years ago, but added that he still had Paul McCartney, who he referred to as his brother.
The singer remains pretty hopeful that he will soon be able to celebrate his eightieth in grand style with his friends and family once the pandemic is over.
Before his big 80, Starr had an incredible career as a musician. The Liverpool-born musician started his musical journey in the 60s when he began experimenting with a few bands until he joined The Beatles in 1962.
The Beatles enjoyed worldwide success for six years with many remarkable hits and experiences until he left the group in 1968 due to disagreements between the members.
The legendary drummer then embarked on a solo career after leaving the band. Years later, in 1975, he divorced his wife, Maureen Cox, with whom he had three children after he found his former band member, George Harrison, in bed with her.
They had reportedly been having an affair for a while, a relationship that Harrison's ex-wife, Pattie Boyd, did not suspect even when she noted his infidelity at the time.
Six years later, he found love in the arms of former Bond girl and model, Barbara Bach, and they got married in a small, intimate event on April 27, 1981.
Although they were madly in love, the couple still had some rocky years. Wrought with grief at having lost everything — his musical brothers, his first marriage, and suddenly, his sinking career, Starr turned to drugs and alcohol.
According to Mirror, the former band drummer and his wife were almost always out of it, intoxicated with drugs and alcohol until reality caught up to them, and Bach almost died.
The couple checked into rehab and worked through the mess and are now, fortunately, still very much in love, leading a happy life together. Bach is one lucky woman to have her eccentric 24-year-old-at-heart hubby by her side.
Please fill in your e-mail so we can share with you our top stories!