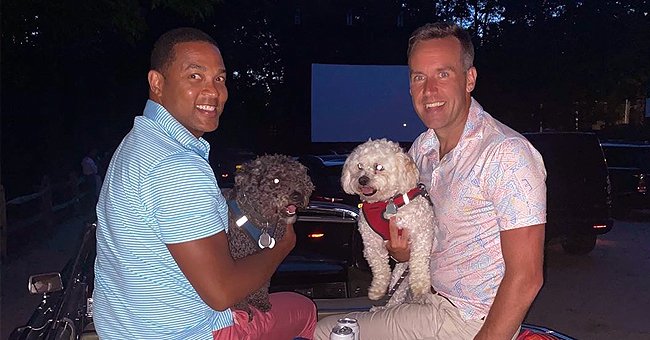 Instagram/timpmalonenyc
Here's the Reason for Don Lemon and Fiancé Tim Malone's Recent Romantic Night Out with Their Dogs
Don Lemon and his fiancé enjoyed a romantic date night under that stars during a drive-in movie. The couple was also joined by their adorable furry dogs.
CNN's Don Lemon and his fiancé, Tim Malone made the best of their date night which they turned into a family affair when they brought along their adorable dogs, Barkley and Boomer.
The couple and their dogs enjoyed their romantic date at a local drive-in movie under the stars in the Hamptons, New York.
Both Don and Tim went for a casual look and were dressed in colorful shirts and khaki pants. They each held on to one of their dogs as they posed for a beautiful picture while sitting inside a convertible car.
In his caption, Tim revealed that the movie night was in honor of first responders. He said they watched Ron Howard's latest film titled, "Rebuilding Paradise."
"Rebuilding Paradise" is a documentary by National Geographic. It will be out in select theatres on July 31, 2020. Having had a peek at the movie, Tim gave a synopsis and said:
"Rebuilding Paradise [is] about a community ravaged by disaster, and their moving story of resilience and their inspiring recovery."
One fan commented on their outdoor date night and wrote, "Ahh, summer nights are the best." Another person complimented Tim's ensemble and gushed, "great photo. Love your shirt, Tim, the color is fabulous."
Don and Tim enjoy a lot of activities with their dogs, and many of Tim's followers noticed that one of their furry companions was missing. Tim addressed the concerns and reassured a fan that the dog was also in the car.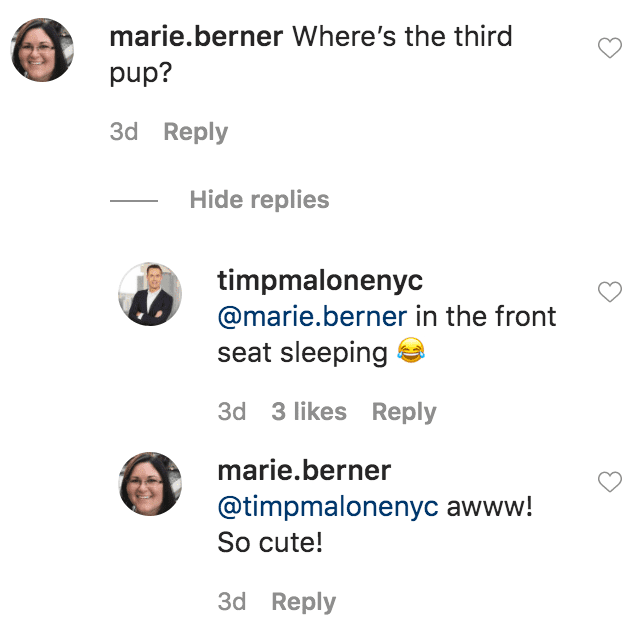 A fan commented on a photo of Don Lemon and Tim Malone sitting in a convertible car with their dogs, Barkley and Boomer | Source: Instagram.com/timpmalonenyc
Don came out publically in 2011. The news anchor told PEOPLE that he enjoys all the normal things that come from his life with Tim and their three dogs, he
explained:
"We go on vacations. We rent motor homes and we go camping and we do things that I never thought that I would do. It all feels normal."
Don's perfectly normal life with Tim also includes a lot of traveling. According to Daily Mail, the couple and their dogs were photographed frolicking in the waters at a beach in Miami in January. However, amid quarantine, the couple has kept their dates more local.
Please fill in your e-mail so we can share with you our top stories!