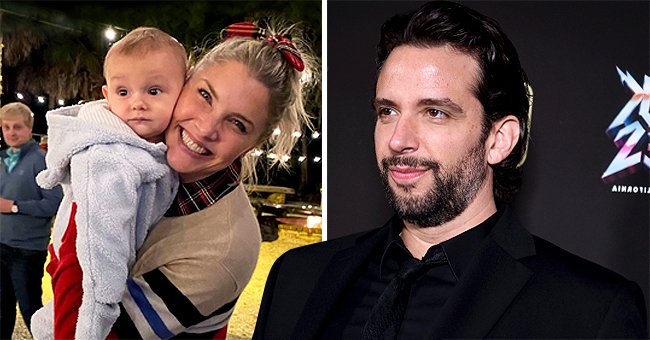 instagram.com/amandakloots GettyImages
See the Sign Amanda Kloots Thinks Late Husband Nick Cordero Showed Her to Prove He's Always with Her
On Wednesday, Amanda Kloots, the widow of Nick Cordero, took to social media to share that her husband had passed on but still remained close to her.
Kloots, 38, shared on Instagram how she and Cordero's son, Elvis, 13-months-old, had taken a walk on Tuesday as part of a new initiative she had undertaken. The fitness instructor revealed that she was taking part in the "#ak10daysofhappy challenge" where she did one thing that made her happy daily.
While walking with their son, Kloots spoke out loud to her late husband asking: "Babe, will you show me a sign that you're here with me and Elvis." She clearly stated that she didn't know what the sign could be but asked for it anyway.
Amanda Kloots and Nick Cordero at the Beyond Yoga x Amanda Kloots Collaboration Launch Event on August 27, 2019, in New York City | Photo: Noam Galai/Getty Images
SEEING A SIGN FROM NICK
The Broadway actor's widow recalled how she'd had a "People" magazine on her bed that night and had decided she was finally going to read it. The magazine happened to fall off her bed and "landed face down and on the back cover was the Geico gecko."
She shared how Cordero had two items on his vision board for the year and the gecko was one of them. Kloots noted what a coincidence it was that the Geico advert was the page the magazine landed on.
CLEANSING AND HEALING
She included a photo of the advert showing Geico touching his chin in a thoughtful manner. The late actor's wife revealed that the spiritual meaning of the reptile was "incredible healing and cleansing due to its regenerative powers."
THE MEANING OF SEEING A GECKO
She explained further that seeing one meant "you are strong, fearless and can overcome anything!" Kloots stated that she believed it was the sign she'd asked for from her husband.
HOW DID NICK DIE
She said: "It was his cheeky way of saying, 'Hi honey. I'm here still! I'm with you.'" Cordero passed away last week at the age of 41 from novel coronavirus disease complications.
HOW AMANDA MET NICK
Kloots met her husband in 2014 while working on the musical "Bullets Over Broadway." At the time, she was still married to her first husband whom she later divorced.
The fitness instructor has been open and candid about her grief and her process of mourning Cordero.
Please fill in your e-mail so we can share with you our top stories!