Melanie Griffith Shares Throwback Pics with All Her Ex Husbands Including Antonio Banderas
Famous actress Melanie Griffith takes to social media to share throwback photos that feature her with all her former husbands, including renowned actor, Antonio Banderas. 
Melanie Griffith recently took her fans down memory lane when she shared throwback photos of herself with her ex-husbands—all three of them.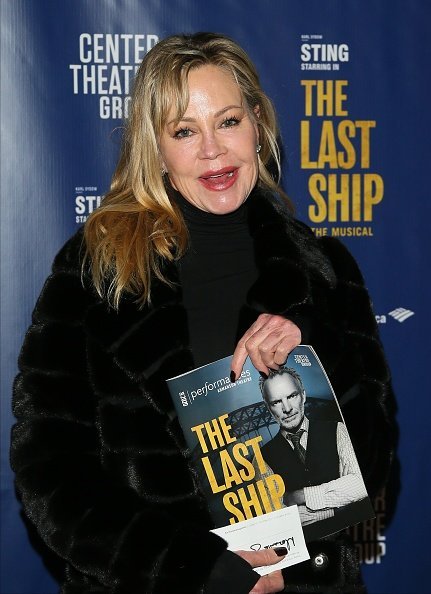 She began with a throwback photo of herself at 26 before going on to share a photo of herself with her first husband, Don Johnson. 
The picture captured Griffith and Johnson in a sultry pose with the talented actress leaning in, eyes closed to place a kiss on Johnson's upturned face.
Johnson was the first man she married and the only man she married twice. They initially tied the knot in 1976; however, it was short-lived because they got divorced that same year. Griffith captioned the heartwarming photo,
"#tbt Me and DJ the first time we were married 1976!! I was 18, he was 26 First Love @donjohnson." 
The next picture, Griffith shared, was an equally romantic one that featured her and her second husband, Steve Bauer. 
In the shot, both Bauer and Griffith looked utterly in love as they sat close to each other. Griffith had her arms around her drawn-up knees and her eyes on a gorgeous Bauer.  
She is open to having a lover should she find a suitable one. 
Griffith and Bauer were married in 1981. They had their first and only child in 1985 before splitting later in 1989. It was shortly after her divorce with Bauer that Griffith rekindled her romance with Johnson.  
In the same year, they got back together, the couple welcomed, Dakota Johnson, their only child. Johnson and Griffith separated for the second time in 1996. 
The next photo Griffith shared featured her with the last man she married—Antonio Banderas. The photo featured Banderas standing behind a smiling Griffith with his arms around her midriff. She captioned the post,
 "#tbt and last but not least, Mi Amor Antonio. This shot was taken in 2012, Marbella. Besitos@antoniobanderasoficial."
Griffith and Banderas got married in 1996. The pair welcomed a daughter named Stella later that same year. They were married for close to 20 years before they went their separate ways in 2015.
Griffith has been very open about her relationship with her three former husbands. Their marriage may have ended, but their relationship as friends did not. This was demonstrated in 2019 when Banderas tagged Griffith his best friend. 
After four botched marriages, the famous actress has confessed that her marriage to Banderas was her last attempt at marriage. 
According to her, she doesn't see it in her future and the concept of it is no longer relevant to her since she already has kids and is living a good life. However, she is open to having a lover should she find a suitable one.