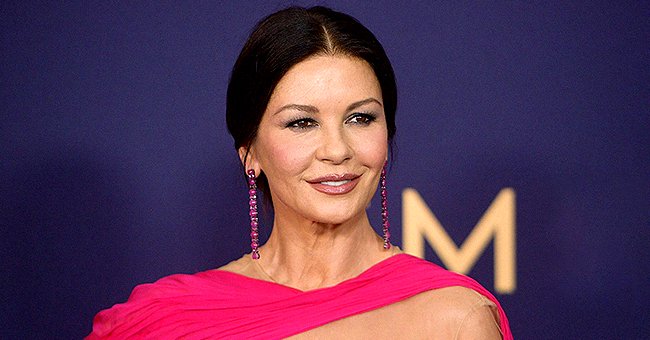 Getty Images / instagram.com/catherinezetajones/
Check Out This Gorgeous Picture of Catherine Zeta-Jones' Daughter Carys – Do They Look Alike?
Catherine Zeta-Jones recently shared a photo of her daughter, Darys, and fans were stunned. Beauty truly runs in the family's genes.
The actress shared the photo on July 18 with her 3.5 million followers on Instagram. In just a day, the image has amassed more than 135,000 reactions.
Some fans noted Carys' striking resemblance with her mother. One fan commented that she thought she was looking at a photo of the "The Mask of Zorro" star.
Catherine Zeta-Jones during a 2017 premiere in Hollywood. | Photo: Getty Images
It was not only the 50-year-old actress who posted a photo of her lovely daughter. Her husband, actor Michael Douglas, also shared snaps of their 17-year-old daughter.
The photo shows Carys wearing a flowy cream-colored long dress as she posed by the family's garden overlooking the sea. In another photo, she is posing against a white wall.
Zeta-Jones recently opened up about how her family adjusted to the changes brought about by the coronavirus pandemic.
Celebrity photographer John Russo was quick to notice the beautiful similarities of Zeta-Jones and Carys. He commented about it on the Instagram post.
Zeta-Jones shared the latest Instagram photo as she revealed that she was releasing a lifestyle brand. She recently launched her items from "Casa Zeta-Jones," including vegan shoes, coffee, make-up, and love spoons, as reported by the Daily Mail.
With her children already becoming adults, the "Darling Buds of May" has been spending more time on her ongoing passion project. The actress, also a mother to Dylan, 19, wanted to target "woke" and fashion-conscious women.
"I wanted to take this passion a step further and create a brand that's beautiful and luxurious, while still being attainable," Zeta-Jone said.
The actress's family appears to be very close to each other. In one of their family trips to South Africa, Cary posted a sweet travel photo with her brother Michael Dylan.
The trip marked the sibling's reunion, as reported by People. They spent a great time apart from each other when Dylan went to college and Carys pursued other commitments.
Dylan also posted a photo of their trip on his Instagram, writing in the caption that he is finally reunited with his "best friend". He shared a photo of Cary kissing him in the cheek while they were in Cape Town, South Africa.
Zeta-Jones recently opened up about how her family adjusted to the changes brought about by the coronavirus pandemic. The "Chicago" star shared that they would spend the day playing cards and monopoly, as reported by Hello!
Their family would share meals three times a day. The actress also said that they have learned to respect each other's space and they talked to each other even more.
Zeta-Jones also recently shared a throwback picture of herself with Douglas and their two children.
In the 2014 photo, the children are seen snuggling with their father on an old brown couch. In the caption, the actress pointed out that "not much has changed" in her family.
Please fill in your e-mail so we can share with you our top stories!