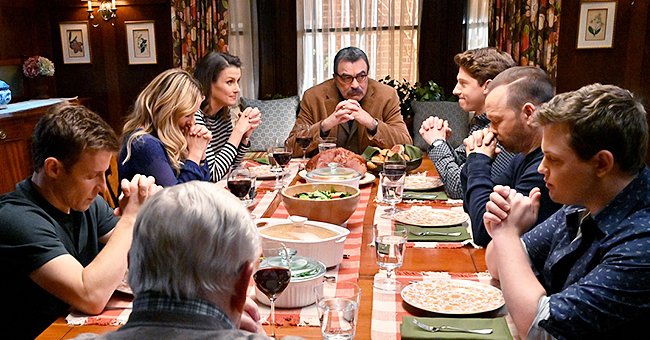 Getty Images
Inside 'Blue Bloods' Dinner Scenes – The Reagan Family Has a Rule When Eating at the Table
The Reagan family has dinner together in every single episode of the police drama "Blue Bloods," and apart from it serving a dual purpose, Tom Selleck revealed their dinner table rule.
Supper time is when the busy Reagan family sit down and catch up on happenings. While the scenes are tedious to film, it also provides time for the cast to catch up with each other as well. Speaking with TV Insider, actor Tom Selleck elaborated on the process and the all-important Reagan rule.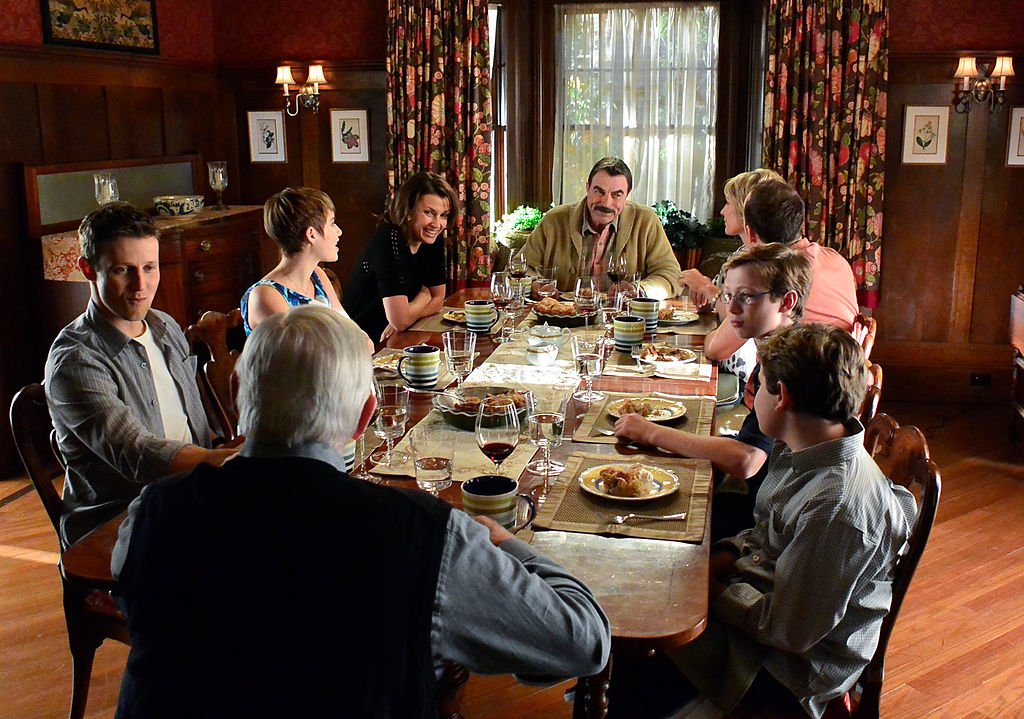 Tom Selleck Donnie Wahlberg, Bridget Moynahan, Will Estes, Len Cariou, Amy Carlson, Sami Gayle, Tony Terraciano and Andrew Terraciano at family dinner on "Blue Bloods." | Source: Getty Images.
Filming of dinner scenes can be long and boring according to Selleck, who pointed out that eating the same food and repeating the same lines for 8 hours can be "gamy," but they do make time for fun, even if it comes out naturally due to exhaustion, as Selleck added:
"Sometimes the director can't get our attention between takes because we're screwing around. We can get pretty silly by the end."
However, in a recent episode of the television drama, the Reagan family rule came out when brothers Danny and Jamie brought their disagreement to the dinner table.
Jamie got angry at Danny for the way he ignored a direct order during a hostage negotiation, and when the pair started venting their frustrations at the dinner table, Henry told them to take it elsewhere. But then matters escalated.
The argument turned into threats of beating each other up, and it didn't take long before Frank told them to "get out" if they can't "abide by the rules of his table." While both Danny and Jamie ended up leaving, they did patch things up before the episode finished.
One of the best dinners the Reagan family treated their viewers to, was when Frank addressed new officers during the Police Academy graduation.
All the family members looked suave dressed in full police uniform around the table, and they later looked on as Frank reminded that empathy and the bond shared with fellow officers to be their "most valuable weapon."
But as the tenth season of "Blue Bloods" just came to an end, the plot twists had fans on the edge of their seats and already anticipating the next season.
It appears that Jack and Erin got back together, but Anthony disapproves of the new developments since he is of the opinion that Jack is "bad news."
Even so, the fate of Erin and Jack's relationship will have to wait until the next season airs, despite the fact that they had many relationship ups and downs throughout the series.
Please fill in your e-mail so we can share with you our top stories!