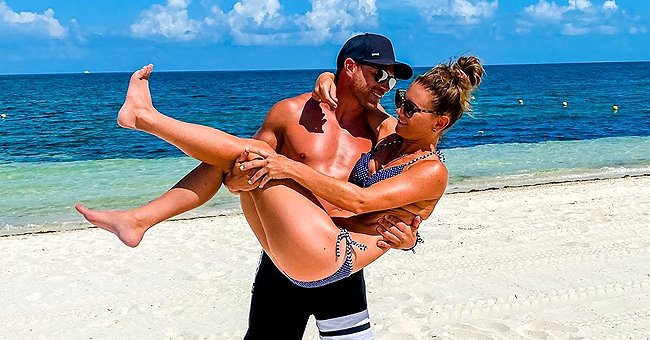 instagram.com/adambuzz
'OutDaughtered' — Adam Busby Shares Sultry Snap with Swimsuit-Clad Wife Danielle on the Beach
Adam and Danielle Busby recently celebrated their 14 years of marriage at a beach resort and made sure to share photos with their fans.
In a photo Adam uploaded, the "OutDaughtered" stars can be seen lounging on the beach. Danielle smiles at the camera in a two-piece swimsuit. In the caption, Adam wrote: "Taking a little break to social distance from Texas for a few. 14 years married to this Beauty."
The July 19 post, which Adam shared with his more than one million followers, received more than 140,000 reactions in only four days.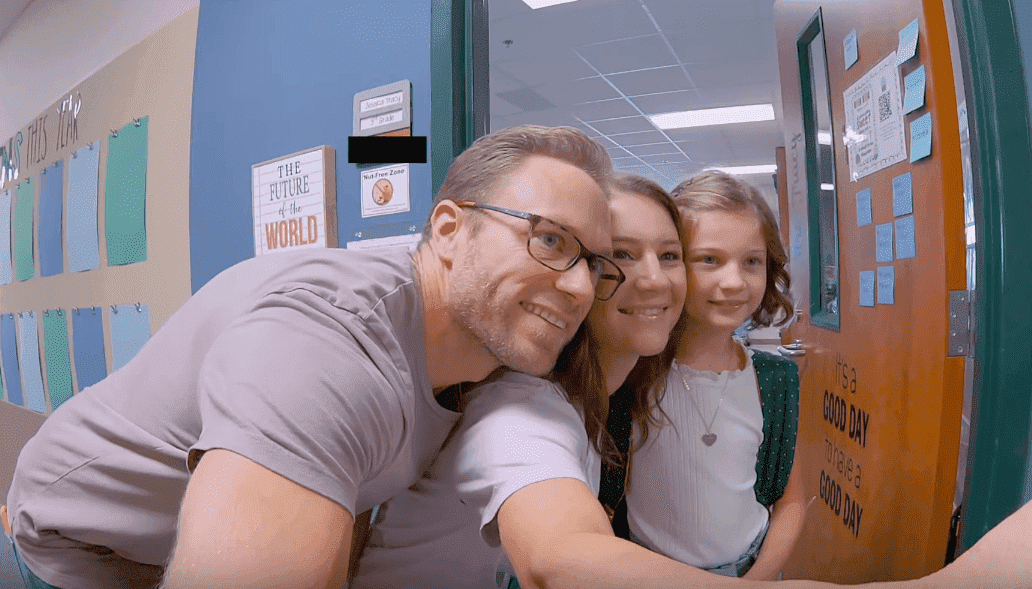 Adam, Danielle, and Blayke Busby taking a selfie at a school. | Photo: YouTube/It's a Buzz World
In the caption, Adam also assured that they are safe in the unnamed resort because guests were kept at 30 percent of capacity.
As reported by Cheat Sheet, Adam recently defended himself and his wife against criticisms over their children-free vacation during a pandemic.
The couple, who lives in Houston with their six daughters, have been intentionally keeping their marriage healthy through the years by occasionally spending time away from their children.
Adam assured fans that their children are safe but did not elaborate on their whereabouts. The couple are parents to Blayke Louise; quintuplets Ava Lane, Olivia Marie, Hazel Grace, Riley Paige; and Parker Kate.
Danielle recently gave fans of their show a glimpse into the family's new temporary home, as reported by Good Housekeeping.
The couple have been homeschooling their children because of the ongoing pandemic.
The family moved into a new home after selling their old house because of mold problems, as reported by Good Housekeeping.
Season 7 of "OutDaughtered," which began on June 2, follows the family as they cope with the coronavirus pandemic. The TLC show premiered on May 10, 2016.
The couple have been homeschooling their children because of the ongoing pandemic. Adam and Danielle also had to cancel their party plans for the quintuplet's 5th birthday last April 8, as reported by People.
Another birthday that the family celebrated under lockdown was that of Blayke, who turned nine years old last April.
But it's not all indoors for the family. Recently, Danielle Busby shared a lovely image of her daughters enjoying an outdoor activity.
While the photo was taken outside, the children remained in an enclosed area, in compliance with the stay-at-home orders. The girls wearing colorful T-shirts and shorts were all smiles, as they enjoyed each other's company.
Please fill in your e-mail so we can share with you our top stories!