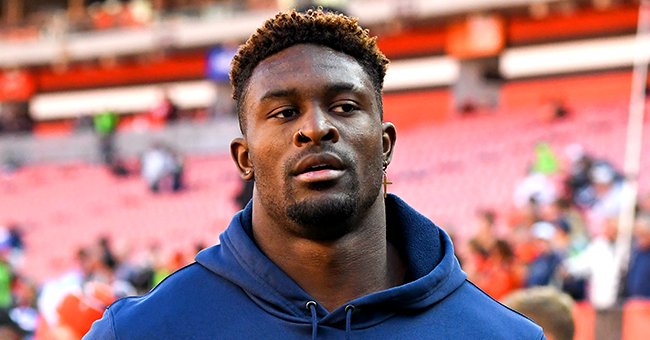 Getty Images
See How NFL's DK Metcalf Honored His Black Idols through His Body

NFL Seahawk's wide receiver, DK Metcalf pays tribute to some of his favorite legendary Black heroes by having their faces tattooed on his body.
Body art is a widely known form of expression. Be it ink, piercings, or anything else in between, body art can be a means to share with the world how a person feels on the inside.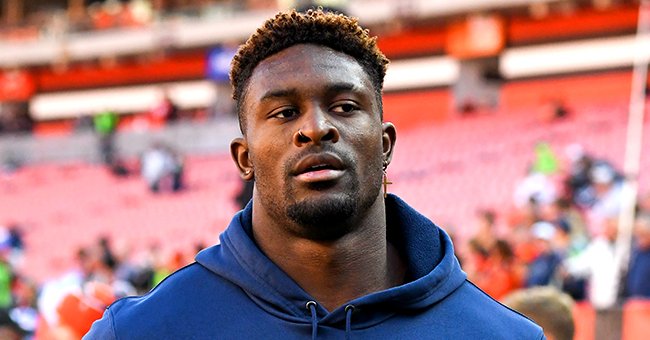 Seattle Seahawks wide receiver D.K. Metcalf (14) talks with a Seahawks staff memeber before an NFL game between the Arizona Cardinals and the Seattle Seahawks on December 22, 2019 | Photo: Getty Images
For the NFL's DK Metcalf, his recent body art choice was the good old-fashioned ink and his expressions were his reverence for iconic Black heroes. Santa Ana-based tattoo artist, Wade Garcia shared a post on Instagram showing off his tattooed masterpiece on Metcalf's body. He wrote,
"@dkm14 says he gonna be bigger than MJ. I believe him 100%. Bare witness. ???? #BELEEEEDATTT."
The post's first slideshow was a short video of Metcalf's leg, debuting a stunning freshly done tattoo of basketball legend, Michael Jordan wearing his signature Bulls 23 jersey.
The next slide was a snapshot of the NFL player's thigh rocking inked drawings of the legendary boxing champion Muhammad Ali and the iconic civil rights activist, Martin Luther King Jr.
To show his respect and to honor them, those icons were now beautifully immortalized on the wide receiver's left leg and there was no doubt that the tattoo artist did a fantastic job.
Garcia was reportedly flown in from Santa Ana to Seattle where Metcalf is currently residing and preparing for the closely-approaching 2020 NFL season. It took Garcia three trips to Seattle to get the job done. Each of those three times, he was tested for COVID-19.
Besides his leg, Metcalf's stomach also got fresh ink. One tattoo read "One of One" while the second read "Top Predator." The NFL star was not reserved about his bold choice of art.
With the 2020 season set for kick-off, the NFL recently started rolling out its Top 100 players after the 2019 season. Impressively, the Seahawk wide receiver pulled in at a whopping Number 81. An impressive swoop for a rookie.
He recorded 58 receptions for 900 yards with seven touchdowns, the second-highest catches and receiving yards by a rookie in franchise history. Fellow Seahawk player, running back Chris Carson also made the Top 100 at Number 96.
With all the progress that Metcalf has made so far, especially with his incredible rookie season, the Seahawks have an excellent player on their hands.
In April, the Seattle football team revealed that they were ready to help him build on his rookie season, plan ahead and make him an even bigger star. Little wonder the 22-year-old feels the need to wear the faces of inspiring figures on his body.
Please fill in your e-mail so we can share with you our top stories!