'Today' Co-host Dylan Dreyer Celebrated Her 39th Birthday on the Same Day Her Son Turned 7 Months –– See How
Dylan Dreyer, the famous meteorologist, and TV show host, celebrated another milestone recently. This time, she had a little more to be joyous about — her son. 
Yesterday, Dreyer shared a few adorable photos of her son, Oliver, in an Instagram post. The images showed the little baby boy in some of his happiest moments, as he enjoyed time at home with the family.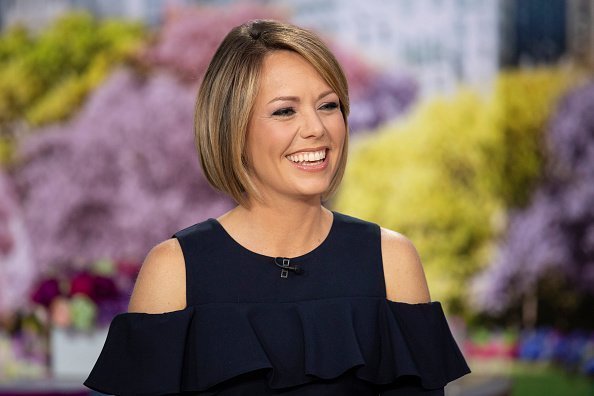 Of course, the pictures showed more than just baby Oliver. Dreyer also shared snaps from her birthday, including a cake presentation by her husband, Brian Fichera, and a clip of her first son, Calvin, singing to her.  
Given the lockdown and restrictions on traveling and gatherings, Dreyer most likely couldn't have much of a big party. However, she still had some close friends and family members around.
Still, it appeared that little Oliver was the highlight of the TV show host's day.She made sure to let this known as she shared in her captions: 
"7 months ago, Oliver came into our lives. Today we're celebrating birthdays together! Granted 7 months is much more exciting than 39 years but, hey, I got to eat cake and Ollie had steamed zucchini." 
Dreyer and Fichera gave birth to Oliver back in January. The baby boy made them a family of four, and they're looking as happy as ever. 
With everything going on in 2020, Dreyer sure seems grateful to have her whole family around her during the pandemic and the resulting lockdown period. 
Dreyer and Fichera don't have a nanny, so they've had to watch the kids round the clock.
Like millions of parents, Dreyer and Fichera have had to quarantine and stay home with their two boys. While they might be happy on social media, the couple has also witnessed some challenges. 
Speaking on their experience back in April, in an interview with People Magazine, Dreyer was able to recognize the opportunity to spend more time with her family that the situation had given her while also admitting the difficulty of it all. She said  : 
"I would say that's the blessing in disguise of all this, just that we get so much family time. Sometimes it drives you crazy, but for the most part it's been great."
Dreyer explained that the quarantine period had been pretty busy, from a parenting perspective. She and Fichera don't have a nanny, so they've had to watch the kids round the clock.
As she told People, the fact that they've had to be with the boys round the clock has been a "reality check." However, they're getting by and doing pretty good. 
Fichera even showed off some of Dreyer's mom skills in his birthday tribute to her.  With a new birthday to celebrate, everyone should get the chance to relax for a bit. Soon enough, it will be back to parenting again.