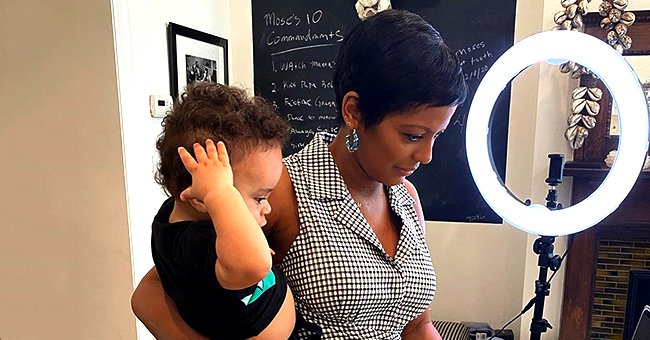 Instagram/tamronhall
See the Drastic Change in Tamron Hall's Shoe Collection after Welcoming Her Son Moses
Tamron Hall is showing off her shoe collection and it definitely looks different from her collection before she became a mother. Check it out now.
Becoming a mother usually means that things in your life are going to change, and for Tamron Hall, that also includes her extensive shoe collection.
The talk show host who gave birth to her son Moses last year in April showed off the difference between her shoes now and then, and her new collection is more practical.
Hall opened up about juggling work and motherhood on her Instagram story, revealing her pre-motherhood shoe collection of racks of designer high heeled shoes.
The second photo showed a very different collection of comfortable sneakers with the star revealing that she needs them to keep up with her son. However, she still likes to get dressed up. She said:
"I'm not playing dress-up on the show. It's me. I mean, I don't wear a jewel-encrusted Miu Miu dress around my son, but I always dress cute. This idea that momhood means uncute is so not true."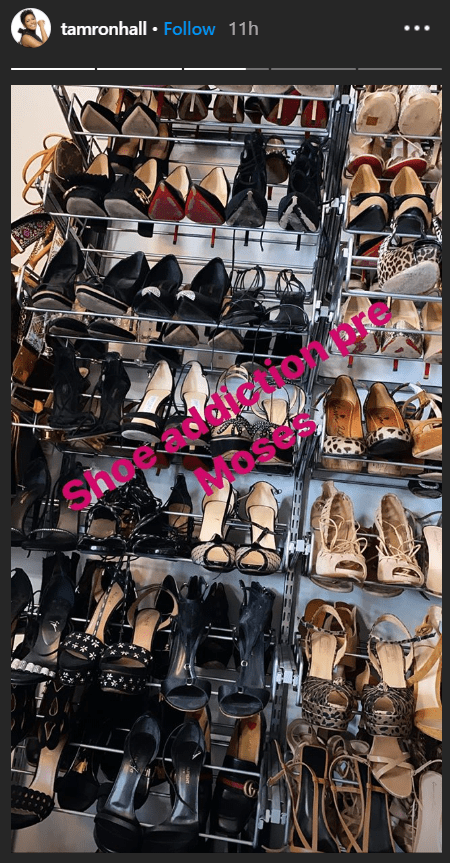 A photo of Tamron Hall's shoe collection featured on her Instagram story | Photo: Instagram/tamronhall
Since starting her show, "Tamron Hall" in September, the star had shared that she felt a lot of pressure to succeed, adding that everyone's future was linked to hers.
Hall said that she found a way to balance it and implemented "Moses Mondays" where she would only do one show to spend time with him. She also assigned Wednesdays for baby music classes and Fridays for working at home.
She never had a conversation with her parents or grandparents that included "don't work too hard."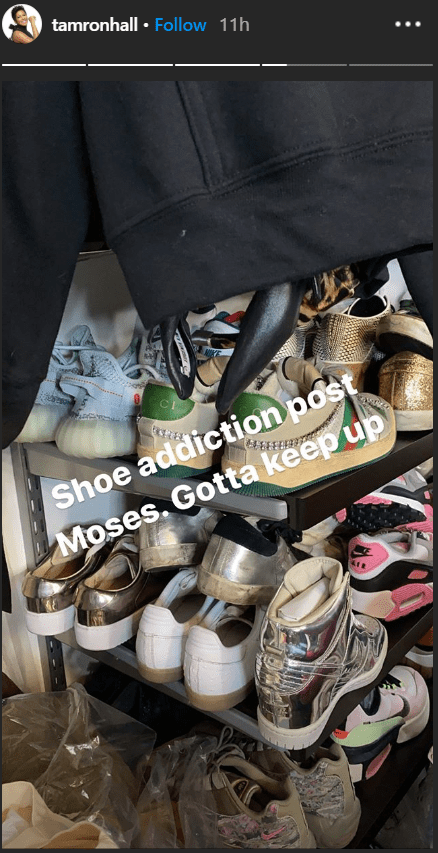 Tamron Hall shows off her shoe collection after becoming a mother| Photo: Instagram/tamronhall
Hall, who has worked since she was 14-years-old, used to be a co-host on the "Today" show until she was replaced by Megyn Kelly in 2017. However, the star bounced back.
The host who shares her son with husband Steve Greener added that her new life allowed her to become more vulnerable at home and work. She said:
"I had worked so hard that I did not allow myself to be vulnerable. I had to fight. You're armoring up to go into the studio, you're armoring up to be the best reporter. "
Hall shared that her upbringing had made her hardworking, saying that she never had a conversation with her parents or grandparents that included "don't work too hard."
And it seems that the hard work is paying off after it was revealed that her show would be renewed by Walt Disney Television, with ABC Entertainment president Karey Burke announcing it in December last year.
Burke shared a press release where he called the "Tamron Hall," one of the highest-rated talks shows in the last five years, adding that they were thrilled it would be returning for a second season.
Hall also hosts "Deadline: Crime with Tamron Hall" on Investigation Discovery and expressed her joy at her talk show being renewed, saying that she was honored to be a part of a show that explored conversation topics that mattered.
Please fill in your e-mail so we can share with you our top stories!