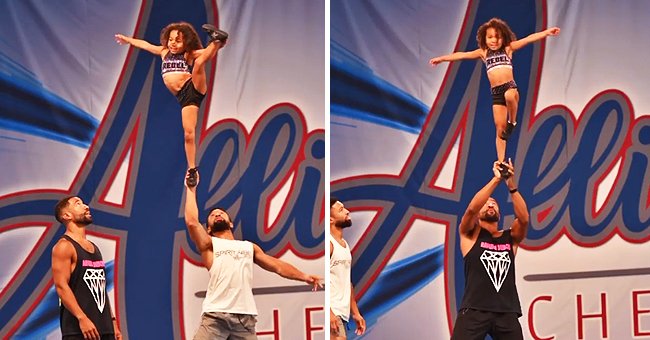 Instagram/rolandp90x
Roland Pollard and Daughter Jayden Make a Great Duo – Check Out Their Amazing Cheerleading Stunts
Roland Pollard and his toddler, Jayden went viral on the internet after their sharp cheerleading stunts were posted online amid the coronavirus pandemic.
While many were bored out of their wits amid the coronavirus stay-at-home order, Roland Pollard and his daughter, Jayden were setting fire to the internet with their cheerleading moves.
The father-daughter-duo performed stunts such as twirling in the air and landing on one foot in her father's arms.
STARTING WITH STUNTS
Pollard and his daughter have been practicing and performing since Jayden was six months old. She has since fallen in love with the sport which challenges her to make different moves.
Although the challenging stunts can be dangerous, Pollard can guarantee his daughter's safety as he is a professional cheerleading coach.
"I believe that fear is a taught or learned trait and I've never given her a reason to be afraid," he said in an interview. "Any flyer I have trained knows that I will catch them if anything tragic goes wrong."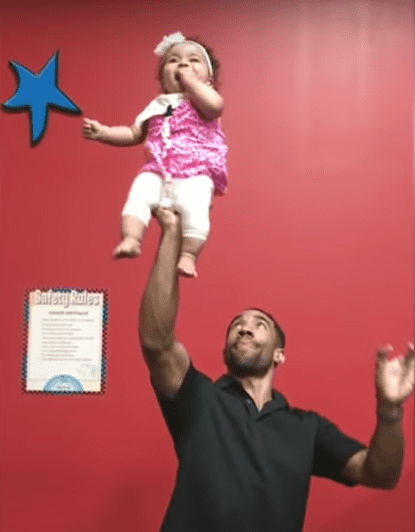 A screenshot of Jayden and her father doing stunts years ago. | Source: YouTube.com/GoodMorningAmerica
TWO TRUSTED MEN
Pollard also has a brother, Kristoff, who Jayden trusts the same way she does her father. Kristoff also guides the four-year-old in her stunts and journey in becoming a better athlete.
The Navarro Squad was featured on the Netflix documentary "Cheer" as one of America's leading cheerleading groups.
"He's the other active father-figure in Jayden's life and she absolutely loves him," Pollard shared. Several stunts and practice sessions of the father-daughter-duo have been posted online, leaving their audience in awe.
PRACTICING SAFETY
In an interview with "Good Morning America," Jayden's mom admitted that she was not as scared as, perhaps, other parents would be, watching their daughter perform stunts at a young age.
Because of her husband's years of experience as a cheerleader and a coach, she trusts him with his life.
Pollard also explained that he only uses one hand to catch his daughter, making the other hand free to spot. He makes sure his flyers never hit the ground and would protect them with all he has.
THE NEXT BIG STAR
With her early start and talent, Jayden looks like she will be the next Simone Biles competing in the Olympics.
Biles was recently left impressed with the Navarro Squad and considered joining the team, only to be welcomed by the cheer group's coach, Monica Aldama, who Pollard and his daughter had an interview with.
The Navarro Squad was featured on the Netflix documentary "Cheer" as one of America's leading cheerleading groups.
Please fill in your e-mail so we can share with you our top stories!