Check Out the Array of Outfits Created by Designer Elly Karamoh for Steve Harvey
Famous American comedian and television show host Steve Harvey took to his Instagram page to share a picture of himself posing in a grey suit by Dolce & Gabbana.  This is only one of the many suits he's showed off in the past.
Steve Harvey is known for his love of suits. The comedian has posed in various suits which are mostly made just for him.
In one of the photos shared on Instagram featuring Harvey in suits, the comedian wore a grey Dolce & Gabbana suit and posed in front of a white background.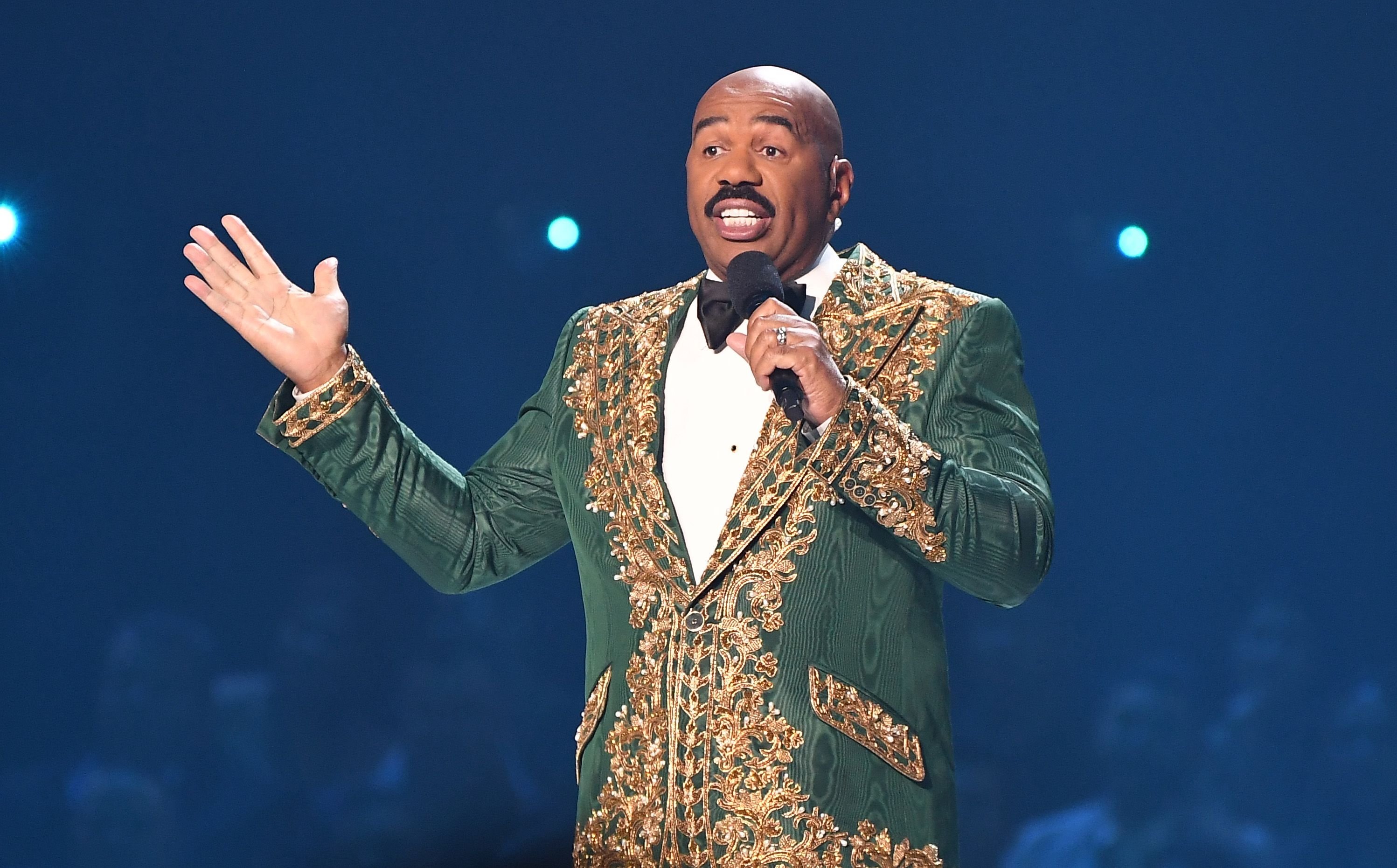 Harvey posed with one of his hands in his pocket while the other hand was on his head as he looked down. He matched the grey suit with shiny black shoes to complete his perfect look. 
Harvey's personal stylist, Elly Karamoh also shared the same picture that the comedian posted. He likewise shared a video of Harvey spraying perfume on his designer suit. 
Karamoh is popular for styling Harvey and he often shares images and videos of himself during work hours fitting the comedian into his suits and making sure everything fits.
On Harvey's birthday, Karamoh shared a video of himself fitting his boss into a suit and Harvey could be heard speaking motivational words to his young stylist.
Harvey's television game show, "Family Feud" resumed production on Tuesday, August 4.
The posts have shown Harvey's love for suits which has become a part of his brand. While the signature look has earned Harvey money over the years, not everyone is a fan of it. 
One such person is his mate in "Kings of Comedy," D.L. Hughley. During an episode of his online show, "Rolling with Steve Harvey," Harvey revealed that his mother told him that every woman loves well-dressed men. 
He took her words home and passed it down to his friends, Cedric the Entertainer, Hughley, and Bernie Mac. However, Hughley and the rest did not really key into the advice. 
In the first year of "Kings of Comedy," it was only Harvey that wore suits with Hughley asking him why he wore suits all the time. In reply, Harvey said that there was no other way for him to go. 
Harvey's television game show, "Family Feud," resumed production on Tuesday, August 4 after it stopped as a result of the COVID-19 pandemic. 
The game show would be shot in the Atlanta studio with new original episodes for the 22nd season airing from September 14. Slight adjustments were made to keep to social distancing measures. 
Harvey was born in Welch, West Virginia, on January 17, 1957 as the youngest of his parents' five children. His father was Jesse Harvey while his mom's name is Eloise. 
The comedian attended Glenville High School and West Virginia University. After college, he spent his early 20s working jobs as an insurance salesman and as a postman. He also tried his hands as a professional boxer before discovering his talent as a stand-up comedian.