Tristan Thompson's Son Prince Is Growing up Fast – See His Latest Picture with Mom Jordy
Tristan Thompson's look-alike is growing up fast while posing in a recent photo with his mother as the two boarded a private plane while headed to an exclusive retreat.
Jordan "Jordy" Craig was only months away from welcoming her first child named Prince Thompson when the father of her son, Tristan Thompson started dating Khloe Kardashian.
The details of whether Thompson was dating the women at the same time or if he left Craig for Kardashian have been debated by both women. They have given different accounts about the relationship. Thompson has remained tight-lipped about the matter.
It is reported, the emotional stress of the public ordeal caused complications for Craig during her pregnancy which forced her into bed rest.
Since welcoming her son with Thompson in 2016, Craig has claimed in child support documents that he only saw Prince almost nine times during the first two years of his life. 
Despite her personal struggles, the proud single mother has turned her close bond with her son into a business opportunity.
Combined with her love for traveling and her experience as a mother, Craig has been promoting "Moms on Tour," which provides packages for mothers to explore luxurious destinations.
Recently, Craig and her son boarded a private plane to one of their exclusive destinations. The model revealed that her three-year-old had joined her to give his seal of approval on the trip.
The mother-son duo looked cozy as Prince sat on his mother's lap and pointed to the camera while displaying a huge smile.
Fans couldn't help gushing over how adorable Prince looked. One person wrote, "your little man is so handsome." Another commenter added, "He is soo stinking cute...Looks just like you."
"First time fully seeing his face. He definitely favors his father. Adorable baby boy," said a fan. Craig shared an exchange with a friend as they both admitted their surprise over how much Prince had grown.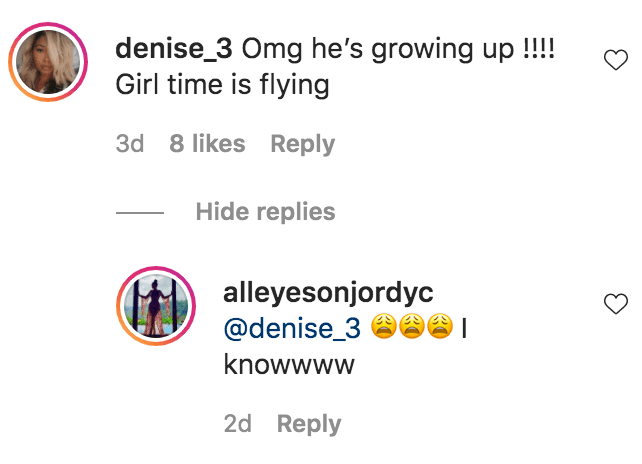 According to Cosmopolitan, almost a year ago, fans speculated that Thompson was on vacation with Craig and Prince after he posted photos on Instagram of his son on a yacht.
The NBA star took to Twitter to clarify that he was not on vacation and has been training for the upcoming season. He has since deleted the photos he posted of Prince.