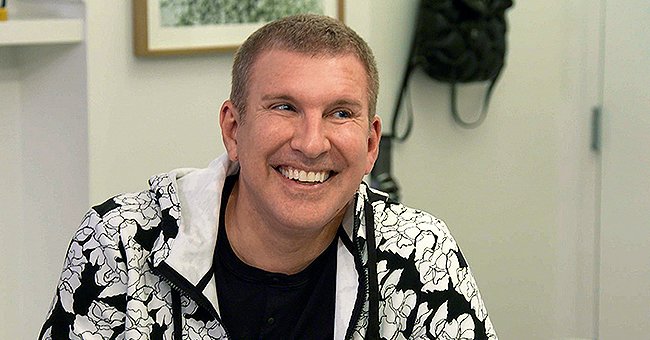 Getty Images
Check Out Todd Chrisley's Bearded Look – Does He Look like Son Chase?
Todd Chrisley confused his fans on social media when he asked for their opinion regarding his recently acquired facial hair. But it's not the question that had netizens do a double-take, but something unexpected.
Family resemblance got reversed when Todd Chrisley posted a selfie wherein he sported his newly grown facial hair. Where children are normally compared in likeness to their parents, Todd experienced it the other way around.
Even though Todd asked viewers to "ignore the bedhead," he didn't look much like himself but instead looked strikingly a lot like his son Chase.
In the caption, the "Chrisley Knows Best" star asked his followers whether he should shave or keep the beard and moustache, and along with the camera angle, the patriarch could easily pass as Chase.
However, at the end of the day wife, Julie Chrisley had the final say over her husband's facial hair, and her feelings became crystal clear when the patriarch later posted another update with a clean-shaven face. Disgruntled, Todd captioned the image:
"As you might have guessed, @juliechrisley didn't like the facial hair so I am back to basic and boring."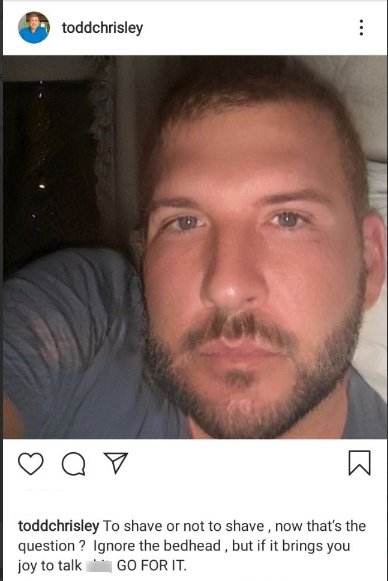 Todd Chrisley took to social media to ask whether he should keep his facial hair. | Source: Instragram/toddchrisley.
Just a few days ago, a sneak peek into an upcoming episode of "Chrisley Knows Best" showed what brothers Grayson and Chase invented in the popcorn realm.
Determined to invent a new flavour of popcorn worthy of a winning spot in a contest, Chase came up with the first ingredient in their recipe. While he could "guarantee no one thought of soy sauce," they later added peppers and bacon into a concoction referred to as "actually good."
While Todd and his wife Julie have five children in total, namely the youngest Grayson, and then Savannah, Chase, Kyle, and Lindsie, they've become parents to young Chloe as well.
Chloe is Kyle's daughter from a previous relationship, and he had a long battle with substance abuse. As the reality star-couple fought to get their son the help he needed, they also became embroiled in what became a bitter battle over Chloe's custody back in 2016.
Chloe and Todd Chrisley have grown close since then, but it doesn't mean that they don't have their disagreements from time to time.
In another recent teaser clip of the reality show, the pair got involved in an argument while in the family home's kitchen, as Todd didn't react favourably to Chloe's request for a sleepover at a friend's house.
Please fill in your e-mail so we can share with you our top stories!